Spider-Man: Far From Home Writers Glad They Cut A Scene Very Similar To Shazam!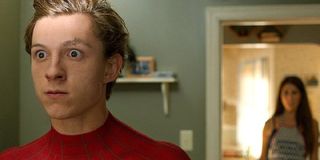 It's difficult to make any sort of comparison between Marvel's Spider-Man: Far From Home and DC's Shazam! Spider-Man actor Tom Holland has the charm and Zachary Levi has the enthusiasm, but aside from the actors' slightly similar (?) personalities, there's not too much the characters have in common.
So you can see why comparing these movies is pointless. They're vastly different films with different tones, but somehow, Spider-Man: Far From Home almost contained a scene that some could say is identical to a moment in Shazam! Both movies are already great (with Spidey's latest solo outing being slightly superior) so adding a similar scene wouldn't be too unforgivable of a crime.
In a recent interview with Backstory Magazine (via Comicbook.com), Spider-Man: Far From Home co-writer Chris McKenna explained how they almost included a really funny Peter/Aunt May scene picking up directly from the ending of Spider-Man: Homecoming, following Aunt May's f-bomb shock at learning Peter is Spider-Man. They were ultimately glad director Jon Watts went in a different direction for the opening of Far From Home, because their other idea bore an obvious resemblance to one of the best moments in Shazam!, which opened earlier in 2019. Here's how McKenna broke down the scrapped Aunt May/Peter scene:
Writer Chris McKenna continued, saying:
This would have been really funny to see in Far From Home, but I do think it worked better in Shazam! So yeah, Chris McKenna, Jon Watts, and the other creative leads made a wise choice when they decided to cut the bit.
Spidey's latest adventure had too much going to necessitate such a scene, plus the film and the titular character are entertaining enough on their own. Shazam!, on the other hand, is much more focused and much smaller in scale, making a moment as simple as a montage of hilarious blunders more appropriate and more welcome. Plus, it's got charm, endearment, and fun out the wazoo, so this bit falls in with the rest of the film's content perfectly.
If you liked both of these films and want to see more of what 2019 has to offer, check out our movie release schedule. Some amazing films are coming out this year, so if you're into going to the theater, that's your one-stop shop!
Your Daily Blend of Entertainment News
Thank you for signing up to CinemaBlend. You will receive a verification email shortly.
There was a problem. Please refresh the page and try again.