Hobbs vs. Shaw: A Showdown Of Jason Statham And Dwayne Johnson's Movie Careers So Far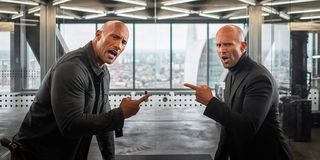 (Image credit: (Universal))
It just hasn't felt like the summer movie season without a Fast and the Furious movie… literally. The franchise has been a staple of the season just about every other year and will be for the next two years with Fast and Furious 9 and 10 coming in 2020 and 2021. Universal's newest installment shows off another side of the series, as two of Hollywood's biggest action stars, Dwayne Johnson and Jason Statham, team up for the spinoff Hobbs & Shaw.
As audiences flock to movie theaters to see Dwayne Johnson and Jason Statham in the spinoff centering on their Fast and Furious characters in this blockbuster guilty pleasure, let's talk Hobbs vs. Shaw. I don't mean their characters, either, because the movie is clearly crafted with the two actors' brands and their winning chemistry in the Fast films in mind. It's comparable to Arnold Schwarzenegger and Sylvester Stallone being paired for The Expendables or Brad Pitt and Leo DiCaprio in Once Upon a Time in Hollywood. I love seeing big names team-up.
So it's time to decide once and for all, who has had the better career so far between Dwayne Johnson and Jason Statham? It's a close one! Let's break it down:
Dwayne 'The Rock' Johnson
Dwayne Johnson got his start in the spotlight as a professional wrestler before making his debut on television as his own dad (also a wrestler) in That '70s Show and "The Champion" in an episode of Star Trek: Voyager. His first film role was as The Scorpion in 2001's The Mummy Returns. That role actually inspired a spinoff back before "spinoffs" weren't so common with, you guessed it, The Scorpion a year later. Going as "The Rock," Johnson made a name for himself as the villain in Doom and the football player with a heart of gold in The Game Plan.
Dwayne Johnson movies weren't always sure sellers in the beginning. Between 2009 and 2010, he had a series of less huge movies, including Race to Witch Mountain, Planet 51, Tooth Fairy and the lowest earner of his career: Faster. Then came Fast Five. Once he starred as Luke Hobbs in 2011, his career really switched into high gear. After starring in sequels to familiar franchises: G.I. Joe and Journey, he's branched out into comedy with frequent collaborator Kevin Hart in Jumanji movies, the world of Disney animation with Moana and summer blockbusters such as starring in two back-to-back action flicks in 2018: Rampage and Skyscraper.
Jason Statham
Did you know Aladdin director Guy Ritchie discovered Jason Statham as an actor? When a young Statham was working as a model in England, he was introduced to the filmmaker at exactly the right time. Ritchie and Statham debuted their still-successful careers with the critically-acclaimed Lock, Stock and Two Smoking Barrels and Snatch, the latter alongside Brad Pitt and Benicio Del Toro. This led to Statham's breakout role in 2002's the Transporter where he famously did his own stunts.
The actor's action career then took off as his frequent character found its way into The Italian Job, Crank, The Bank Job, Death Race and the star-studded The Expendables franchise. Jason Statham branched out a bit with a voice role in the animated film Gnomeo & Juliet. Then he took on the Melissa McCarthy-led comedy Spy and some more gritty dramatic entries such as Homefront, Wild Card and Redemption. He had his start in the Fast & Furious films at the end of 6 when he was revealed as the killer of fan-favorite Han. Besides Hobbs & Shaw, Statham had a huge blockbuster with the recent shark movie The Meg, which made the biggest splash in his career for a film where he had top billing.
Dwayne Johnson: The Box Office
In his two-decade career, Dwayne Johnson's movies have collectively made close to $10 billion worldwide, per Box Office Mojo. Of course, his involvement in the Fast & Furious franchise greatly contributes to this since his top-earners are Furious 7 at No. 1, The Fate of the Furious at No. 2, Fast & Furious 6 at No. 4 and Fast Five at No. 6. Between those, his top earner was 2017's Jumanji: Welcome to the Jungle, which surprised with a $962 million worldwide haul, even contending with Star Wars: The Last Jedi. Another huge box office winner for Johnson was Moana, which made $643 million, becoming one of Disney's most massive successes.
Jason Statham: The Box Office
Jason Statham's movies have collected nearly $6 billion globally. However, The Rock has a leg up since he starred in two more Fast & Furious movies than Statham has. Besides the Universal franchise, at the top of his box office list is 2018's The Meg, which made $530 million. At spots No. 4 & 5 are The Expendables 2 & 1 which made $315 and $274 million, respectively. His supporting role in 2015's Spy was also a high earner with a gross of $235 million. Dwayne Johnson wins the box office round as he basically doubles Statham's total. But money isn't all that matters…
Dwayne Johnson: The Reviews
As is the case with most Hollywood careers, not every project is going to get rave reviews from critics. For Dwayne Johnson, his highest acclaim comes from his voice work as Maui in Disney's Moana, which was also nominated for two Oscars. The role allowed the actor to embrace his Samoan roots and have his own song in the Disney library. He also received acclaim for Fighting With My Family earlier this year, albeit he isn't the star, along with Jumanji and Central Intelligence. Less than half of his films have a fresh Rotten Tomato score. Baywatch is his lowest-rated flick, with a 17% score.
Jason Statham: The Reviews
Jason Statham has also seen his share of good and bad reviews from critics. His highest-rated movie is his rare work in comedy in 2015's Spy with a Rotten Tomatoes score of 95%. Although the actor did not have the lead role, him poking fun at the genre he's spent his career playing in and as the straight man showed his range. He was also given a 79% score for heist film The Bank Job and his work with Guy Ritchie earned great reviews. On the low end, one Ritchie film called Revolver was a box office & critical failure with a 16% score. Dwayne Johnson and Jason Statham seem to be toe-to-toe on this front since Statham also has just about the same balance of good and bad reviews with the critics.
Dwayne Johnson: His Cultural Impact
Dwayne Johnson is one of those few celebrities who can be identified with a simple nickname/pseudonym, in his case, "The Rock." Over the years, he's become one of the most recognizable actors out there and certainly an icon that transcends his career. The actor has spread his talent over many different genres and mediums, making him known to just about every movie fan and generation through big screen and small screen ventures, not to mention wrestling. In the movie world, he started off as an action-star type, he moved to family flicks all at once around 2008 to 2010 and then again in 2016 and 2017, making himself known to kids and parents of those generations.
Partly because of this, Dwayne Johnson's going to be the kind of star who will have nostalgia among many as they grow up. He's also simply a unique kind of star in the industry. There is no other major half-black, half-Samoan actor working in Hollywood. Dwayne Johnson has been able to separate himself from the pack this way and break some serious barriers in the industry. His mix of hardcore action projects and warm and fuzzy kid-friendly roles have provided him with just the right amount of likability among lots of moviegoers.
Jason Statham: His Cultural Impact
Jason Statham also occupies his own space as far as Hollywood actors go. Those who started following him from the beginning had to be specifically into Guy Ritchie's early work or caught on to The Transporter. Both Snatch and Transporter weren't massive blockbusters at the time of their release. Most audiences were likely introduced to Statham through 2003's The Italian Job. The actor hasn't done much to expand himself outside of this niche to other audiences besides his typical fare either. However, Jason Statham is great at this niche. It has brought him loads of cash and made him a hugely famous actor.
Jason Statham will perhaps best be remembered for doing most his own stunts during fight sequences and his sharp one-liners during many of his films. He has amassed a following of fans, some who have yet to be discovered. He certainly adds a unique flavor and presence to action movies that no one else offers. Still, as far as cultural impact goes, Dwayne Johnson looks to take the cake here – he is The Rock, after all!
Dwayne Johnson Vs. Jason Statham: The Conclusion
So in the game of Hobbs vs. Shaw, it looks like Dwayne Johnson reigns as the winner! He almost doubles Statham's box office earnings, he has starred in some much-beloved films and punched through some impressive walls in Hollywood. That doesn't mean Jason Statham hasn't come close or doesn't share comparable status to The Rock. What edged Johnson to victory when looking at their careers so far is his decision to appeal to families. It has helped him make more money in movies, earn rave reviews and have a greater cultural impact. Perhaps since Statham has recently become a father he'll follow suit?
What do you think? Which career have you enjoyed watching more Dwayne Johnson's or Jason Statham's? Let us know in the comments below!
This poll is no longer available.
YA genre tribute. Horror May Queen. Word webslinger. All her writing should be read in Sarah Connor's Terminator 2 voice over.
Your Daily Blend of Entertainment News
Thank you for signing up to CinemaBlend. You will receive a verification email shortly.
There was a problem. Please refresh the page and try again.