8 Marvel Rumors That Turned Out To Be Completely Wrong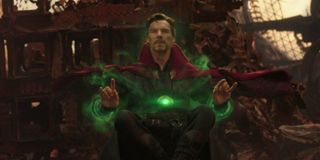 Hindsight is always 20/20, especially when it comes to Marvel and The Avengers. When you look back on all the events leading up to these cinematic endeavors, everything can seem so obvious in retrospect. Like, how could you not see it? Alas, when it comes to film reporting, nobody can know all the facts at the time. When you hear some saucy newfound rumors about the latest superhero blockbusters, you often have to run them with — aware of the fact that these headlines might be complete bogus, but never knowing for certain until you're seated inside the theater and watching the film unfold.
Alas, we should admit upfront that nobody is perfect. Whether we reported on these facts or not, there are always rumors that seem too good to be true, and we find out the hard way that they were total fiction. It would take some time to track down all the false stories out there about the Marvel movies, but there's no denying that some rumors are not only false, but totally weird when you have the benefit of time.
These are just a handful of the movie headlines that amusingly proved to be falsified after Phase 3 of the Marvel Cinematic Universe came to a close this summer. Like we said, we could spend quite a few articles breaking down all the stories floating out there that weren't totally true. But we're highlighting these ones in particular to show you how, more often than not, several of these rumors seem silly when you know what really goes down.
Agent Phil Coulson Would Become Vision (The Avengers/ Avengers: Age of Ultron)
In the Marvel Cinematic Universe, before he became a significant posthumous motivator for the team in The Avengers, Agent Phil Coulson, played by Clark Gregg, was often the guy in the suit representing S.H.I.E.L.D., giving orders and providing fleeting moments of exposition for the audience. He's a guy who didn't have a whole lot of stake in the action, until Joss Whedon gave Gregg a more well-rounded character who promptly came to a tragic end.
His death wasn't long-lived, however. He came back for the long-running ABC series, Agents of S.H.I.E.L.D., which helped chronicle the events that happened outside of the movies in the MCU. And he also played a supporting role in the prequel Captain Marvel earlier this year. Before the show or this movie was released, however, there were some folks wondering how Marvel might try to bring back the character. Because people believed Agent Coulson wouldn't simply stay dead, and one wild rumor that was floating around the interwebs was the possibility of Phil Coulson turning into Vision.
Granted, this rumor was quickly proved false when Paul Bettany became Vision, which made sense because he was already the voice of J.A.R.V.I.S. since the first Iron Man movie. But that didn't stop the rumor mill from churning, though even Clark Gregg addressed the ridiculousness of this rumor during an interview with ComicBook.com. Nevertheless, for some folks out there, there is a timeline where Coulson walked around with that little yellow dot on his noggin.
Captain America Dies At The End of Civil War (Captain America: Civil War)
It was expected there would be major consequences after the events of Captain America: Civil War. It wasn't clear what exactly was going to go down, but it was clear that something big was going to happen. Things weren't simply going to go back to normal. We didn't know how major these events could end up being, but there was no way that Tony Stark and Steve Rogers ended their spat by simply patching things up and being friends again. The events of this particular blockbuster would spark devastating blows. For some folks, there was a big chance that Captain America would lose his life.
According to the report from Geek.com, the directors, Joe and Anthony Russo, were considering shooting two separate endings for the film, one of which would involve Captain America dying. Granted, this one makes some deal of sense, only because the comic that inspired this tale saw Steve Rogers being assassinated shortly after it concluded. But for a franchise as hugely expansive as the MCU, it'd be an extraordinarily gutsy decision to end things on these terms. The Russos revealed in a Q&A, however, that this much-hyped ending was not only something they didn't shoot; it was barely even considered.
Mar-Vell Being Star Lord's Father (Guardians Of The Galaxy Vol. 2)
One of the biggest lingering mysteries of the original Guardians of the Galaxy was, "Who is Peter Quill/Star-Lord's father?" As we saw at the beginning of the original film, the half-human/half-alien galaxy saver didn't exactly belong on Earth or any real planet of his own. There was the lingering desire, like the character, to know who was the distant patriarch for this character. Alas, before it was revealed to be Ego, the Living Planet, there were quite a few rumors floating out on the web, with one of the biggest rumors to be found was the possibility that Peter Quill could be related to Mar-Vell.
It should be noted that A) Mar-Vell is the correct spelling for this particular character and B) we are obviously not talking about Captain Marvel, played by Brie Larson in a later movie. Marvel Comics' Mar-Vell is a Kree supersoldier who was the first person to take on these superpowers in the comics, before an accident passed them over to Carol Danvers. Alas, it did not take too long before writer/director James Gunn denied these rumors. A female version of Mar-Vell would later be played by Annette Bening in the Captain Marvel movie.
Scarlet Witch Is The Villain And Working With Thanos (Avengers: Infinity War)
The Marvel movies typically carry a number of twists and turns, and the company prides itself on not letting spoilers come out in an untimely fashion. It's hard to know for sure what is going to happen in the multiplex, and those surprise and thrills are often what make those movies into giant money-makers. In the heat of speculation for Avengers: Infinity War, there was one rumor floating around which would've been pretty bizarre if it came true: Scarlet Witch being revealed as a villain, then subsequently teaming up with that big meanie we know as Thanos to get the remaining Infinity Stones.
This rumor would certainly require some rigid explanation, since it was apparent that Scarlet Witch was fostering a loving relationship with Vision throughout the movies. Sure, it could've been a show, perhaps some complicated way of acquiring the Mind Stone lodged in Vision's head, but it seems like it would've been more likely that she was the hero rather than the villain. And ultimately, it was apparent after these two Avengers movies that she wasn't secretly hiding any villainous intentions. Unless something happens in WandaVision on Disney+ that makes her question her continued devotion to goodness, we should be able to push this rumor in the false camp pretty swiftly.
J. Jonah Jameson Is A Woman And Played By Veteran Actress Tyne Daly (Spider-Man: Far From Home)
Now, this rumor would've been a pretty interesting one if it were true. Before the big surprise during the end credits of Spider-Man: Far From Home, it was not clear if J. Jonah Jameson would have a place inside the MCU. There was also the question of if J. Jonah Jameson made it into the expansive cinematic universe, who would play the part? It wouldn't be easy to step in the shoes of J.K. Simmons, the actor who made the role entirely his own.
So, what if instead of having another actor try to do a lesser version of his indelible work, they went in a total different direction? It's certainly an interesting idea. But what would that entail? What if J. Jonah was a woman? And what if the role was played by veteran actress, Tony winner and six-time Emmy winner, Tyne Daly? This news was reported by International Business Times, and it is an idea that could've been interesting if it proven to be true, but it was revealed that the actress playing a new version of the character wasn't in the cards for Marvel. Oh well. While this idea would've been a very interesting one worth exploring, it's hard to complain if what we got in the last film.
Jason Biggs Would Play Scorpion (Spider-Man: Homecoming)
Casting rumors can often fly out of any nook and cranny of the Internet. If you simply name an actor and a film, there is likely to be someone out there who believes so-and-so are up for this high-profile part. There are times when outrageous casting reports prove to be true (or, at least, actually in real consideration), and there are many others that are proven false. Nevertheless, this casting report might be one of the weirdest in cinema history.
Apparently, according to WhatCulture, there was a rumor flying around that Jason Biggs was in consideration for the role of Scorpion. While Michael Mando did briefly appear as Mac Gargan, he never became Scorpion proper in Spider-Man: Homecoming, and doesn't appear like Biggs was ever even in talks for the movie. But it does make you imagine what that would be like, and it's admittedly an image that's hard to imagine. Nothing against Jason Biggs; he seems like a nice guy, but this casting would be very weird.
Tony Stark Learns Magic To Defeat Thanos (Avengers: Endgame)
After the cliffhanger at the end of Avengers: Infinity War, there were many people speculating what would happen next. Clearly the three hour movie would be an eventful one, and it would take some extreme measures for our disjointed heroes to restore balance and harmony in its fractured world. And since it was Robert Downey Jr's final time playing the role of Tony Stark, it was expected he would play a big part in the character's swift demise.
But how would that happen? Well, according to one theory reported by Den of Geek, it involved Tony Stark learning magic in order to gain the powers of Doctor Strange and beating Thanos for good. After all, Doctor Strange looked over all the options and he saw how it had to end. It'd make some deal of sense, therefore, that he might've seen another character learning his mystical art to bring everyone back and restoring the natural order of all good things. It wasn't meant to be, however. If Doctor Strange looked at this option, he apparently realized that it ultimately wouldn't work in the long run.
Tony Stark Has To Kill His Parents (Avengers: Endgame)
Like we said earlier, there are a number of ways one could predict things going down for Avengers: Endgame. Certainly, everyone and their brother had their own predictions for what would entail in this climatic fourth Avengers movie. But it's hard to think of a bolder, darker turn-of-events for these heroed than to have Tony Stark kill his own parents in order to sacrifice the people that the iron-clad characters loves the most. Uh ... well ... yeah...
The logic (such as it is) would suggest that Tony Stark would need to get the Soul Stone, and the only way to do so is to obviously sacrifice a person he loves above all others. In this theory, which was also published by Den of Geek, it's posited that this would require Tony to go back in time and kill his parents all before they were killed in the car crash. Frankly, it's a very complicated and hard-to-follow theory that's probably one the filmmakers never considered.
Obviously these are only a handful of the misleading rumors that've been spread about these Marvel movies. News seemingly comes from a variety of sources these days, and it can be hard to figure out what is accurate and otherwise until you are seated in the theater, watching it all unfold. It keeps a lot of people on their toes, including us media folk. But it also creates lots of kooky, hard-to-believe theories, especially in retrospect — as seen here. And we've already got a few theories cooked up for what might happen in Phase 4 and beyond. So, perhaps, this new cycle will just keep on spinning.
Keep checking back with CinemaBlend for all the latest updates concerning the MCU, and look through our handy guide to learn what's coming in Phase 4 and beyond.
Your Daily Blend of Entertainment News
Will is an entertainment writer based in Pittsburgh, PA. His writing can also be found in The Playlist, Cut Print Film, We Got This Covered, The Young Folks, Slate and other outlets. He also co-hosts the weekly film/TV podcast Cinemaholics with Jon Negroni and he likes to think he's a professional Garfield enthusiast.