Godzilla: King Of The Monsters Director Shares Stunning Concept Art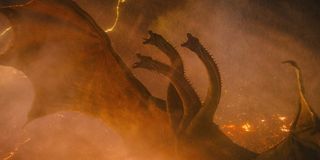 Godzilla: King of the Monsters spent its time in theaters earlier this year, and now the sequel is smack dab in the middle of its home release window. To celebrate folks finally getting to watch King of the Monsters in the comfort of their own home, director and co-writer Michael Dougherty has shared some stunning concept art for the movie, starting off with some images that King Ghidorah fans will appreciate.
After decades of wreaking havoc in Japan, King Ghidorah finally made his American debut in Godzilla: King of the Monsters as the eponymous protagonist's chief antagonist. Like the original Ghidorah, the MonsterVerse's version of the three-headed beast is an extraterrestrial rather than a Titan native to Earth, but long ago, he was frozen in Antarctica and should have remained that way. Unfortunately, Dr. Emma Russell and her ecoterrorist partner Alan Jonah just had to set him free.
In the above pieces of concept art, we cover the full range of King Ghidorah's Godzilla: King of the Monsters introduction, from being stuck behind the ice to attacking the Monarch forces nearby to just before he and Godzilla clash for the first time in millennia. It's particularly cool to see the lighting crackling from Ghidroah, showing that this monster, like Godzilla and the other Titans, has more than just brawn on his side.
You can head over to Michael Dougherty's Twitter page to see all of the Godzilla: King of the Monsters concept artwork he shared, but for right here, let's look at the images highlighting Rodan and Mothra, the other two main monsters that the sequel introduced.
Like King Ghidorah, Rodan was in deep sleep when Godzilla: King of the Monsters started, but after Ghidorah was freed, Emma and Jonah proceeded to awaken the pterodactyl-like Titan from his volcano lair in Mexico. After failing to bring him down, Monarch tried its best to get Rodan to fight Ghidroah, but the latter swiftly beat the former and Rodan served Ghidorah until the power dynamic shifted at the end of the movie, with Rodan and other nearby Titans bowing to Godzilla.
Then there's Mothra, who, unlike Rodan and King Ghidroah, served as an ally for Godzilla during Godzilla: King of the Monsters. Sure she got a rough awakening at the beginning of the movie and killed a few Monarch employees, but once she emerged from her cocoon as her winged and fully glorious self, she flew to assist Godzilla in the final battle. Sadly, Mothra perished when she transferred all her energy to Godzilla so he could defeat Ghidroah once and for all, but the King of the Monsters end-credits revealed, a second Mothra egg was discovered, hinting that this creature's legacy will live on in the MonsterVerse.
While King Ghidorah is seemingly gone for good, Rodan and the new Mothra's MonsterVerse future is shrouded in secrecy. Next year brings the long-awaited match-up Godzilla vs. Kong, and while one can imagine there will be other monsters showing up as the giant reptile and gorilla are beating each other up, it's hard to say if Rodan and Mothra 2.0 will be involved anyway.
Stay tuned to CinemaBlend for any updates on their cinematic future, but as for Godzilla vs. Kong, its story will also involve Monarch learning more about the Titan's origins and a conspiracy being uncovered to wipe these creatures off the face of the planet. The cast includes Millie Bobby Brown and Kyle Chandler reprising Madison and Mark Russell, respectively, as well as Alexander Skarsgard, Rebecca Hall, Brian Tyree Henry, Shun Oguri, Eiza Gonzalez, Jessica Henwick, Julian Dennison and Demian Bichir.
Godzilla: King of the Monsters is now available on Digital HD, and you can pick up your Blu-ray/DVD copy starting next Tuesday, August 27. The MonsterVerse will continue when Godzilla vs. Kong comes out on March 13, 2020, but if you're wondering what other movies there are to look forward to for the rest of this year, head over to our 2019 release schedule.
Connoisseur of Marvel, DC, Star Wars, John Wick, MonsterVerse and Doctor Who lore. He's aware he looks like Harry Potter and Clark Kent.
Your Daily Blend of Entertainment News
Thank you for signing up to CinemaBlend. You will receive a verification email shortly.
There was a problem. Please refresh the page and try again.