Is Anakin In Star Wars: Rise of Skywalker? Hayden Christensen Sightings Feed Rumors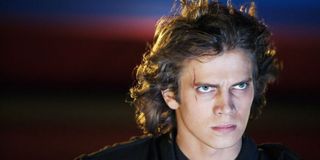 As Star Wars: The Rise of Skywalker inches closer to its December release, people have started spinning anything even remotely Star Wars-related into rumors. It's common practice among ardent fans to indulge wishful thinking, and who can blame them? Heck, even the actors and actresses involved in the films get caught up in the excitement. Remember that we're talking about one of the biggest film franchises on the planet.
Now, as if to fuel the fire even more, Anakin Skywalker actor Hayden Christensen has begun to appear in public with Ian McDiarmid, sparking rumors that a certain Chosen One will return for the final installment in the Skywalker saga. I mean, if Emperor Palpatine can bounce back from a plummet down a Death Star shaft, why can't Anakin come back in some form? Silly question. He absolutely can.
KUTV reports (via Comicbook.com) that both Christensen and McDiarmid visited a Salt Lake City children's hospital together while they were in the area for FanX Salt Lake Comic Convention. Some fans suspected that this act of kindness doubled as a marketing tactic, a notion that seemed fairly far-fetched until Disney cancelled the two actors' spotlight panel at the con. While all of this should be taken with at least a pound of salt, it's definitely an interesting turn of events. And if one of the film's actors is to be believed, we're in for more than just a few surprises. Let the speculation continue!
The fact that Christensen and McDiarmid have started appearing in public together probably means that something is up. The timing is too perfect and the hype is too out of control for anything else to be the case, right? Wrong. We can't pretend to know what that something is and if it pertains to Rise of Skywalker at all. Maybe it's a misdirect. Maybe what we're actually getting is a Vader-led sithcom featuring Palpatine as a manipulative landlord and Anakin as a down-on-his-luck single father who lost custody of his kids after wiping out the Jedi? No? Oh well. A guy can dream.
Star Wars: Rise of Skywalker will hit theaters on December 20, 2019 and will close out the Skywalker saga in an immensely satisfying way (hopefully). Get excited! J.J. Abrams seems to have put together one heck of a series-capper.
What do you think of these recent sightings? Will we see Force Ghost Palpatine turn Force Ghost Anakin against Force Ghost Luke? Alternatively, do you feel like celebrity sightings, especially ones of this nature, don't actually provide any evidence of something sneakier? Or are you more excited for The Mandalorian to hit Disney+ this November? Let us know in the comments and make sure you acquaint yourself with the many other films hitting theaters in 2019!
Your Daily Blend of Entertainment News
Your Daily Blend of Entertainment News
Thank you for signing up to CinemaBlend. You will receive a verification email shortly.
There was a problem. Please refresh the page and try again.