Birds Of Prey To Tenet: Are Theater-Only Trailers A Good Idea Or Not?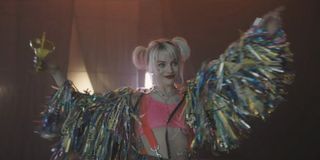 A very interesting thing has taken place with movie trailers recently. No, studios didn't start introducing trailers for the trailers that tease that actual trailer. Nor did they abandon the stupid ads before trailers built for people with five-second attention spans, lamentably. In a throwback to the pre-internet age, trailers for some of next year's biggest movies have been premiering exclusively in theaters. From Birds of Prey to Tenet, theater-only trailers seem to becoming a thing, but are they a good idea or not?
As noted by IndieWire, Warner Bros. is leading this charge, and while two theatrical-only teaser trailers do not make a trend, they could be the start of one. First, Warner Bros. attached a theater-only trailer for Christopher Nolan's eagerly anticipated and highly mysterious Tenet to Fast & Furious Presents: Hobbs & Shaw. To date, the Tenet trailer has not been released for wider audiences online and it hasn't been attached to any other movies in the theater.
This approach made sense for a Christopher Nolan movie and could have even been seen as a choice by the director himself, who has been a fierce advocate of the theatrical experience. At the time, I speculated that Christopher Nolan was one of the only directors who could get away with that kind of thing for an entirely original, non-franchise film. Little did I know that Warner Bros. would pull the same thing again a month later.
Over this past weekend, IT Chapter Two opened in theaters and attached to it was a teaser trailer for Warner Bros.' Birds of Prey (And the Fantabulous Emancipation of One Harley Quinn). This has also been confirmed to be a theatrical-only trailer, which is obvious when you see it since it is designed to fit with IT Chapter Two, with red balloons and Harley Quinn saying that she's so over clowns.
The theatrical-only trailer is an interesting tactic, and we'll have to see if Warner Bros. continues it and whether or not any other studios will follow suit and try it themselves. If I had to guess, Hollywood groupthink means we'll probably be seeing more of this, and not just from Warner Bros. But is it a good idea and do we like it?
There are a couple of positive things about theater-only trailers that I'm sure are part of what's driving Warner Bros. to try them out. For one thing, theater-only trailers get people into theaters. Fanboys lined up to see Meet Joe Black just to get a glimpse at Star Wars: Episode I – The Phantom Menace, and whenever more people journey out to see a movie in theaters, it's a good thing for an industry that must now contend with an ever-expanding list of streaming services.
For IT Chapter Two, a huge Warner Bros. title, Warner Bros. got $185 million worth of eyeballs on one of the studio's big 2020 tentpoles in Birds of Prey. Warner Bros. scratched its own back in that way.
Another advantage of theater-only trailers is that it implies that the trailer, and, accordingly, the movie it's for, demand the theatrical experience. It lends an air of exclusivity to things that is kind of cool. If you saw IT Chapter Two, you can say that you saw the Birds of Prey trailer. This builds some buzz for the film, which is surely Warner Bros. primary goal with this new tactic.
There are a few downsides to this approach, both for the studio and the audience. From an audience perspective, what if I really want to get hyped for Tenet, but I have no interest in Hobbs & Shaw? That pairing of trailer and movie was odd, by the way. The flip side of the exclusivity coin is that it means that some people are excluded from the experience of the trailer, either because they can't see the movie for whatever reason or aren't interested in it.
It's no fun to not be a part of something, and that could result in the buzz actually being less with these trailers. Sure, people will go online to read descriptions of theater-only trailers or watch crappy pirated videos of them, but I suspect the level of discussion won't and can't be the same from reading a description as when millions of people are watching a debuting trailer online all at once.
The Tenet trailer would have probably been a lot more fun to dissect if it was on YouTube where we could pause it to try and puzzle out its mysteries. Then again, not allowing us to do might be the point.
The fact that people can read about these theater-only trailers online also might mean that this approach doesn't really drive people to theaters in the way it did in 1998. Different teasers and trailers for Tenet and Birds of Prey will ultimately debut online down the line, so it's not like you won't be able to see anything from these films prior to their release if you don't check out theatrical-only trailers.
I do think these theatrical-only teaser trailers build some buzz and intrigue though. Only two Warner Bros. movies have done the theatrical-only teaser trailer thing so far, and I'm not sure that this approach will work for every big movie, but I'd be interested to see more of it. Warner Bros. has other big 2020 films like Wonder Woman 1984 and Dune on the way that it could try this out with.
The cool thing is that Warner Bros. is doing something different instead of just going through the same old motions it and every other studio have been for years. Theatrical-only trailers and tailoring those trailers to the movie they're attached to, as was done with Birds of Prey/IT Chapter Two, is a creative and old school way to shake things up, and while there are pros and cons to it, it's nice to see WB trying something.
Birds of Prey opens in theaters on February 7, 2020, followed by Tenet on July 17, 2020. For movies still to come this year, check out our 2019 Release Schedule. Let us know what you think about theater-only trailers in the poll below.
This poll is no longer available.
Your Daily Blend of Entertainment News
Nick grew up in Maryland has degrees in Film Studies and Communications. His life goal is to walk the earth, meet people and get into adventures. He's also still looking for The Adventures of Pete and Pete season 3 on DVD if anyone has a lead.
Your Daily Blend of Entertainment News
Thank you for signing up to CinemaBlend. You will receive a verification email shortly.
There was a problem. Please refresh the page and try again.