All The Original Movies On The Way To Disney+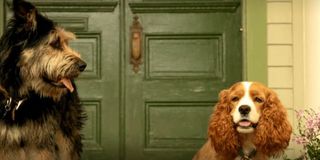 CinemaBlend participates in affiliate programs with various companies. We may earn commission when you click on or make purchases via links.
When Disney+ launches on November 12, it's going to instantly be popular if for no other reason than it will contain a library of some of the most popular films and television shows of all time. However, simply containing all of Disney's classic material won't be enough to make for a successful streaming service. Disney+ will also, over time, release a great deal of material, both movies and series, exclusive to Disney+. To see what's currently live on the newly-launched platform, you can use this link for a 7-day free trial.
Most of the attention has been given to the planned Disney+ series, due to their connections with major franchises like Marvel and Star Wars. However, Disney+ is also planning several original movies for the service, the first of which will be arriving on Day One. Let's go over what's on the way to Disney+ on this front.
Lady and the Tramp
Live-action remakes have been massive business at the box office for Disney in recent years, so it shows just how dedicated to streaming the company now is that one of those remakes will be an exclusive streaming film. Lady and the Tramp might not be one of Disney's box office behemoths, but it's a classic film with huge name recognition.
Rather than being a fully CGI creation like The Lion King was recently, Lady and the Tramp used actual dogs for the new movie. Tessa Thompson will voice Lady and Justin Theroux handles the Tramp. This will be one of the first original films Disney+ subscribers will be able to watch as its already confirmed to be a day one release.
Dolphin Reef
Animation was what put the Walt Disney Company on the map, but the studio has been making wildlife documentaries for almost as long. Recent Disneynature entries like Born in China and Penguins have been released in theaters, but Dolphin Reef will make its debut on Disney+ instead, with Natalie Portman as the narrator.
The successor to the True Life Adventures films created by Walt Disney himself may not be massive box office hits like basically everything else the studio produces, but that's part of the reason the streaming service is so potentially powerful, There's a good chance something like Dolphin Reef will get a lot more viewers streaming than it would have seen as a theatrical release. It will be a day one release for Disney+
Noelle
Noelle is a movie that's been sitting on ice some time now. The project was originally slated for a theatrical release, but the movie vanished from the big screen schedule a couple years back, before resurfacing as a Disney+ movie.
What's unclear from all that is whether this is a situation similar to the one Netflix has found itself in, where movies have been shopped to the streaming service after studios determined they would be unsuccessful theatrically, or if Disney, in fact, thinks the movie is so strong that it will draw streaming subscribers. The exact release date of this one is unknown, but it's a Christmas movie, so it should be hitting shortly after launch.
Togo
One of the areas where streaming services can be quite beneficial to movies as a whole is giving projects that might not survive the box office a place for life. These days it's hard to get anything that isn't a blockbuster level franchise to get the green light. A story about a man and a sled dog racing through the icy wilderness of Alaska doesn't seem like the sort of thing that would beat a comic book movie at the box office, but it's no less dramatic.
Togo will star Willem Dafoe as Leonhard Seppala, the leader of a sled dog team racing to bring diphtheria serum to isolated Nome, Alaska in 1925. Togo was Seppala's lead dog and the team handled the longest single leg of the relay. Since nothing has been publicly released regarding this movie yet, we likely won't be seeing it until sometime in 2020.
Stargirl
Stargirl (not to be confused with the same-named, upcoming DC Universe show) is based on the 2000 novel by author Jenny Spinelli and tells the story of Stargirl Caraway, a young teenager making the transition from home school to high school. At first, Stargirl's unusual ways make her popular, but before long she is turned on for her differences. While the novel won over critics and won several awards, this is yet another smaller production that probably would never happen if theatrical release was the only outlet.
America's Got Talent competitor Grace Avery VanderWaal will be making her film debut in the role of Stargirl. Graham Verchere will co-star as her friend Leo. This is another film we'd expect to drop in 2020. If it's a hit, the book has a sequel, so the movie could see one as well.
Timmy Failure: Mistakes Were Made
Timmy Failure is a popular book series about a small boy who believes himself to be the world's greatest detective. With his partner, a 1,200 pound imaginary polar bear named Total, he opens the Total Failure Detective Agency. The film is being directed by Spotlight's Tom McCarthy and is based on a screenplay by Stephan Pastis, the original creator of Timmy Failure.
While Timmy Failure may not be a Disney property, few know family entertainment quite like the House of Mouse, and this one sounds like just the sort of "everybody gather around the TV" sort of movie that could attract the whole family. Folks at D23 got a sneak peek of the undated movie, so hopefully the rest of us won't be too far behind.
Flora & Ulysses
Flora & Ulysses is the story of a 10-year-old girl (Flora) and the squirrel she rescues (Ulysses). Flora is a huge comic book fan, which comes in handy when the young girl discovers that the squirrel she has saved actually has superpowers. The movie is based on a Newberry Award winning children's book by author Kate DiCamillo.
Production on this film only began this last June, so we're certainly not looking to see the film until sometime at the end of 2020 at the absolute earliest. Broadway actress Matilda Lawler will be making her film debut as Flora.
Safety
Disney stories rarely fail to inspire an audience, especially when they're based on true stories of courageous athletes. Disney has been responsible for great real-life sports movies like Miracle, Invincible, and Remember the Titans. Now, Disney is going back to the gridiron with the new film Safety.
Production just got underway last week on the newest Disney+ production. Safety will tell the true story of Ray McElrathbey, a man who fights against multiple challenges so that he may play football for Clemson University and help to raise his 11-year-old brother all at the same time. Reginald Hudlin, director of Marshall, is helming the project.
Disney+ movies are likely to be an eclectic mix of stories for the foreseeable future. The major franchises that Disney is known for are still going to be focused on theatrical releases, and it's unlikely we'll get some sort "small" Marvel or Star Wars movie on Disney+ unless something truly unexpected happens.
Still, there's a wide variety of content here that will likely appeal to a wide variety of audiences. We'll get a chance to see just how well these Disney+ movies have turned out beginning November 12.
Your Daily Blend of Entertainment News
Content Producer/Theme Park Beat
CinemaBlend's resident theme park junkie and amateur Disney historian. Armchair Imagineer. Epcot Stan. Future Club 33 Member.