Thanks To Downton Abbey, The Door Is Wide Open For More TV Shows To Hit The Big Screen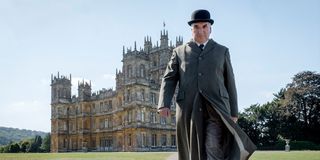 Even before Downton Abbey came to an end after six seasons in 2015, the prospect of a feature film follow-up was raised. It's a possibility often brought up, either in seriousness, speculation or hope, for many popular TV shows as a way to go out with a bang or as a means of providing closure for a series that perhaps was cancelled too soon. Many wondered if Game of Thrones should end its epic run with a feature film and 'six seasons and a movie' was both a running joke and mission statement for Community.
As much as the idea might be bandied around, going from the small screen to the big one with a follow-up or concluding movie is still rather rare. Sure, some shows like Sense8 or, after a long-delay, Deadwood get movies to close out their stories, but those are usually on television, not at the local multiplex. More often than not, television shows end within the confines in which they began: the small screen.
However, thanks to the theatrical feature film Downton Abbey, the door is wide open for more TV shows to hit the big screen.
How Downton Abbey Did At The Box Office Opening Weekend
Downton Abbey seemed like an unlikely candidate for a theatrical feature film in today's blockbuster-driven marketplace. The television series was a historical period drama that aired on PBS in the United States and although it was very popular, success on the small screen on free TV and making an impact at the theatrical box office are two very different things. That makes Downton Abbey an unlikely success story, but a success is exactly what it has turned out to be.
This past weekend, Downton Abbey, again a British period drama, beat out the franchise action film Rambo: Last Blood and the Brad Pitt science fiction epic Ad Astra at the box office. More than that, it wasn't even close. Downton Abbey cleaned house, blowing past tracking and coming in first place at the box office with $31 million, well ahead of second place finisher Ad Astra's $19.2 million.
This surprising performance was the biggest opening weekend ever for Focus Features and it happened against a thrifty $17 million production budget before marketing, immediately established Downton Abbey as a win. It's a remarkable success that validates the decision to make the Downton Abbey movie theatrical instead of putting it on the upcoming Peacock streaming service where it would have missed out on all that box office cheddar. Yet, it is worth looking at why Downton Abbey did so well and how replicable that is.
Why Downton Abbey Did So Well
Downton Abbey did so well in part because it catered to a largely underserved audience at the box office. Nowadays, in a crowded blockbuster landscape, adult-skewing dramas are a dying breed, a dying breed that is ironically thriving on the small screen. Taking one of those adult dramas from the small screen to the big one got older audiences to come out to the theater.
According to Deadline, 32% of Downton Abbey's opening weekend audiences were over the age of 55. Baby boomers showed up on opening weekend in force for an adult drama that also really appealed to women. A whopping 74% of Downton's opening weekend audience was female. Movies seemingly geared toward a female audience don't always work, as evidenced by The Kitchen and Where'd You Go Bernadette. But for the right film and one that's actually good, women will show up.
These exact circumstances might be unique to Downton Abbey, but its success on the big screen still offers plenty of hope for other popular TV series to get their fans off the couch and into the theater.
Popular TV Shows Are Powerful IPs
These days, the box office is often driven by recognizable IPs and powerful name brands. This is why we see a lot of instances of choice television properties being rebooted and adapted for the big screen. Movies like 21 Jump Street, Baywatch and Power Rangers have all tried this, albeit to varying degrees of success.
The difference with something like Downton Abbey is that it is a follow-up/reunion/continuation of a recent show that people already love. So, it benefits from having a built-in audience and name recognition, without the risk of alienating those existing fans by doing something too different with a reboot. In the peak TV era, the biggest television shows are cultural touchstones on par with the biggest franchise films, and that familiarity makes them incredibly attractive properties.
Downton Abbey's box office success could act as a proof-of-concept, kicking open the door for other popular television properties to follow in its theatrical footsteps.
Why There's Hope For Other TV Shows At The Box Office
Downton Abbey was a hugely popular TV show, the type of water-cooler series that people binged and discussed. Appointment television like Downton Abbey compels fans to watch a show as soon as it airs or quickly binge through it when it drops on a streaming service to be part of the conversation and avoid spoilers. Downton Abbey provides strong evidence that that need and immediacy extends beyond the small screen. Fans will seek out the next chapters in their favorite shows no matter what platform they are on.
But in some ways, Downton Abbey was an odd choice to get a feature film follow-up, at least compared to some other big television shows we'll touch on later. Although I was never a fan, it is my understanding that the Downton Abbey TV series was not cancelled too soon and although there was room for a continuation, it largely wrapped up its character's stories and offered a degree of closure for fans.
Audiences showed up to see Downton Abbey in the theater because they loved these characters and wanted to see more of them and what happened to them after the final episode aired. That sentiment undoubtedly holds true for many other beloved series with dedicated fanbases, meaning that other TV shows could also find success on the big screen.
There are plenty of TV shows that deserve a movie and I imagine that if those series were cancelled too early or had major lingering questions, the desire for a movie would be even greater and correspondingly, the box office potential would also be large. Two TV series that left audiences wondering what happens next are already getting movies that look to answer those very questions.
What TV Shows Are Already Coming To Theaters
Sex and the City, Serenity, The X-Files, The Simpsons Movie and Entourage have all offered theatrical entries to TV series. Downton Abbey's success may inspire more TV show follow-up movies, but two other hugely popular, water-cooler shows already have movies in the works.
Breaking Bad is one of the greatest television shows of all time and although it concluded the story of Walter White, the ultimate fate of Jesse Pinkman was left rather up in the air. El Camino: A Breaking Bad Movie coming to Netflix will answer what happened to Jesse next. El Camino is only getting a limited, one-weekend theatrical run, but it will play in theaters and after Downton Abbey's success, one has to wonder if it should have had a full theatrical release.
A series that is getting an exclusive theatrical release is AMC's The Walking Dead movie. That film will answer what happened to Andrew Lincoln's Rick Grimes after his character's exit from the show came in a manner other than his long expected death. It seemed like a strange move to make The Walking Dead movie theatrical considering that audiences followed Rick Grimes' story on the small screen and are used to seeing it with their cable subscription. Now though, after the success of Downton Abbey, that move looks like it may have been a shrewd one.
The Big Screen Isn't For Everyone
The decision to put Downton Abbey in the theaters paid off so handsomely that it will clearly inspire others to think twice about sending follow-up/reunion movies for popular TV shows straight to whatever new streaming service their corporate overlords are hocking and perhaps try their hand at the box office. I imagine more shows will do just that beyond the ones we already know about.
However, theatrical should not necessarily be the default option, it's just an option, and where a TV series' follow-up movie should land is going to vary based on each show and what works for one may not work for another. The popularity of a show, how long it has been off the air (if it has) and whether its content really necessitates a big screen presentation are all factors that must be considered.
In addition, Downton Abbey is a success in part because it was made on a very reasonable budget. If a huge genre show like Game of Thrones or The Expanse were to get the theatrical treatment, the budgets would be much higher and so to would be the threshold for success.
Not all popular TV shows should follow Downton Abbey to the big screen, but for those that do, the door is wide open thanks to Downton Abbey. Downton Abbey is now playing. Check out our 2019 release schedule to see what else is headed to the big screen the rest of this year.
Your Daily Blend of Entertainment News
Nick grew up in Maryland has degrees in Film Studies and Communications. His life goal is to walk the earth, meet people and get into adventures. He's also still looking for The Adventures of Pete and Pete season 3 on DVD if anyone has a lead.
Your Daily Blend of Entertainment News
Thank you for signing up to CinemaBlend. You will receive a verification email shortly.
There was a problem. Please refresh the page and try again.