Downton Abbey Movie: 7 Of The Best Moments, According To A Superfan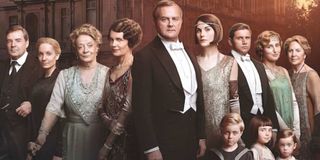 Warning: SPOILERS for the Downton Abbey film are in play. If you haven't seen it yet, please make arrangements to do so at haste, and return once you're informed.
Who would have thought that writer/creator Julian Fellowes' series Downton Abbey would not only make an incredible cinematic experience, but also a tremendously successful one as well? I'll tell you who: the superfans, myself included, who've seen every episode, whether it be when the show first aired on ITV or in the world of streaming reruns on Amazon Prime. And as one of your ranks, I'd like to take the time to discuss some of the best moments of the film we've all been waiting for since we last saw the Crawley family at the end of Season 6.
As such, I have to warn you that there are spoilers throughout this trip down memory lane. So if you haven't seen the movie yet, this is your last chance to turn around. Meanwhile, if you're not only behind on the film, but haven't seen an episode of Downton Abbey ever, then you might get a bit confused here.
If you're still with me, let's begin running down the scenes that made Downton fans excited for its return!
The Extremely Cinematic Opening
As far as the televised version of Downton Abbey was concerned, the opening credits were an understated joy that showed the maintenance of the Crawley household, as well as good amount of a dog's tail wagging. However, the motion picture version needed something bigger and grander to welcome the audience back, and boy did it deliver.
Literally following the news of the royal wedding, we go from a steam train's mail hold, to a messenger speeding towards Highclere Castle, and finally to the beautiful reveal of Downton Abbey itself. As composer John Lunn's music swelled up to play that familiar tune, it was enough to bring some mist to fans' eyes. OK maybe just mine.
Mister Carson's Return To Downton Abbey
Now here's a moment that, despite being shown in the trailer, never lost its impact once it was shown on the screen. As Mr. Carson (Jim Carter) had retired from the post of valet, thanks to a newly developed case of palsy, the management of Downton Abbey's downstairs affairs was left to Thomas Barrow (Robert James-Collier).
However, with the pressure of the royal visit mounting, and Lady Mary (Michelle Dockery) fearful that Mister Barrow won't cut it, a visit is paid to the Carson cottage in order to recruit his services. Ever loyal, Carson assures Lady Mary he'll be at Downton in the morning, and the warmth of that moment's happiness is absolutely radiant. Think of it as Downton's version of that scene in Avengers: Endgame where everyone comes back from The Snap.
Mister Molesley's Royal Outburst
Throughout the entirety of Downton Abbey's film incarnation, there's a subplot that amps up the humor of the film's story quite effectively. With the household staff leading a rebellion against their royally employed counterparts, the subterfuge and sabotage is part of how the film version of the series scaled itself up to motion picture-sized thrills.
It all culminates in Kevin Doyle's Joseph Molesley breaking with tradition, and several other codes of behavior, to give the entire household staff the credit that is due. Revealing their entire game, Mr. Molesley not only reveals that it's the Downton staff serving, but that Mrs. Patmore (Lesley Nicol) cooked the meal. As if spilling the beans wasn't enough, Molesley's realization that he's done so is the perfect comedic button on an already laugh worthy moment.
The Dowager Countess And Mary's Heart-To-Heart Conversation
During those years it didn't look like a Downton Abbey movie was ever going to happen, there was one party who almost felt like they were rooting for that possibility to fail: Dame Maggie Smith. Her reasoning was centered around her character's age, as well as the possibility that a film version would seem non-essential after a story so well told. When the time came though, Dame Maggie returned in fighting form and delivered a ton of zingers that brought Violet Crawley to life on a greater scale than ever.
Her greatest moment is one that may give Julian Fellowes an out, should Maggie Smith not want to return for another film. Disclosing to Lady Mary that she is terminally ill, and unsure how much longer she'll live, Violet assures her granddaughter that she is not only Downton's future, but also a representative of all her best qualities. If you're not crying during that moment, you may want to see a doctor yourself.
Tom Branson And Lucy Smith's Torchlight Dance
Poor Thomas Branson (Allen Leech). Over six seasons of television history, he went from a lovestruck chauffeur to a new member of the Crawley family, and sadly became a widower in the process. Downton Abbey has seen Thomas as a fantastic father to his daughter, Sybil, but besides a romance with school teacher Miss Bunting in Seasons 4 and 5, there hasn't been a grand candidate for the man's heart since.
Which makes the moment where Thomas and his new crush, Lucy Smith (Tuppence Middleton) dance on a terrace by torchlight all the more beautiful. And not only is Branson possibly in love again, but with Lucy's claim as the true heir to Downton, he might be the key to keeping the Crawley household in all of its splendor for years to come. To think, this was a shot that almost didn't make the movie.
Daisy Finally Accepts Andy's Love
If you were asked to name the purest being in the cast of characters on Downton Abbey, you'd have yourself in a three way tie between Mrs. Patmore, the current dog of the Crawley household, and the pure hearted Daisy Mason (Sophie McShera). Rising from scullery maid to assistant cook, she's pulled herself up through the world by her own strong will.
Much like most characters on Downton Abbey, Daisy has had some problems in the way of love. It looked like she'd figured them out, as a romance between her and young valet Andy (Michael Fox) seemed to be brewing in the series finale. That romance saw its fair share of trouble throughout the cinematic exploits of Daisy and Andy, as a handsome plumber looked to threaten everything. By the time the movie ends though, we're shown the moment where dear Daisy, after years of hard work and romantic setbacks, finally accepts the love of her fiancée. And all it took was his admission he was jealous enough to try and damage the hot water heater.
The Carsons Promise The World A Century Of The Crawleys At Downton
There's one couple in the entire cast of Downton Abbey who always know what's happened and what's to come. So leave it to none other that Mr. Carson and his beloved wife Elsie (Phyllis Logan) to be the two that close the film out with its boldest proclamation yet. As they lock up the Grantham Estate for the night, Elsie wonders aloud about the future of the house, a fair question as the Crawley's way of life is gradually going extinct.
Ever confident, Carson tells Elsie that he not only feels that the estate will endure, but that there will be a Crawley at Downton for the next hundred years. It's a line that's part sequel setup, part fan service and all warm blanket, as we should be so lucky as to see the next century of the estate play out on the silver screen.
To say that this is the full extent of beautiful moments that play out in Downton Abbey's cinematic tour de force is to be lying. There are plenty more moments that redeem the fandom for their patience, and make the film a deliciously entertaining experience to behold. To that effect, if you didn't head my warning at the beginning of this feature, and you've read through without seeing the film or the series, it's time to make things right.
Go and stream Downton Abbey the series, and then see the major motion picture (opens in new tab) in theaters now! And if you've got the time, fit in a high tea session while you're at it. You're going to want one after seeing the adventures of the Crawleys and their staff on the big screen.
Your Daily Blend of Entertainment News
Senior Movies Contributor
CinemaBlend's James Bond (expert). Also versed in Large Scale Aggressors, time travel, and Guillermo del Toro. He fights for The User.
Your Daily Blend of Entertainment News
Thank you for signing up to CinemaBlend. You will receive a verification email shortly.
There was a problem. Please refresh the page and try again.