30 Major Disney Movies That Won't Be On Disney+ Day One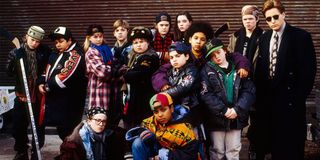 CinemaBlend participates in affiliate programs with various companies. We may earn commission when you click on or make purchases via links.
Disney+ has really outdone itself when it comes to promoting its platform through Twitter, as was seen today with the studios' huge list of titles that will be available starting day one. And yet, if you read between the lines of this monumental library of titles that will be online from the start of the Disney+ journey, there are quite a few titles that surprisingly won't be available. Now that the streaming service has officially launched, you can check it out using a free trial by using this link.
Come to think of it, we've found 28 movies that range from recent big ticket films to long buried obscurities, and all the gems in-between, that have been omitted. If you're planning on subscribing to Disney+, but have certain requirements as to materials you hope to see on the platform before doing so, you're going to want to read this.
One last thing to keep in mind, Disney+ did mention after its Twitter binge that there are more announcements to come. So this list could change between now and November 12, and should be considered subject to change. Now, without further ado, here are the movies that seem oddly absent from the gigantic launch of Disney+:
Song Of The South
Let's just start where everyone and their family expects the Disney+ lineup to make its first omission, no questions asked. A history of racism and general disapproval has always clouded Song of the South, but even in the face of such pushback, the film has been highly sought after by viewers who haven't been able to see it. Despite even Disney Legend Whoopi Goldberg's request that the film be allowed to be released from the vault, the film is not on the Disney+ opening roster, just as previously reported.
The Devil And Max Devlin
You can bet the big reason that The Devil and Max Devlin isn't included in the Disney+ lineup is mostly because of the fact that Bill Cosby plays the headlining role of The Devil. As the recently tarnished funnyman's legacy is a flashpoint for controversy, Disney more than likely doesn't want anyone to start tweeting about how it's seemingly profiting off of his career through sharing this film.
The Mighty Ducks Trilogy
How does a lineup that includes films like Rookie of the Year and The Sandlot omit The Mighty Ducks? Weirder still, how does Disney+ fail to even have the sequels, D2 and D3, in its roster? Emilio Estevez's Coach Gordon Bombay, and his legendary team of kid hockey legends, is the stuff that '90s Disney nostalgia is made of. And yet, there's no room for the Quack Attack, which if you ask us, is totally wack, Jack. Teach these movies to fly!
Cool Runnings
Much like The Mighty Ducks series, Disney+ has also forgotten to bring the true life sports dramedy Cool Runnings onto its platform in time for the big debut. The story of the first Jamaican bobsled team in Olympic history, there are a lot of fond memories that fans have of seeing this film, back when anything with the clamshell VHS case meant Disney magic. Needless to say, the lack of this film is cold as ice.
National Treasure
Here's an interesting situation: National Treasure isn't on the Disney+ launch lineup. However, National Treasure: Book Of Secrets totally is. Now, this isn't meant to be a slam against Nicolas Cage's second adventure involving secret treasure and American history lessons, but if you don't have that first film on the platform, what good is the second? National Treasure is a package deal, and the only plausible explanation for not including the first film on Disney+ is that it gives fans something to distract them from asking when the hell National Treasure 3 is going to happen. Or is it?
John Carter
We're starting to get into a more modern era of Disney films, and John Carter is still currently available on Netflix, for those of you who want to watch it. But for the rest of you who want to see this underrated live-action epic join the Disney+ ranks, in hopes of perhaps consolidating your streaming obligations, you'll have to wait a little longer.
Tomorrowland
Just like John Carter before it, Tomorrowland is another Disney live-action gamble with a vocal fanbase and a history of underperforming at the box office. However, unlike that film, this wide eyed adventure of optimism and futurism is not streaming on a major subscription platform in the streaming world. Sure, it's not a mega hit, but if you can include Fuzzball and Confessions of a Teenage Drama Queen on your streaming lineup, then why not Tomorrowland?
Maleficent
Maybe Disney+ is saving its debut of the original Maleficent for when Maleficent: Mistress of Evil makes its way to the streaming side of the world at some point in the next year. But to not have the first film available, in case newbies want to check out whether Angelina Jolie's reign of storybook terror is for them, is pure evil.
The Planet Of The Apes Trilogy
Looking for the trilogy of films that started with 2011's Rise of the Planet of the Apes to go to Disney+ seems weird on the outset. And yet, when you look at other Fox titles such as Miracle on 34th Street that now bear the Disney name on them, it seems less weird to expect that the recent trilogy centered around Caesar and his ape friends would be on Disney+.
Pirates Of The Caribbean: Dead Men Tell No Tales
On day one, Disney+ is going to have every single Pirates of the Caribbean movie known to humanity. That is, every film except the most recent, Pirates of the Caribbean: Dead Men Tell No Tales. While it's not as vital as the current live-action adaptations have been to the Disney theatrical ecosystem, the presumably final film in this current run belongs with the rest of the bunch.
Disney's The Jungle Book (Live Action)
Now we get to the really interesting movies that won't be on Disney+ come launch day. With Jon Favreau's live-action remake of The Jungle Book not being available alongside its animated counterpart, it feels really weird that this film would go missing before the big launch. Without The Jungle Book, there'd be no Favreau-directed version of The Lion King; a movie that this very title could hype the eventual home video release of very easily.
Disney's Beauty And The Beast (Live Action)
Also missing on the live-action side of the house is Disney's big live-action remake of Beauty and The Beast. A megahit upon its theatrical release, the film would undoubtedly be one of the most sought after titles on the Disney+ channel. But you're not going to see this tale as old as time on day one, so you'll have to fall in love with some other tale of mystical romance when the day comes.
Star Wars: The Last Jedi And Solo
Again, Disney+ is the home for every single Star Wars movie, provided you aren't looking for Star Wars: The Last Jedi. Yet another title that's still carrying over from Netflix's previous agreement with the studio, director Rian Johnson's controversial film is the only one you'll have to switch apps for, should you be trying to run an entire Star Wars saga marathon. Well, that and the Ron Howard-directed Solo: A Star Wars Story. However, both those movies will eventually move to Disney+ on a later date.
Incredibles 2
The good news when it comes to Disney+'s Pixar output is that almost all of the legendary titles the computer animation powerhouse has put into the world will be available for your perusal. The bad news is that Incredibles 2 will not be one of them, seeing as it's still under contract with Netflix. And if you thought any of these omissions have been particularly egregious, just wait until you see our final entry on the list.
A Bunch of MCU Movies
A LOT of the Marvel Cinematic Universe movies, be they on Netflix or not, are going to be unavailable on Disney+ come day one. With almost all of Phase 1's films, aside from Iron Man, and the entire Captain America trilogy being firm examples of what's not going to be online come launch day, future MCU marathons are going to need a little bit of work. Especially since Avengers: Endgame will be available on Disney+ as of December, and Avengers: Infinity War might not be.
And before anyone says, "Hey, what about Spider-Man?", those movies are distributed by Sony, and are handled by their streaming obligations with Starz. At least, that's what the arrangement is at this moment. So you'll have to add another subscription service to the mix, should you want to get the full Marvel picture. Presumably that's the same case with The Incredible Hulk, which belongs at Universal.
Right about now, you're probably wondering what is going to be on Disney+. Well, if you've got three hours and change, you can watch the official lineup video that Disney put together that shows off every single launch title available on Day One.
Disney+ is an exciting prospect, which blends a legendary library with a new slate of exciting originals. But with the titles above not joining the party just yet, and plenty more sure to be discovered as time goes on, we wouldn't blame you if you wanted to hold out a little longer in order to see how the streaming chips fall. We'll see how extensive Disney+ gets in the future, but for the moment, the titles in the video above will be what's available come November 12. You can pre-order your subscription here (opens in new tab), should you want to be in on the ground floor of what's to come.
Your Daily Blend of Entertainment News
Senior Movies Contributor
CinemaBlend's James Bond (expert). Also versed in Large Scale Aggressors, time travel, and Guillermo del Toro. He fights for The User.
Your Daily Blend of Entertainment News
Thank you for signing up to CinemaBlend. You will receive a verification email shortly.
There was a problem. Please refresh the page and try again.