Why Joker Should Lead To An Anthology Rather Than A Franchise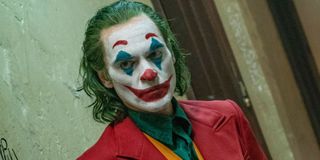 CinemaBlend participates in affiliate programs with various companies. We may earn commission when you click on or make purchases via links.
Three weekends ago, Joker opened to a record setting October debut, which naturally spawned a ton of questions for a film that is supposed to be a one-off experience. With those questions, the big "S" word has been lingering around the conversation surrounding director Todd Phillips' shocker: "Sequel." While some feel there should be a direct sequel to Joker, I would argue that rather than a direct follow-up, there should be an anthology series of films originated by this film.
As tempting as it would be to continue the story of Arthur Fleck's transformation into Gotham City's Clown Prince of Crime, it makes much more sense for those in charge to enjoy the freedom of an anthology's loosely-connected story. Through a handful of compelling reasons, we'll see why the world of the Joker is better kept in the world of loosely-bound storytelling.
We Know That Joaquin Phoenix's Joker Isn't The One That Will Terrorize Robert Pattinson
As much as everyone would love to see the opposite be the truth, Joaquin Phoenix's version of The Joker isn't the one that's going to be roaming the streets in The Batman. The timing doesn't line up, and ultimately, things just aren't structured for this to be the truth in the world of DC's Caped Crusader. But, of course, Phoenix's Arthur doesn't need to be totally unconnected from Pattinson's crime fighting antics.
Joker would be the perfect prequel to the world of The Batman. With a series of windows into Gotham's history between then and now, we could see the evolution that leads to the Joker variant that ultimately occupies our modern world. Through various Jokers, we'd see the character morphing from the "inspirational" meekness that Arthur used to become Version 1.0 into the totally unhinged psychopath that wears his manic heart on his lapel, right next to his poison squirting flower.
A Joker Anthology Could Build The World Of The Batman's Gotham Rather Effectively
Not only would the Joker character be able to evolve during a series of anthology style stories, but the world of Gotham City would also be able to progress through those various installments of madness. The history of the city's fall from grace and into the decay that it eventually finds itself needing to be saved from is a story we haven't seen in too great of detail. And who better to act as a tour guide than The Joker?
Acting as the end all/be all villain of the Batman canon, a series of Joker-inspired films could be seen as a way to develop characters and settings in the world of The Batman that reflects various eras of Gotham's history. All the while, we see the city, and the enigmatic presence of its greatest foe, progressing to the point where it needs a savior to lift it from utter despair.
The DC Universe Has Always Been Friendly To One-Off Interpretations
Before Warner Bros and DC engaged in its current era of filmmaking, the studio and its comic creation arm typically delivered interpretations of the various heroes and villains of its vast library in unconnected versions that, at most, spawned self-contained franchises. While the strategy is still very much in place to make a Justice League-connected universe happen, i.e. the DCEU, Joker's continued history could continue without having to be connected to the world at large.
The character's very nature is amenable to a one-off sort of context that would continue that fine tradition in the world of Joker's gritty and grounded interpretation of Gotham City. Audiences would be allowed to see more of this Gotham, whether it links into The Batman or not. More importantly, DC might be motivated to develop and cultivate the character of The Joker in such an experimental method in this anthology that they could figure out how they want to use the antagonist in the grander scheme of things.
Using Different Jokers Means Differently Styled Joker Movies
People's expectations of The Joker vary as much as the character's appearances throughout the DC Extended Universe. What one person sees as the ideal Joker could be another person's worst case scenario for the character. And yet, that's what makes this particular Batman villain special, as each version has its own unique quirks to try and reason with. In that same respect, Joker wasn't your typical DC Comics movie, and to see a series of films that honor that same sort of aesthetic would be truly effective.
Imagine various director and writer teams getting to do their own spins on what Todd Phillips did with his version of Joker. You could have a '90s Joker that's very much different from the grimy, Scorsese inspired '80s variant; a man who takes on the sheen and the gaudiness of the era he's supposed to fit into. You could even branch out into a female version of The Joker and really have fun with the possibilities of dropping the standard male playbook. An anthology wouldn't limit The Joker to just one track or the other, allowing so many people to play in the sandbox. Or, in one particular case, it'd let someone back into the fray.
Jared Leto's Joker Would Still Have An Opportunity To Show Up
Like him or hate him, there's a bit of sympathy that could be had for Jared Leto and his portrayal of Suicide Squad's Joker. The man almost hasn't gotten a fair shake when it comes to all of the potential that his character was teased to have in the run-up to the eventual finished product. With Joaquin Phoenix's Joker having so much success, and after Leto tried to claim what seemed to be owed to his character, it feels like we might not see him back in the role in future films.
At least, that's if DC is planning to go full steam ahead with more films centered around Arthur Fleck, which is still very much a possibility considering the numbers Joker has put up in its three weeks of release. Almost a billion dollars speaks volumes as to what the future could hold, but if Warner Bros wanted to turn that popularity into the opportunity to give The Joker the multiple choice past he's always held so dear, there's room for Jared Leto to come back at least once and have a true crack at the role he was once destined to reinvent.
Joker has its own similarly uncertain path to the future, but at this moment, it looks like DC and Warner Bros. have yet another franchise that they could use to bolster their fledgling cinematic enterprises. It's really just a question of how they attack that challenge, and the best option open to the decision makers in the studio seems to be an anthology, rather than a directly connected series of films.
Let The Joker's history develop through various protagonists, with the ultimate aim of providing background for another, more consequential franchise to take its inspiration from. It's as close as all involved can come to having their cake and eating it too. Though if The Joker happens to be the chef, you might want to think twice before taking that first bite.
Joker is in theaters now, while The Batman is aiming to hit the silver screen on June 25, 2021. And if you feel like reading up on the adventures of any Joker you choose to call your own, why not head over to Comixology and check out such books as Batman: The Killing Joke (opens in new tab) or even the simply named Joker?
Your Daily Blend of Entertainment News
Senior Movies Contributor
CinemaBlend's James Bond (expert). Also versed in Large Scale Aggressors, time travel, and Guillermo del Toro. He fights for The User.
Your Daily Blend of Entertainment News
Thank you for signing up to CinemaBlend. You will receive a verification email shortly.
There was a problem. Please refresh the page and try again.