When Jared Leto's Joker May Return To The DCEU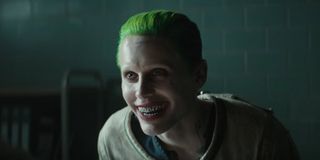 Arguably no Batman rogue has a more well-worn cinematic history than The Joker. The Clown Prince of Crime has taken many forms over the years, and each incarnation of the character has brought something new to the table. Jared Leto is the latest version of the villain to waltz into Gotham City, and while it looks like a new actor is going to step into the purple suit for the upcoming Joker solo movie, Leto will reportedly return to the role for Suicide Squad 2 and Gotham City Sirens.
We're still working to make sense of the recent Joker-related announcements, but it seems that the reveal of a Joker movie does not mean Leto will get the boot. From what we've heard, the actor will still return to reprise his inked-up, gangster version of Joker in Suicide Squad 2, as well as what Deadline calls the "Harley Quinn spinoff" movie -- which seems to indicate David Ayer's Gotham City Sirens. There's currently no word as to whether or not Leto will reprise the role in the upcoming Bat Family-oriented films (such as The Batman, Batgirl, and Nightwing), which means, for now, he's going to stick close to the evil side of Gotham.
Although the latest report seems to confirm that we will still see plenty more of Jared Leto's Joker in the foreseeable future, the prospect of this non-DCEU Joker story offers up plenty of intrigue in its own right. The rumors suggest that Martin Scorsese and Todd Phillips want to take the character back to an early 1980s setting and give the film a grounded and gritty crime tale atmosphere -- which is to be expected from a guy like Scorsese. So, while Leto will still have an opportunity to portray the heightened reality version of Joker seen in last year's Suicide Squad, this new version of the character may veer somewhat closer to the Heath Ledger version of the character seen in Christopher Nolan's The Dark Knight.
In many ways, it almost looks like the DC slate is providing audiences with a marriage of what the Marvel Cinematic Universe and the X-Men universe have managed to pull off in recent years. We are still going to get our interwoven superhero franchises and crossovers (a la The Avengers), but DC seems to want to capitalize on the success of self-contained films, like we've seen with Fox's Logan and Deadpool. If audiences prove discerning enough to keep the continuity straight, then this could potentially open up a whole new world for DC movies in a manner that we didn't think could happen. It shows a willingness to embrace the multiverse concept in ways that we have not seen in films before, and as many Batman fans would likely agree, more Joker is not necessarily a bad thing.
For now, we will just have to wait and see how the various live-action Jokers will evolve over the course of the next few years. The DCEU will continue when Justice League premieres in theaters on November 17.
Originally from Connecticut, Conner grew up in San Diego and graduated from Chapman University in 2014. He now lives in Los Angeles working in and around the entertainment industry and can mostly be found binging horror movies and chugging coffee.
Your Daily Blend of Entertainment News
Thank you for signing up to CinemaBlend. You will receive a verification email shortly.
There was a problem. Please refresh the page and try again.