Paging Gerard Butler: The Fallen Franchise Is Planning At Least Three More Movies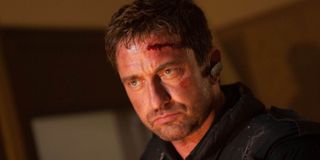 Let's hope Gerard Butler hasn't hung up his Secret Service gear just yet. Because it looks like the makers of the Fallen franchise are gearing up for a whole suite of new films. And while it's likely that the actor will still take top billing in the near future, there is a chance that more stars could help expand the film series' global presence.
The president and CEO of the production company behind the Fallen franchise recently revealed the news at the American Film Market's finance conference. Alan Siegel told the audience there (via Deadline) that following the success of this year's Angel Has Fallen, they are planning at least three new movies. Though no official production plans have been released, it's expected that Gerard Butler will reprise his role as Mike Banning.
Angel Has Fallen was the third in the series, and joined previous the entries -- 2013's Olympus Has Fallen and 2016's London Has Fallen -- in finding success at the box office. The Fallen franchise, thus far, has followed Mike Banning as he works within the Secret Service to defend the U.S. against terrorists. Angel Has Fallen found him fighting to clear his name after he was framed for an attack on President Allan Trumbell, played by Morgan Freeman.
It's not clear what challenges Mike Banning will face in the next installment. But Alan Siegel announced that in addition to continuing the current protagonist's story, there are plans to potentially expand the Fallen universe. He noted that they could sell the franchise's IP to foreign television producers so they can develop spin-offs for international audiences. That would allow for a kind of cross-pollination within the franchise — the local stars of the Fallen TV series could also appear in the franchise films. Alan Siegel gave an example:
The impetus for the potential move seems to have come from the series' international popularity. To date, the franchise has raked in more than $500 million total — and a good portion of profit has come from countries outside the United States. Nearly half of Angel Has Fallen's $133 million gross came from an international audience. Jeffrey Greenstein, who heads Millennium Media, the company responsible for distributing the Fallen films, was also present at the conference. And he mentioned China as a market with enormous potential for the franchise's future.
The Fallen franchise has been likened to the Bourne series. Both feature their beleaguered heroes fighting off myriad enemies. Gerard Butler himself has likened the films to Matt Damon's iconic franchise. But he stressed that his own series stands alone.
Your Daily Blend of Entertainment News
Thank you for signing up to CinemaBlend. You will receive a verification email shortly.
There was a problem. Please refresh the page and try again.