As Joker Hits $1 Billion, Compare What Joaquin Phoenix Was Paid To Other Movie Stars Of 2019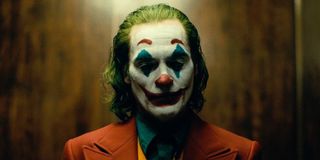 In the weeks since its release, Joker has achieved phenomenal feats at the box office. It recently became the most profitable comic book film ever -- and this weekend, it's slated to cross the $1 billion dollar threshold. What's even more surprising, though, is how much Joaquin Phoenix initially pocketed to play the film's titular antihero, especially given how much some other movie stars made in 2019.
Variety reported on some of the most notable salaries for Hollywood stars this year. According to the magazine, Joaquin Phoenix made $4.5 million for the work he did in Joker. Very few people would argue that's a small amount of money, and it's definitely not the lowest salary on the list -- that belongs to Jessica Chastain, whose salary for It: Chapter 2 was reportedly $2.5 million. But Joaquin Phoenix's salary is still low in comparison to many other actors this year.
Martin Lawrence, for example, made $6 million for next year's Bad Boys For Life. Kristen Stewart netted $7 million for her performance in the Charlie's Angels reboot. Ben Affleck and Idris Elba both made $8 million for Netflix's Triple Frontier and Fast & Furious Presents: Hobbs and Shaw, respectively. And the stars of Once Upon a Time in Hollywood, Leonardo DiCaprio and Brad Pitt, each took home $10 million.
Even those salaries are low compared to some of Hollywood's top earners this year. At $17 million, Will Smith's Bad Boys For Life salary was much higher than his co-star's. Dwayne Johnson raked in $20 million for Hobbs & Shaw, while Robert Downey Jr. scored a similar salary for the upcoming The Voyage of Doctor Doolittle. And Ryan Reynolds -- who recently made fans chuckle with his response to Joker's success -- earned $27 million for his Netflix project, Six Underground.
On the surface, it might seem pretty unfair that Joaquin Phoenix's salary represents such a small portion of Joker's revenue. But Variety points out that more often than not, actors negotiate contracts that ensure a percentage of their film's profits in addition to their base salary. One notable exception to that practice is Netflix deals, which stipulate that an actor's salary won't include profit sharing. In other words, even if Ryan Reynolds' and Ben Affleck's Netflix films end up with record-breaking streams, they won't see another dime.
If Joaquin Phoenix made a backend deal for Joker -- and let's be real, he almost certainly did -- then his overall profit for the film could make that original $4.5 million look like chump change. And that money probably won't dry up anytime soon. Joker is still showing in theaters worldwide, and it will almost certainly find similar success on the home entertainment front.
Your Daily Blend of Entertainment News