Avengers: Endgame's Russo Brothers Break Silence About Martin Scorsese's Marvel Comments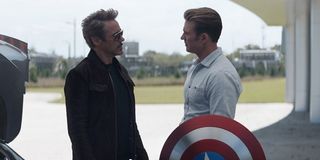 Martin Scorsese has spent the last few weeks clarifying some comments he made ahead of the premiere of his new Netflix movie The Irishman indicating that he feels Marvel movies are "not cinema." A lot of people related to Marvel – including head honcho Kevin Feige – have stood up for Marvel movies in the aftermath, but Avengers: Endgame's directors, the Russo brothers, have been silent on the topic until now.
When asked how they feel about Martin Scorsese's now-famous comments, Joe Russo mentioned it's difficult to have dialogue when the director hasn't even seen all of Marvel's Phase One through Phase Three movies, also going on to say,
The directing duo also shared they feel that Avengers: Endgame's success is not just a "financial" win, but also an "emotional" win, telling THR the movie had "unprecedented impact" on its audience. To them, this seemingly makes Marvel movies a real cinematic experience, with Anthony Russo also explaining he doesn't necessarily feel Scoresese's big commentary on the state of cinema is on the mark. His opinion?
Ultimately, whether they are working on Captain America: The Winter Solider, Avengers: Infinity War or smaller projects such as Cherry, they feel the work they are doing is movie-making. Both of the Russo brothers seem pretty even-keeled when presenting their opinions, but that last comment in particular "Scorsese doesn't own cinema" really drives their point home.
Ultimately, at the end of the day, there are a lot of moviegoers and critics who see what Anthony and Joe Russo are doing as important to the movie-going experience. Martin Scorsese's feelings aren't going to stop the men from making movies, and I don't think his comments were ever intended to.
From what Martin Scorsese has said, he likens the types of movies Marvel is creating to the theme park experience, meaning it's more about going on a fun ride than having an authentic cinematic experience. There are other movies outside of Marvel that are attempting the same thing The Irishman director has described, but it's been convenient for Scorsese to specifically call out Marvel, given the studio's fame and the similar tone and formula many of its movies have followed.
Interestingly, most people are going to catch Martin Scorsese's next movie The Irishman not on a big screen. There are limited screenings in theaters of The Irishman, many of which are selling secondhand tickets at high prices, after which the movie will hit Netflix. You can watch that particular piece of "cinema" from the comfort of your own home.
Reality TV fan with a pinch of Disney fairy dust thrown in. Theme park junkie. If you've created a rom-com I've probably watched it.
Your Daily Blend of Entertainment News
Thank you for signing up to CinemaBlend. You will receive a verification email shortly.
There was a problem. Please refresh the page and try again.