Does Anyone Else Want Another Charlie's Angels Movie?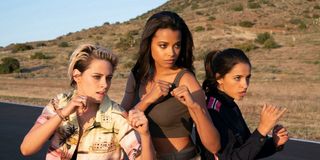 (Image credit: (Sony))
The debut numbers say it all. The hype for the new Charlie's Angels just wasn't there over the weekend. Yes, Elizabeth Banks' action-packed reboot starring Kristen Stewart, Naomi Scott and Ella Balinska is looking a lot like a flop (the director-writer-producer-actor even called it). Not many fans have run to catch the new badass lady spies so far, and as the holiday season goes into high gear with upcoming releases such as Frozen II and Knives Out, the competition will only get uphill from here. But let's just push aside the figures for a moment and talk out the movie itself.
I know I'm not the only one who dug the new Charlie's Angels. It was a fun time and it's an action comedy that delivers! Overall, it just has a lot more going for it then its domestic $8.3 million opening weekend haul says about it. Who cares about the looming disappointment Hollywood executives are taking in thus far? Movies are for the fans, and given the chance, I think this Charlie's Angels has some franchise potential! Here's why:
The Trio Has Some Major Chemistry
It was certainly a risky choice for the new Charlie's Angels movie to enlist a couple mostly-unknowns and Kristen Stewart as its central stars. Sure Stewart has star power, but in recent years, she's rebranded herself as an indie darling. And Naomi is no stranger to studio films with her roles in Power Rangers and the live-action Aladdin, but she doesn't quite have a following of her own just yet. It would have been easy if a Charlie's Angels reboot enlisted the likes of always trendy stars such as Jennifer Lawrence or Emma Stone, but it should be celebrated for not relying on big names for its success.
And when this new trio is given a shot on the big screen, they take audiences on a journey with them as their friendship is cultivated. One of the best strengths of Charlie's Angels is watching Kristen Stewart, Naomi Scott and Ella Balinska spy characters bond, play off one another and build an infectious chemistry during their missions. You can just tell they are having a blast on set and nothing feels too forced or insincere between them. Now that we've scratched the surface of their talents together, it'd be even better the second time around!
It Looks Good On Kristen Stewart
While the trio definitely brought it as a unit, Kristen Stewart is undoubtedly the standout of the three. The actress is seasoned on movie sets and has worked since she was a kid, but we've come to know her as a 'serious' talent who often frequents dramas. Charlie's Angels allowed her to let loose, ad lib some of the best jokes in the movie and just have fun. She also made the case for carving out her own space in the action-comedy realm we haven't on screen before. Stewart's Sabina was hilarious, memorable and genuine.
Don't let her die, because I'm hooked. I imagine the sequel opening on Sabina's infamous wedding where she was the "better shot." Was it a drawn-out job on behalf of the angels (because she totally would) or the beginning of an interesting origin story we've yet to see be completely explored. Her chemistry with Ella Balinska's introverted demeanor was a fun dynamic. Heck, she even had something interesting going with Chris Pang's character. Tying Stewart down to a franchise is tough to come by these days, and it'd be a shame for such a good performance in a potential one to go to waste! I like this new side of her.
More Of That Sleek Action
These days, there are so many action movies that the genre can easily become mindless entertainment. While I'll admit the plot of Charlie's Angels could have used some more TLC and its tactics sometimes fell into a more obvious than covert approach, the angels nonetheless pulled off some awesome action sequences! It was often exciting and creative to witness. It's part of the what a unique franchise like Charlie's Angels frees up. When there are different types of characters part of the action, we get to see new approaches to the genre.
A second Charlie's Angels could heighten the fun action style that was just introduced and be even better the next time around. I imagine the Angels going a step further with their training for more gritty fighting styles now that they've had their first rodeo. Because it's Charlie's Angels, leaning more into the cheesiness and "smart" action could be done even better, and all to an awesome soundtrack, such as being delivered by Ariana Grande and company for the next outing.
Moving Past The Charlie's Angels 'Origin Story'
Rebooting a well-known franchise can often be weighed down by retelling a story to a new audience. The new Charlie's Angels focused a lot of its energy on introducing the new spies and a fresh aesthetic for it, resulting in portions of the story or the fun stuff not being explored to their full potential. The movie is all about the three Angels growing into their dynamics that by the time the credits roll, so it doesn't feel like we got to see the full scope of their talents as a trio.
A big chunk of the movie is about Naomi Scott finding a place within the Angels, and she's barely been recruited into the team as things close out. If the story could continue, we can meet Naomi Scott's Elena as a fully-realized badass with skills of her own beyond what's been established. Additionally, quite a bit of the runtime of the first movie was about establishing the world to audiences, such as who the Bosleys are, the safehouse they go to and their love of wig and outfits changes. This time, fans would be up to speed on all of this and we can skip the formalities. Not to mention that seeing the girls again as spies who spend way too much time together and know all the ins and outs of one another would be a blast to see on screen.
Charlie's Angels may not have generated enough buzz to qualify for a sequel, but the early negative reactions to the franchise are just overblown in my opinion. There are plenty of lukewarm action movies that received sequels. This would give a chance for the Angels to really strut their stuff following this first attempt. What do you think? Does anyone else want to see another Angels movie? Sound off in the poll and comments below!
This poll is no longer available.
Your Daily Blend of Entertainment News
YA genre tribute. Horror May Queen. Word webslinger. All her writing should be read in Sarah Connor's Terminator 2 voice over.