C-3PO Will Definitely Be An Important Character In Star Wars: The Rise Of Skywalker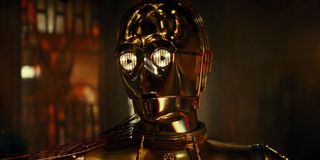 C-3PO has been present in all the Star Wars movies except for Solo: A Star Wars Story (where Anthony Daniels played a different role), but it's no secret that where the Sequel Trilogy is concerned, the golden protocol droid hasn't gotten a lot of screen time thus far.
However, Star Wars: The Rise of Skywalker looks to be putting the character is a more prominent position judging by the trailers that have come out. Sure enough, Anthony Daniels, the man who brings C-3PO to life, has confirmed that the expert in human/cyborg relations is essential to the plot of the Skywalker Saga conclusion. In his words:
We got our first hint that something big was in store for C-3PO in Star Wars: The Rise of Skywalker, back in August, when the D23 preview showed the droid's eyes glowing red for some strange reason. Then the October trailer rolled around, where we see Threepio hooked up to some machinery and telling Poe Dameron that he's taking one last look at his friends. Naturally that prompted speculation from fans about whether Threepio will die in The Rise of Skywalker.
We'll have to wait until The Rise of Skywalker unfolds next month to learn C-3PO's ultimate fate, although clearly he's going through some kind of reprogramming given the red eyes and Babu Frik the tiny alien messing around with the wiring in his head. Regardless, as Anthony Daniels laid out to Entertainment Weekly, the golden droid won't be window dressing again, and furthermore, we'll see a new aspect of him by digging into "ancient" Star Wars lore.
I'm curious about what Anthony Daniels means when means by this. As far as the droid's origins go, we learned in The Phantom Menace that Anakin Skywalker rebuilt C-3PO, but perhaps The Rise of Skywalker will provide insight on the droid's past from before the young pod-racer found him in a Tatooine junkyard. After all, The Rise of Skywalker is the final chapter of a nine-movie saga, so this could be a way for the movie to simultaneously tie back to the first chronological Star Wars movie and delve into an unexplored corner of this mythos.
Since The Rise of Skywalker is the final installment of the Skywalker Saga, this will likely be the last time we see C-3PO, and most of the starring characters, on the big screen, though he'll almost certainly pop up again in other material down the line, like books, comics and maybe even an animated series. Still, it's nice to know that C-3PO has a significant role to play in this momentous tale rather than just cameoing again.
Star Wars: The Rise of Skywalker opens in theaters on December 20, so keep checking back for continuing coverage. In the meantime browse through our 2019 release schedule to figure out what other movies you want to see before the year is over.
Connoisseur of Marvel, DC, Star Wars, John Wick, MonsterVerse and Doctor Who lore. He's aware he looks like Harry Potter and Clark Kent.
Your Daily Blend of Entertainment News
Thank you for signing up to CinemaBlend. You will receive a verification email shortly.
There was a problem. Please refresh the page and try again.