The 8 Best Spy Movies On Netflix Right Now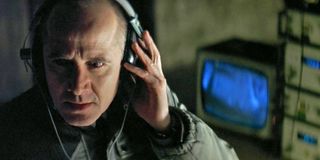 Are you looking for something good to watch on Netflix? It's a common concern in our digital age. The streaming service has hours upon hours of content available at the click of a button, but it seems impossible to narrow down what you want to watch. It's certainly a fine problem to have, but a problem nonetheless. But you're in luck, especially if you're looking for fun spy movies to watch. Because we have narrowed the selection down a bit. Hopefully, there's something for everyone on this list — whether you're looking for action, comedy, mystery, suspense, or something else altogether.
There are still a treasure trove of movies available on Netflix, but if you're looking for solid recommendations, especially in the spy genre, then look no further than this list, where we'll offer just eight of the best spy films currently available on Netflix's streaming platform. Whether it's something a little more adult or family-friendly, or it's something action-friendly or full of laughs, we've got your picks waiting for you to pick from. Should you choose this mission, of course. Without further ado, let's break down just eight of the finest, funniest and/or silliest spy films currently available for your viewing pleasure on Netflix. Action, adventure, danger and mystery all wait for you at the click of a button with these titles. Enjoy your movie night!
Austin Powers: International Man Of Mystery (1997)
Who said spy movies needed to be so serious? With the Austin Powers franchise, Saturday Night Live veteran Mike Myers firmly cemented himself as a household name. The loving 007 parody spawned a franchise that quite nearly rivaled the scope and scale of its blockbuster inspiration. While the sequels never quite reached the same heights as its predecessor, the original Austin Powers: International Man of Mystery is still a great slice of satire fun. Portrayed by Mike Myers, who also wrote the comedy's screenplay, Myers adopts the wacky, weird persona of the title character, a super spy with a healthy libido and no shortage of chest hair to boot. The character's love for raunchy humor and double entendres inform the movie's super silly sense of humor, particularly as it focuses on the '70s character's fish out of water adventures in the '90s. If you haven't seen it, it is positively groovy. Stream it here.
The Lives Of Others (2006)
Writer/director Florian Henckel von Donnersmarck's spellbinding The Lives of Others is an appropriately mesmerizing achievement, if one that doesn't quite have the glamor or radiance that comes with other spy movies. Closer in the vein to Francis Ford Coppola's The Conversation than anything that might come to mind when you think about spy movies, this mystery-thriller, which follows an agent conducting surveillance on a writer and his lover and increasingly finds himself engrossed in their intimate lives, is nevertheless a thrilling and captivating achievement. It should come as little surprise that it took home the Best Foreign Language Film Oscar in 2007. This intriguing, thoughtful, and thematically dense tale is one worth sharing to others. Watch it here.
Spy Kids (2001)
But spy adventures shouldn't be solely for the adults. Let the kids join in on the fun! While Robert Rodriguez's family-friendly features haven't always resulted in his best work, the filmmaker channelled the charm, creativity, and energy of his adult movies and provided an engaging, entertaining new take on the spy genre with 2001's delightful Spy Kids, one that found the children taking the center stage in a brave effort to rescue their parents from an evil television personality. It is filled with fun gadgets, enjoyable set pieces, several light-hearted moments, and lots of hijinks. Suffice to say, audiences of all-ages can enjoy this early '00s action-adventure. When it comes to the sequels... well, you might be better off not accepting those missions. We'll leave it at that. Check out Spy Kids here.
The Informant! (2009)
While Steven Soderbergh might be more commonly known for his heist trilogy, Ocean's Eleven, Twelve, and Thirteen, as well as his award-winning titles like Erin Brockovich and Traffic, to name only two, one very entertaining romp from the acclaimed filmmaker that unfortunately slipped through the cracks was 2009's The Informant!, a true story that's so ludicrous, you'd swear it's fiction. Featuring a career-best performance from Matt Damon, this dramedy finds Damon playing Mark Whitacre, a whistleblower in the lysine price-fixing conspiracy in the mid-'90s who finds himself caught up in a large stream of absurd circumstances throughout the movie's runtime. While the tale never fails to recognize the humor in this situation, the film's portrayal of Mark Whitacre shows a midwestern man who wants to believe he's at the center of a spy capper. Suffice to say, the irony of it all provided a far richer tale. See it all play out here.
Inglourious Basterds (2009)
Like many Quentin Tarantino movies, Inglourious Basterds isn't simply one thing. The revisionist war drama/dark comedy is a film that's defined more by the eccentric filmmaker's eclectic tastes than any one specific genre. Therefore, it's a little strange to suggest that it's a spy film, since that's only one of several things that someone can call the controversial film, but it does fit the mold — if even marginally. Nevertheless, it's hard to imagine many opportunities where one wouldn't want to celebrate this sensationally good film. The story of a group of allied Jewish soldiers tasked with taking down any and all Nazi soldiers, particularly by way of scalping, plays fast-and-loose with the facts and it isn't one that's easy to define. Nevertheless, it does feature one dazzling sequence with its central spy character, played by Diane Kruger, and it offers plenty of other stylish twists and turns. Check it out here.
Traitor (2008)
A straightforward-yet-engaging American spy thriller, Traitor features strong performances from both Don Cheadle and Guy Pearce as the former plays a Sudanese-American former U.S. soldier with a history of high explosives whom the latter, an FBI special agent, is searching for related to a series of explosions directed at civilians. It's a tense character piece, with a story credit from Steve Martin (surprisingly), yet it's a compelling and dynamic little thriller, one that should make for an engaging viewing. Often, a pair of acclaimed actors providing commanding work is more than enough to satisfy. You can certainly expect to find a number of solid, well-realized performances, as well as thrilling dramatic moments and a whole lot more, in Traitor. Check it out here.
xXx (2002)
Sometimes, you just want to watch something dumb. There's no shame in that. After a long day of work, or an exhausting run of errands, you want to snuggle up on the couch, put on Netflix and relax your brain for two hours. If that's the case, then you will likely get a kick out of Vin Diesel's extremely stupid, yet often entertainingly absurd, xXx. A movie title that will produce no shortage of inappropriate responses if you put it in wrong, this early '00s vehicle for the Fast and the Furious actor is macho movie with a teenage boy's understanding of cool. It has pretty woman, dangerous stunts, fast-moving vehicles and several scenes with its lead actor trying to act like the toughest mofo there is. It's not necessarily a good movie. Hell, it might not even be a decent one. But if you want to unwind and watch something that verges damn well near "so bad it's good" territory, this one could be fun. Stream it here.
Layer Cake (2004)
While Layer Cake might not exactly fit the bill as a traditional spy movie, as it owes more to the crime genre than your typical spy adventure, it has its roots in making at least two of the biggest spy franchises of the early 21st century. Specifically, Layer Cake is the movie that literally got Daniel Craig the gig as James Bond, while it was the directorial debut of producer Matthew Vaughn, who would go on to helm the Kingsman movies. Suffice to say, this Guy Ritchie-esque movie has certainly gone a long way towards influencing the spy movies we see at the multiplex today. That's certainly not an accident. If you're waiting eagerly for either The King's Man, No Time To Die, or both, you should throw Layer Cake on to help you ease the wait for those films. Watch it here.
These are only a mere few of the spy movies currently made available on Netflix. Some of them are more serious than others, certainly. And a few of them are geared more towards younger audiences, while others are decidedly much more adult in their thematic material. Nevertheless, we hope we provided a wide, yet equally narrow, array of titles to choose from based on your personal preferences. Whatever you're looking forward, you should hopefully find from our selections listed above. Let us know what you think of these titles. Also, be sure to name your favorite spy movies available on Netflix below. Maybe we didn't look for all the proper clues and missed a few worth considering? If that's the case, let us know what should be added.
Your Daily Blend of Entertainment News
Will is an entertainment writer based in Pittsburgh, PA. His writing can also be found in The Playlist, Cut Print Film, We Got This Covered, The Young Folks, Slate and other outlets. He also co-hosts the weekly film/TV podcast Cinemaholics with Jon Negroni and he likes to think he's a professional Garfield enthusiast.