Black Widow: 5 Confirmed Theories For The Next Marvel Movie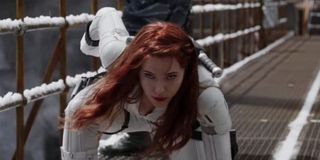 (Image credit: Disney)
WARNING: this article contains some crucial spoilers for Avengers: Endgame. If, for some reason, you have not seen it, proceed with caution!
On December 3, 2019, fans finally got to catch a glimpse of Scarlett Johansson as Natasha Romanoff leading her own movie in the Marvel Cinematic Universe with the first trailer for Black Widow. Marvel fans have been wanting to see Scarlett Johansson's Natasha Romanoff headline her own solo Black Widow film since she first exploded into the MCU in 2010's Iron Man 2.
The film's mysterious plot, in typical MCU fashion, has garnered much speculation since it was first announced. Is it a prequel? Is it a sequel? Is a sequel possible after that tragic moment in Avengers: Endgame?
There is still much left to learn about Black Widow until the film opens Phase Four of the MCU in May 2020, but, as of now, there are a few things that we know for sure. Such as...
Black Widow Will Take Place Between Civil War And Infinity War
As previously mentioned, excitement for Black Widow's solo film was soon met with confusion after Avengers: Endgame saw the tragic death of Natasha Romanoff, sacrificing herself in return for the Soul Stone.
Theories surrounding the plot of Black Widow erupted every which way, with fans asking if Natasha Romanoff had really died, if Captain America brought her back to life when he returned the Infinity Stones, or if her soul was trapped in an alternate dimension in which the film takes place. Fans also discussed the more logical concept of Black Widow being a prequel that would offer a deeper explanation to the Marvel heroine's origins of espionage.
Well, as the film's trailer and IMBb description have made clear, Black Widow will take place in between the events of 2016's Captain America: Civil War and 2018's Avengers: Infinity War. Therefore, two things are for sure: Black Widow is both prequel and sequel, and, as Scarlett Johansson is certain of, Natasha Romanoff is dead. But at least we will get to see her in action one last time.
The Black Widow teaser depicts an unseen (only heard) conversation between Natasha Romanoff what appears to be William Hurt as Thaddeus "Thunderbolt" Ross (and more on him later), in which he tells her that he heard she "had to leave in a hurry," echoing the events that occur with her toward the end of Captain America: Civil War where Tony Stark warns her that people will be coming for her. It quickly becomes apparent that, while in hiding, Natasha chose to return to Europe.
Could there be a chance that we'll see a cameo from Chris Evans as Steve Rogers and Anthony Mackie as Sam Wilson before the blacklisted trio break off onto separate paths? Or Robert Downey Jr's Tony Stark? Maybe we will also catch a glimpse of Natasha Romanoff's transition from redhead to blonde. Perhaps we may learn more about Black Widow than we are even ready for.
David Harbour Will Be Starring As Red Guardian In Black Widow
Since starring as Hawkins Police Chief Jim Hopper in Stranger Things, David Harbour's career has consistently been on the up and up, landing bigger and bigger roles. For his second attempt at bringing a comic book character to life after 2019's Hellboy reboot, the 44-year-old actor will appear in Black Widow as Alexei Shostakov, otherwise known as Red Guardian.
Red Guardian made his first appearance in Marvel comics in 1967. As one could tell from his battle helmet and the star embroidered on his chest, the character was essentially created as a Soviet equivalent to Captain America, complemented with a bright red shield to cement the resemblance.
Alexei Shostakov was originally depicted in the comics as a fighter pilot for Soviet Union during World War II before becoming the second of many to wear the Red Guardian mantle, as well as being the husband of Natasha Romanoff. While it is not clear what David Harbour's iteration of Shostakov will be in relation to Scarlett Johansson's character in Black Widow, there is no denying the "dad vibes" he gives off in the trailer.
William Hurt Will Reprise His Role As Thunderbolt Ross In Black Widow
As previously mentioned, the Black Widow trailer sports an appearance by an old friend of the Avengers: Thaddeus "Thunderbolt" Ross. Played by William Hurt, the Army general with an ongoing love-hate relationship with the Marvel heroes since his introduction to the MCU in 2008's The Incredible Hulk is heard in the trailer speaking to Natasha Romanoff about how she "had to leave in a hurry," which it seems safe to say is a reference to her evading capture at the end of Captain America: Civil War.
The only reason I say it "seems" that way is because, in the brief shot of Thunderbolt Ross in the Black Widow trailer, he looks far younger than he looked in Captain America: Civil War. It appears that Marvel has given William Hurt the digital de-aging special, following a trend that the studio has arguably perfected.
The use of this CGI trickery raises speculation that Black Widow might end up delving deeper into Natasha Romanoff's history before joining the Avengers and it seems that Thunderbolt Ross is connected to her past.
Florence Pugh Will Appear As Black Widow's "Sister," Yelena Belova
One of the most exciting moments of the Black Widow trailer sees Natasha Romanoff in a brutal face-off with a Russian-accented blonde woman. The fight concludes with Romanoff telling her opponent, "It's good to see you too, sis."
The "sister" in question is Yelena Belova, played by Florence Pugh - though it's not entirely clear if she is a blood relative sister, or simply a colleague and/or friend who is sisterly. The British actress, who garnered attention for her skin crawling performance in Ari Aster's slow-burn horror masterpiece Midsommar, is seen in the trailer joining forces with Natasha Romanoff for more than just a "family reunion."
Yelena Belova's comic book counterpart, first introduced to Marvel comics in 1999, is Russian spy and assassin trained by the Red Room, the same organization known for training Natasha Romanoff, and would eventually succeed her as the second person to honor the Black Widow title. Along with Red Guardian a supposed father figure, the sisterly relationship makes Black Widow look to be quite the family affair.
Taskmaster Will Be The Main Villain In Black Widow
The Black Widow trailer confirms talk that the film will mark the first appearance of Marvel antagonist Taskmaster. However, the villain's spot in the trailer has also sparked some controversy.
Taskmaster is seen in the teaser showing some mad archery skills and donning a helmet sporting a wicked mouth guard resembling the bottom half of a skull. The thing is, that is not the look the original concept art promised.
Fans voiced their disappointment that this iteration of Taskmaster is a far cry from the appearance of his comic book counterpart, a mercenary Anthony "Tony" Masters with incredible abilities in mimicry who was first introduced in 1980. Some have joked he shares a stronger resemblance to a Power Rangers villain.
Of course, some have speculated that, in the frequent tradition of altering character history, this iteration of Taskmaster may not be Tony Masters, but another familiar MCU character who knows his way around a bow and arrow. Additionally, no actor is currently credited in the role, so could this be Marvel's method of hiding the fact that Taskmaster is really Jeremy Renner's Clint Barton, a.k.a. Hawkeye?
That might be a bit of a stretch considering the fact that the story takes place after Captain America: Civil War, where they were last on the same side, so we'll just chalk that up to one of the many mysteries soon to be revealed when Black Widow hits theaters May 1, 2020. Be sure to check back for more updates on Scarlett Johansson's solo Marvel outing here on CinemaBlend.
Your Daily Blend of Entertainment News
Jason has been writing since he was able to pick up a washable marker, with which he wrote his debut illustrated children's story, later transitioning to a short-lived comic book series and (very) amateur filmmaking before finally settling on pursuing a career in writing about movies in lieu of making them. Look for his name in just about any article related to Batman.
Your Daily Blend of Entertainment News
Thank you for signing up to CinemaBlend. You will receive a verification email shortly.
There was a problem. Please refresh the page and try again.