The Best Sci-Fi Movies And TV Shows On Netflix Right Now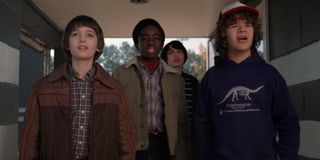 We have no doubt that you are thankful to have Disney+'s The Mandalorian to suppress your anticipation for Star Wars: The Rise of Skywalker. Of course, given how only one episode is released per week, you're probably still hungry for movies and TV shows of the sci-fi persuasion, and what better place to turn to than Netflix?
Among the mixed bag that the streaming service offers, a good chunk of Netflix's best movies and TV shows, even some Netflix originals, fall under the sci-fi category. Allow us to remind you of, or help you discover for the first time, the best in UFO sightings, phaser blasts, interdimensional adventures, and more that is available to stream now.
The Best Sci-Fi Movies On Netflix
Ex Machina
Mary Shelley's Frankenstein asked questions regarding the boundaries of creation, particularly how far can man go before its own scientific breakthrough becomes its downfall. 28 Days Later scribe Alex Garland made his directorial debut by exploring that concept through a more modern lens with 2015's Ex Machina.
This highly intelligent and visually enthralling story follows computer programmer Caleb (future Star Wars star Domhnall Gleason), who is selected to collaborate with his employer, Nathan (future Star Wars star Oscar Isaac), in an experiment of human interaction with his creation: a remarkably humanesque robot named Ava (Alicia Vikander). With breathtaking, Oscar-winning visual effects, this powerful cautionary tale asks what could happen when artificial intelligence surpasses human intelligence. Stream it here.
Her
Speaking of cautionary tales involving artificial intelligence, instead of bleak depictions of mechanical revolt, writer/director Spike Jonze offered an uncomfortable prediction of the future through rose-colored glasses. Imagine if artificial intelligence could be so personable and relatable that it practically rendered human interaction meaningless.
That is essentially the question Spike Jonze asks in Her, the 2013 sci-fi romantic comedy in which divorced love letter writer Theodore (Joaquin Phoenix) falls in love with his virtual home assistant's operating system, named Samantha (voiced by Scarlett Johansson). Not only does Jonze's Academy Award-winning screenplay make this idea sound plausible (it's pretty much come true already), it absolutely captivates you into believing the unlikely romance between man and machine to be earnest and genuine. Stream it here.
The Lobster
If one were to perceive the aging process as a gross, dehumanizing metamorphosis, the widespread appeal of dating service might grow dramatically. Well, what if the stakes in finding romance were truly that high?
In the brilliant absurdist comedy The Lobster, Colin Farrell plays a recently divorced middle-aged man living in an unspecified dystopian time period in which being single is outlawed, forcing singletons to find a partner in just 45 days or they will be surgically transformed into the animal of their choice. Director Yorgos Lanthimos (The Favourite) proves his keen eye for hauntingly dark humor in this scathing satire on modern dating. Stream it here.
Men In Black
Maybe you're not in the mood for something so thought-provoking and just want to have a good laugh, whilst satisfying your sci-fi craving. Few films have managed to combine complex science-fiction with lowbrow, breezy humor as flawlessly as Men In Black.
Director Barry Sonnenfeld's 1997 hit, from executive producer Steven Spielberg, saw veteran Agent K (Tommy Lee Jones) showing rookie Agent J (Will Smith) the ropes in monitoring extraterrestrial activity on Earth and defending the galaxy from some unfriendly "bugs." With creature effects that still impress more than 20 years later, this film combines buddy cop movie tropes with fun sci-fi action. Stream it here.
Snowpiercer
A failed experiment to reverse climate change turns the Earth into an uninhabitable tundra and the last of humanity has survived by boarding the titular self-sustaining bullet train. Seventeen years later, in 2031, the passengers of Snowpiercer have developed a class system in which privilege increases by railcar, and the citizens of the caboose are setting their sites on the top.
Chris Evans, a far cry from Captain America, leads a colorful cast (also including John Hurt and Tilda Swinton) and the revolt against the train's 1%, taking you on a journey through its bizarre world one car at a time. Future Parasite director Bong Joon-ho's 2013 dystopian dazzler is a thing of beauty that makes Mad Max look brighter by its mentally scarring violence and brutally poignant social commentary that will have you gripping tightly for the whole ride. Stream it here.
The Best Sci-Fi TV Shows On Netflix
Altered Carbon
One of the more unique and intriguing crossbreeds in genre is the fusion of sci-fi themes with the tone of film noir, such as Blade Runner or Looper. The Netflix original series Altered Carbon tried its hand at futuristic detective fiction in 2018.
Set in a time period in which consciousness can be transferred into digital files, Altered Carbon stars Joel Kinnaman as Takeshi Kovacs, a specially trained soldier uploaded into a new body and given the task of solving his own murder. It is unconfirmed when, but the series is set to return for a second season with Avengers' Anthony Mackie as Kovacs' new body. Stream it here.
Black Mirror
It almost seems out of place to include Charlie Brooker's anthology series on a list of TV shows under the sci-fi category. The stories and concepts of Black Mirror feel too real to deservingly be considered "fiction."
Originally debuting on the U.K.'s Channel 4 before becoming a Netflix exclusive, Black Mirror is five seasons of technophobic nightmares (including a bleak Christmas special and interactive movie) imagining an often cynical interpretation of the not-too-distant future. The title itself is a double-meaning, referring to both our own dark reflections in the empty screens of our daily devices and the dark reflections of our own increasingly tech-dependent lives. Stream it here.
Mystery Science Theater 3000
Sometimes there is nothing better than putting on a widely panned sci-fi movie for the sole purpose of laughing at its aggressive mediocrity. Such is the basis of Mystery Science Theater 3000 (or MST3K), the cult favorite TV show sees a rotation of hosts trapped on a space station and forced to watch some of cinema's most glorious missteps with his robot friends, who indulge in hilariously sarcastic comments aimed at the film of the week.
MST3K went through various distributors (and even spawned a theatrical movie in 1996) between 1988 and 1999 until its much celebrated 2017 revival on Netflix with host Jonah Ray. Both seasons of Netflix's new Mystery Science Theater 3000 and 10 episodes of the series' original run are available to stream on Netflix. Stream it here.
Stranger Things
After The Duffer Brothers lost their chance to direct Warner Bros' revival of It, they decided to develop their own Stephen King story. Combining the horror novelist's themes with the tone of a Steven Spielberg sci-fi adventure gave birth to Netflix's blockbuster original series, Stranger Things.
Quickly after its debut, every TV show wanted to be as big as this recreation of '80s cinema broken into multiple hour-long chapters that follow ordinary people of a small Indiana town taking on extraordinary situations. With fans eagerly awaiting the fourth (and potentially final) season, Stranger Things' cultural impact remains stronger than Millie Bobby Brown's telepathic Eleven in a sensory deprivation chamber. Stream it here.
The Twilight Zone
Once you've finished your binge of Netflix's popular sci-fi anthology series Black Mirror, why not check out the series that responsible for its existence. Enter a dimension of sight, sound, and mind and experience the peak of man's imagination in The Twilight Zone.
Rod Serling's endurable collection of fascinating fantasy tales ran on CBS from 1959-1964, but its legacy has yet to end, having inspired one 1983 film, three TV revivals (most recently from Jordan Peele), and countless other works of mind bending sci-fi on both the big and small screen. Four of the original five seasons are available on Netflix for you to relive the terrifying, captivating, and inspiring world of The Twilight Zone. Stream it here.
As one can see, Netflix has more than enough TV shows and movies to soothe the savage sci-fi fan. Choose wisely on your streaming escapade and may the wi-fi signal be with you.
Your Daily Blend of Entertainment News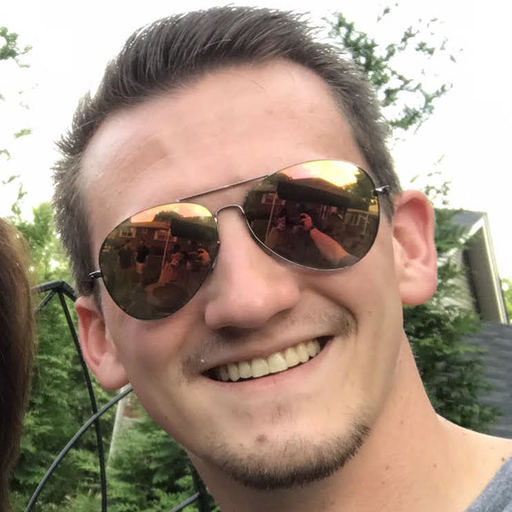 Jason has been writing since he was able to pick up a washable marker, with which he wrote his debut illustrated children's story, later transitioning to a short-lived comic book series and (very) amateur filmmaking before finally settling on pursuing a career in writing about movies in lieu of making them. Look for his name in almost any article about Batman.