Stranger Things Season 4: What We Know So Far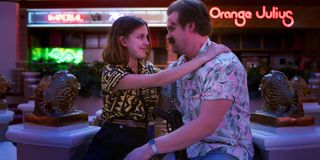 Netflix released Stranger Things Season 3 in July 2019, and the season left viewers with many unanswered questions. The series also ended its third season on a somber note with some major changes for Eleven (Millie Bobby Brown) and the Byers, setting the stage for a very different Stranger Things Season 4. For a few months, Netflix and the Duffer brothers left Stranger Things fans in limbo, as they wondered if Season 3 would signal the end of the series, or if Stranger Things Season 4 would go into production.
In September 2019, the series made its return official with an announcement and video. Since the Stranger Things Season 4 announcement, the team behind the megahit has been releasing little teasers of what to expect in Season 4. As this story will discuss plot points from Stranger Things Season 3, expect spoilers!
There Are Already Multiple Teasers For Stranger Things Season 4
In September 2019, Netflix released Stranger Things Season 4's official renewal announcement with a 45-second teaser video. The video starts with the Season 4 logo forming, with the show's theme as the background music. Once the logo fully appears, we hear the sound of a creature, probably a Demogorgon, and then a flash of the Upside Down. The teaser ends with the sentence "We're Not in Hawkins Anymore."
The phrase "We're Not in Hawkins Anymore" could refer to the fact that Joyce (Winona Ryder), Will (Noah Schnapp), Jonathan (Charlie Heaton), and Eleven all left Hawkins at the end of Stranger Things Season 3, and in Season 4, the Byers and Eleven will be exploring life outside of Indiana. It could also be referring to the possibility that Stranger Things Season 4 will explore other dimensions, like the Upside Down and beyond.
The Stranger Things Season 4 teaser was great and all, but the followup video released in February 2020 not only revealed the fate of Jim Hopper (David Harbour), it also made it seem like the show's fourth season would partially take place in wherever the Hawkins Chief of Police ended up at the end of Season 3. The video, which took the internet by storm, spawned speculation, wouldbe explanations, and countless theories as to which direction the show will take moving forward.
The Stranger Things Season 4 Premiere Is Still A Mystery
Netflix released the second season of Stranger Things 15 months after the first season, and Season 3 wasn't released until 20 months after the second go-round. Going off that schedule, Stranger Things Season 4 could be released anywhere from the summer to fall of 2021, but considering the extensive delays experienced by the cast and crew throughout much of 2020, it's hard to say exactly when we'll get to go back to Hawkins for a new set of adventures.
Some believe it might air around Christmas time to match the holiday theme that has run throughout the entire series, and it gives a plausible explanation for why Eleven, Joyce, Jonathan, and Will would be back in Hawkins during Season 4. Eleven mentioned at the end of Season 3 that she wants to spend Christmas with Mike (Finn Wolfhard). If the show does set the fourth season during Christmas, Netflix is likely releasing the episodes in December or November of 2021. However, signs have pointed to a Holiday special, which resolves the question about whether Season 4 takes place during Christmas.
The Stranger Things Season 4 Episode Count
Stranger Things Seasons 1 and 3 had eight episodes, but Season 2 contained nine. So, most likely, Stranger Things Season 4 will have eight episodes. The Duffer Brothers haven't officially confirmed how many episodes will be released this season, but they have given fans a little teaser of what to expect from the premiere.
In November 2019, the Stranger Things writers page tweeted a picture of the script for Stranger Things Season 4 Episode 1. The tweet revealed that the episode will be entitled "Chapter One: The Hellfire Club," a likely reference to Marvel comics characters. The tweet also showed that the Duffer Brothers are writing the Season 4 premiere.
Stranger Things Season 4 Will Tell Us Where Hopper Has Gone
Stranger Things Season 4 should take place in 1986, unless the series decides to skip ahead a few years to make up for the main cast, who are growing up very fast. Nevertheless, we're going to assume that the season sticks to the usual pattern of taking place in the following year.
Many of the relationships ended Season 3 with a big question mark about their future. Due to the move, Eleven and Mike, and Jonathan and Nancy (Natalia Dyer), were separated. Max (Sadie Sink) and Lucas (Caleb McLaughlin) were still together, but Max's brother Billy (Dacre Montgomery) had just died. Most likely, Stranger Things Season 4 will explore how the distance has affected Nancy and Jonathan's relationship, as well as Mike and Eleven's romance.
We're sure the Stranger Things team wants to explore the emotional impact Billy's death has on Max, and how Lucas deals with being there for his girlfriend. Caleb McLaughlin even told EW that he believed Lucas "needs to take it up a notch and be more mature in those moments" to help Max cope with the death. McLaughlin also expressed concern that Lucas wouldn't even know how to provide the support that Max needs at this moment.
Along with exploring the evolving romances, the Russians involvement with the Upside Down and the Demogorgon should be a major plotline of Stranger Things Season 4. The post-credit scene showed the Russians in full possession of a Demogorgon, which raises questions like how did they get this one? Do they have more creatures from other dimensions? Are there other cities plagued by Demogorgons?
The "We're not in Hawkins anymore" reference on the teaser probably means that we'll explore the Byers and Eleven's life outside Hawkins, but also explore other universes like the Upside Down, and potentially meet new creatures. In the same EW interview, Caleb McLaughlin also mentions that:
We should definitely expect an expansion of the Upside Down and alternate universes in Stranger Things Season 4.
The biggest cliffhanger from Stranger Things Season 3 was the fate of Jim Hopper (David Harbour). Hopper sacrificed himself by seemingly dying while being trapped in an explosion that destroyed the Russian's Hawkins-based gate to the Upside Down. Before fans could completely mourn Hopper, Stranger Things said, "But wait, there is more!" and then revealed a post-credit scene where the Russians discussed having an American prisoner.
Stranger Things fans assumed that "the American" was Hopper, and the team behind the show is playing along with that theory. Stranger Things revealed the phone number of Murray Bauman (Brett Gelman), the investigative journalist turned private investigator/conspiracy theorist (also a sometimes matchmaker) in Season 3 Episode 6, "Chapter Six: E Pluribus Unum." The number is (618) 625-8313, and when you call it Murray's long voice message plays.
In it, he mentions Joyce and that he's been trying to reach her. Murray then says that "it's about…" but cuts it off and says that it's best if they speak in person. He says that it isn't good or bad, but it's something.
And since we now know that Hopper is in fact alive (but not so well), it looks like Murray and Joyce (and possibly more of the cast) will spend at least a portion of the season trying to locate their long lost friend in that Russian prison camp seen in the February 2020 teaser trailer.
The Duffer Brothers Are In Charge Of Stranger Things Season 4
Matt and Ross Duffer continue their relationship with Netflix by staying on board for Stranger Things Season 4. The Stranger Things renewal announcement also included word of the Duffer brothers' new overall deal with Netflix. It includes a multi-year contract to create films and television series for the streaming service. This lets the Duffer brothers produce more content besides their current hit, but it also leaves the door open for a spin-off or two around the world of Stranger Things.
The Stranger Things Season 4 Main Cast
The main cast of Stranger Things should return for the fourth season. That includes Millie Bobby Brown, Winona Ryder, David Harbour, Finn Wolfhard, Gaten Matarazzo, Noah Schnapp, Natalia Dyer, Caleb McLaughlin, Joe Keery, Charlie Heaton, Sadie Sink, and Maya Hawke..
Matthew Modine, who plays the villainous Dr. Martin Brenner, is set to return in some capacity, while Brett Gelman's Murray Bauman and Priah Ferguson's Erica Sinclair will both go from recurring to main characters in Stranger Things Season 4.
Eleven (Millie Bobby Brown)
El lost her powers at the end of Stranger Things Season 3. A main part of her storyline going into the upcoming season should involve some sort of quest to regain them, or her learning how to be a teenage girl without powers. With Mike and Eleven now dating long-distance, the show will likely explore what that means for two teens in love. El also just lost Hopper, so Stranger Things Season 4 will likely explore the emotional impact that continues to have on her.
Joyce Byers (Winona Ryder)
At the end of Stranger Things Season 4, Joyce left Hawkins to find some sense of normalcy. She's also grieving Hopper, right after losing Bob Newby (Sean Astin). Losing two men she loved so close together is likely to make Joyce close herself off from finding love again. If Murray's voice message is any indication of what to expect from Stranger Things Season 4, then Joyce will likely team up with him to find Hopper.
Jim Hopper (David Harbour)
Hawkins Chief of Police Jim Hopper's life has been turned upside down since we first met the character back in 2016, and things didn't look much better for fan-favorite at the epic conclusion of Stranger Things Season 3. We at least now know he's still alive, but where (and possibly when) remains one of the biggest mysteries heading into the next chapter of the Netflix sci-fi series.
Mike Wheeler (Finn Wolfhard)
Mike ended Stranger Things Season 3 a little heartbroken with Eleven leaving Hawkins. Viewers can expect to see further exploration of his life without Eleven and Will. This might lead to some teenage angst from Mike.
Dustin Henderson (Gaten Matarazzo)
Dustin ended Stranger Things Season 3 still best friends with Steve, and now he has a long-distance girlfriend named Suzie (Gabriella Pizzolo). Stranger Things fans can expect the Steve-Dustin bromance to continue and possibly Dustin's romance with Suzie to grow.
Will Byers (Noah Schnapp)
Will, along with his mother, brother, and Eleven left Hawkins for a better life. Stranger Things Season 4 might explore the new familial aspect of Will and Eleven's relationship. How will Will deal with a new sister, especially one who kind of stole his best friend while he was away? Stranger Things fans should also expect more exploration of his ties to the Upside Down, seeing as he's one of the few people known to escape it alive.
Lucas Sinclair (Caleb McLaughlin)
Season 4 of Stranger Things ended with Lucas and Max back together, but the death of Billy is sure to cause some fractures in their romance. Will they be able to stay together, knowing the truth of what happened to him? We'll have to wait and see. Also, since his eager (and smart-assed) little sister, Erica (Priah Ferguson) was able to fully get in on the action this time around, maybe we'll get to see more of how they interact in the new season.
Nancy Wheeler (Natalia Dyer)
Nancy and boyfriend Jonathan had a rough patch during Stranger Things Season 3, but ended things stronger than ever…until Jonathan left Hawkins with his family. That distance, and possibly starting college or continuing to explore a journalism career, should open up a whole new world for Nancy, which might not involve Jonathan.
Jonathan Byers (Charlie Heaton)
Jonathan left Hawkins with Joyce, Eleven, and Will. Stranger Things Season 4 will reveal whether Jonathan and Nancy are a strong enough pair to survive the distance. Like with Nancy and Steve, this season should explore more of life beyond high school for the eldest Byers boy.
Steve Harrington (Joe Keery)
Steve ended Stranger Things Season 3 by helping defeat the Mind Flayer and the Russians. Steve and Robin now work at the Hawkins' Family Video, so we should continue to see their friendship blossom. There might also be possible new love interests for both characters.
Max Mayfield (Sadie Sink)
Max lost her brother at the end of Stranger Things Season 3. The new season will likely explore how she reacts to Billy's death, and furthering, or ending, her relationship with Lucas.
Robin Buckley (Maya Hawke)
One of the best characters to be introduced in recent years, Robin Buckley started off as Steve's annoyed coworker who quickly became his best friend and trusted ally in taking on the Mind Flayer in the epic Stranger Things Season 3 finale. How the character fits into the next season remains to be seen, but she'll probably end up being just as badass as before.
New Cast Members In Stranger Things Season 4
TVline reported that Stranger Things Season 4 plans to cast four new male recurring characters; three are teenagers and one is an adult. One of the teens will be an entitled jock, another will be a metalhead, and the last one has traits similar to the stoner Spicoli from Fast Times at Ridgemont High. The male adult character seems to be involved in one of the Russian storylines.
One of the biggest additions to the cast heading into Season 4 is Robert Englund's Victor Creel, a guest character described as being a disturbed murderer serving time in a mental hospital after being convicted years earlier. And considering how well Englund pulled off the sadistic nature of Freddy Krueger all those years, this should make for some interesting moments.
Thomas Wlaschiha, who played Jaqen H'ghar on Game of Thrones, will also be guest starring in Stranger Things Season 4, portraying a Russian guard who befriends Hopper in the prison camp seen in the February 2020 teaser trailer. Other actors added to the cast include Jamie Campbell Bower, Eduardo Franco, and Joseph Quinn.
Stranger Things Season 4 has the potential to be one of the series strongest ones yet, so fans have a lot to be excited about, even if that means waiting a year or two. Netflix currently streams seasons 1-3 of Stranger Things, so you can catch up or revisit the series at any time before the new season premieres!