Stranger Things Season 4: What We Know So Far
Bring on the Hellfire Club! Here's what we know about Season 4 Volume 2.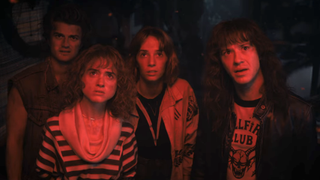 (Image credit: Netflix)
Spoiler Alert: The article below contains details pertaining to events from Stranger Things Season 4, Volume 1. If you're not caught up on the series through the first part of Season 4, read on at your own risk.
Stranger Things Season 4 Volume 1 premiered in May 2022 and quickly broke Netflix records in terms of viewership as the first seven episodes raked up 286,790,000 hours of viewing during a three-day period. The first chunk of episodes, which featured several all-stars (both newcomers and longtime fan-favorites) taking on perhaps their most diabolical enemy yet, came to an end with those very same characters stuck in some rather perilous situations. But we don't have to wait all that much longer to see how things shake out for Eleven, Eddie, Hopper, and the rest of the characters.
In no time at all, we'll be crowded around our TVs, computers, phones, and every other device that allows for a Netflix subscription to surely break even more records with the second half of the latest chapter of the Duffer Brothers' beloved sci-fi series. Here is everything we know about Stranger Things Season 4 Volume 2…
Stranger Things Season 4 Volume 2 Premieres July 1
The first three seasons of Stranger Things premiered in full in July 2016, October 2017, and July 2019, respectively, but the show's fourth season was split up into two parts. The first seven episodes, aka Stranger Things Season 4 Volume 1, debuted on Memorial Day weekend in May 2022, with the final episodes coming later in the summer.
Those two final episodes are set to premiere and conclude this chapter of the beloved series on Friday, July 1. But fans of the series shouldn't feel like they're getting a raw deal because those final two installments, aka Volume 2, are going to be much longer than just about anything that has come before.
Both Remaining Episodes Are Feature Length
According to Netflix's official fandom site Tudum, Stranger Things Season 4 Volume 2 will clock in at around four hours in length. The penultimate episode, titled "Chapter Eight: Papa" is 1 hour, 25 minutes in length, while the season finale is almost two-and-a-half hours in length, the longest episode the series has featured so far.
"Chaos" Is Coming
The Stranger Things Season 4 Volume 1 ending left Hawkins' heroes (both in the cursed Indiana city and elsewhere) preparing for their biggest fight yet, a battle of good against evil that will continue when the chaotic final two episodes debut on July 1. When speaking with TV Line, co-creator Matt Duffer revealed that Stranger Things Season 4 Volume 2 quoted Joseph Quinn (who portrays Eddie Munson) by describing the final episodes as a "mad symphony of chaos."
The Stranger Things Season 4 Cast Includes Returning Stars And New Additions
When the show returned in May 2022, the Stranger Things cast included 15 new characters, with Joseph Quinn's Eddie Munson, the leader of the Hellfire Club, Thomas Wlaschiha's Dmitri, and Eduardo Franco's Argyle quickly becoming fan-favorites. And how could we forget Robert Englund in one of his most tormenting roles yet as convicted murderer Victor Creel or Jamie Campbell Bower as the mysterious Rainbow Room orderly Peter Ballard?
Those new additions joined Millie Bobby Brown, Winona Ryder, David Harbour, Finn Wolfhard, Gaten Matarazzo, Noah Schnapp, Natalia Dyer, Caleb McLaughlin, Joe Keery, Charlie Heaton, Sadie Sink, Maya Hawke, Brett Gelman and Priah Ferguson as the first seven episodes of Stranger Things Season 4 carried out.
The Stranger Things Season 4 Volume 2 Trailer Teases A Final Showdown With Vecna
Ahead of the release of Stranger Things Season 4, Netflix released multiple teaser trailers showcasing the show's new locations (sunny California, the Russian prison camp, the haunted Creel house, etc.) with a mixture of tones and imagery. The teaser trailer for Volume 2, however, is straight up horror in its brief display of what's to come for Eleven, the Hellfire Club, and Hopper and company behind the Iron Curtain. The short video also teases an ultimate showdown with Vecna, who says he has been "freed" by Eleven. Check it out below:
The short video doesn't offer much in terms of information about what will happen in the final two episodes of Stranger Things Season 4, but it does look like we're about to see one massive assault from all sides…
Hawkins, Indiana Isn't The Only Setting In Stranger Things Season 4
The majority of the first three seasons of Stranger Things took place in the confines of Hawkins, Indiana, but the fourth installment in the Netflix series gave its characters a much larger playground to explore.
Over the course of the first seven episodes, viewers were taken back to Hawkins and to some new locations including that terrifying Russian prison camp and its Demogorgon, California, the vast American West, and the Upside Down, which was explored more than ever before when Nancy, Robyn, Eddie, and Steve crossed through the "Watergate" to get to the bottom of Vecna's mystery.
And judging by the trailer mentioned above, the Upside Down looks to be a place we will spend even more time when Stranger Things Season 4 Volume 2 arrives on the scene.
Stranger Things Season 4 Is The Beginning Of The End
Our time in Hawkins will soon come to an end, but not with Stranger Things Season 4 Volume 2. When the Duffer Brothers announced in February 2022 that the show's fourth season would be split into two parts, the show's co-creators also revealed that it will be the penultimate season with the saga of Eleven and her friends coming to an end following one more chapter:
But don't get too sad as the Duffer Brothers also revealed that there are more exciting stories within the Stranger Things world that could be explored in the future. What the adventures are, and if they will include any familiar characters, remains to be seen.
It is hard to say what the future holds for Netflix's most popular show, but we'll know more about the supernatural love-letter to '80s pop culture in the coming weeks and months. And if you're looking for something to watch while you wait for Stranger Things Season 4 Volume 2, check out our schedule of the 2022 TV premiere dates for all the latest on new and returning shows coming out before year's end.
Your Daily Blend of Entertainment News
Spent most of my life in various parts of Illinois, including attending college in Evanston. I have been a life long lover of pop culture, especially television, turned that passion into writing about all things entertainment related. When I'm not writing about pop culture, I can be found channeling Gordon Ramsay by kicking people out the kitchen.