J.J. Abrams Wants The Original Star Wars Trilogy Theatrical Cuts To Be Released Again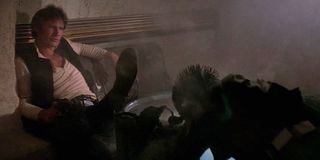 As any hardcore Star Wars fans know, the versions of A New Hope, The Empire Strikes Back and Return of the Jedi one can purchase or stream now are not the same as what we're shown in theaters decades earlier. From 1997 to 2011, franchise creator George Lucas repeatedly tinkered with and changed aspects of the Original Trilogy for home media releases, and the original theatrical cuts haven't been available to buy in quite some time.
Well, it's not just fans who'd like the option to buy the original, unaltered Star Wars movies. J.J. Abrams, director of The Force Awakens and the forthcoming The Rise of Skywalker, would also like that. As Abrams put it:
J.J. Abrams recalled how during the making of The Force Awakens, he and someone else on the crew were talking about the scene between Darth Vader and Emperor Palpatine in The Empire Strikes Back and were disagreeing about what was said, only to realize they were each remembering different versions of said scene. This scene alteration is just one of the numerous ways George Lucas changed the Original Trilogy long after the movies had been released, many of which incorporated CGI effects.
Ironically, despite George Lucas selling Lucasfilm to Disney in 2012, we were recently given a brand-new edit that he made before the sale. Last month when Disney+ launched, subscribers who watched A New Hope on the service noticed yet another change to the Han and Greedo showdown in the Mos Eisely Cantina, with the Rodian bounty hunter saying "Maclunkey!" before being killed by the smuggler.
Alas, as J.J. Abrams also told NowThis, it sounds like not only are there no plans to release the Original Trilogy theatrical cuts anytime soon, it won't happen at all. The filmmaker said:
J.J. Abrams didn't elaborate on these reasons that were given to him, so it's unclear if Disney's just unwilling to release the original cuts, if the company is legally prohibited from doing so due to an arrangement with George Lucas, or if it's perhaps just impossible due to the physical sources being changed. Whatever the explanation is, if you were still holding out hope for the unaltered Original Trilogy to drop on Blu-ray or streaming someday, you'll either need to keep waiting or just make peace with the fact that it likely won't happen.
That's a shame, because even if one doesn't mind or prefers the altered versions of A New Hope, The Empire Strikes Back and Return of the Jedi, it'd be nice to at least have the ability to watch the original versions on Blu-ray or Disney+, rather than keep relying on long-out-of-print VHS tapes (assuming you have access to them, which many people don't). J.J. Abrams also acknowledged that while he as a director understands the pull to go back to old projects and change certain parts, he ultimately would rather look ahead to the next piece of work.
The Skywalker Saga will conclude when Star Wars: The Rise of Skywalker is on December 20. Feel free to also look through our 2020 release schedule to plan your trips to the theater next year accordingly.
Your Daily Blend of Entertainment News
Connoisseur of Marvel, DC, Star Wars, John Wick, MonsterVerse and Doctor Who lore. He's aware he looks like Harry Potter and Clark Kent.