Leonardo DiCaprio Tries To Calm The Debate About Cinema's Future: 'Why Do You Fear All Of This?'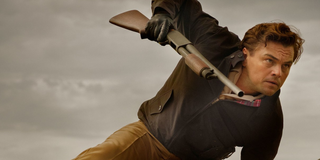 At this point, it seems like there are few Hollywood heavyweights that haven't weighed in on the ongoing debate about the future of cinema. While many have taken a firm side regarding Netflix, streaming, and the importance of preserving the theatrical experience, Leonardo DiCaprio has a unique perspective on where the industry can go from here.
In a rare print interview with Deadline, Leonardo DiCaprio revealed that he sees both sides of the argument. He began by defending an opinion that two of his frequent collaborators, Quentin Tarantino and Martin Scorsese, have made headlines for supporting:
Despite understanding the value of seeing films in an ideal cinematic setting, he warned against panic about the advent of the streaming era:
Leonardo DiCaprio told Deadline that he knows the struggles filmmakers face to get their films made, citing Martin Scorsese's The Irishman as an example of why streaming has its merits, too. And ultimately, he argued that if more expansive kinds of storytelling can be folded back into the studio production system, everybody wins:
Leonardo DiCaprio's insistence that there are points to be made on both sides is one of the more realistic perspectives we've heard on this debate. Hopefully he will use his influence in Hollywood to help turn his optimism about cinema's future into action.
Your Daily Blend of Entertainment News