5 Thrilling Ways Gretel & Hansel Changes The Original Fairy Tale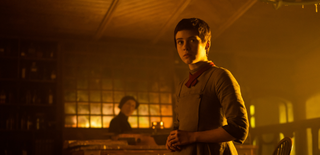 Sponsored Content
Everyone knows the classic story of Hansel and Gretel. The German fairy tale credited to the Brothers Grimm has served as a cautionary tale aimed at wandering children since its publication in 1812. Numerous storytellers have placed their unique spin on the narrative over the years, though none have approached the terror found in Osgood Perkins' upcoming chiller.
Gretel & Hansel, the twisted take on the seminal story, opens in theaters on January 31. Like the original, the film will pit two children against a timeless adversary. But Perkins isn't afraid, in the least bit, to turn the story on its head and make exciting creative changes to give his audience something they've never seen on screen before. We spoke with the director about his pending horror movie, and the five distinct updates he made to the beloved fairy tale.
It's A Coming-Of-Age Story About A Young Woman
As you can tell from the title, Gretel (Sophia Lillis of IT and IT Chapter Two) is the lead character in Osgood Perkins' version--a reversal that was long overdue for the Grimm fantasy story and turns it into a female-focused production. "I don't think Hansel and Gretel ever is thought of as that," Perkins tells us, emphasizing that it will serve as an origin story for Gretel.
As for the casting of Lillis in this lead role, Perkins shares, "[She] is not only already horror royalty and immediately identifiable by audiences as someone they want to follow – which is so important in today's ridiculously, grotesquely overcrowded landscape of movies and shows – but she is someone people are magnetically drawn to. They can't help it, and that's an automatic win right out of the gates. She's a major star in the making."
Being marketable is one thing. Perkins goes on to rave about Lillis' inherent talents as a leading lady, though, emphasizing what her casting means to the on-screen quality of Gretel & Hansel.
"She is one of those actors who doesn't need to do anything on camera to be fascinating," Perkins said. "The camera understands her in a way that it has understood a few people in film-acting history. She's super sophisticated, and her eyes tell everything."
The 'Old World' Is Nonexistent Here
Because the fairy tale has been around for centuries, there's a certain "old world" aesthetic that's present in most tellings of the story. Osgood Perkins emphasized that he is staying far away from that in his version. Don't expect modern-day New York City or anything like that. But he makes it abundantly clear, "There's no villagers or town squares with, like, chickens and shit. There's no thatched roofs, no buckles on shoes. There's none of that."
In their place, we get modern flourishes that are untethered to a specific time period. "The witch's house looks like a nightmare," Perkins said. "The kids' clothing is based more on a turn-of-the-century Soviet look." That's something we definitely haven't seen before when telling this vintage Grimm fairy tale.
Also, Supporting Characters Have Been Cast Aside
As Hansel and Gretel go about their way in the original Grimm story, they run into various benevolent folks who help them reach their destiny in the witch's domain. But in an effort to attain a feeling of hopelessness and isolation, Osgood Perkins stripped away the non-essentials.
"Every day, when I was asked how many extras do I want, my answer was, I wanted zero," he tells us. "There are no people in the movie who aren't named. There are no extras. No townspeople, There's no crotchety old blind person in the alley. There's none of that."
When asked why he made the choice to eliminate the background population, Perkins explained, "I wanted it to feel almost apocalyptic. Like this is as bad as the world gets. There's no people left. There's no comfort."
The Witch Is Definitely A Cannibal
If you couldn't already tell, Osgood Perkins wants Gretel & Hansel to feel bleak. At the end of the trailer, the movie is described as "a grim fairy tale." In keeping, Osgood's witch (played by Alice Krige) isn't just frightening. "We leaned into cannibalism," Perkins proudly states, "which is usually sort of suggested by the story, but we went there."
In other words, keep the kids at home. Osgood has turned the moderately creepy tale into a full-blown dystopian horror story, and we are here for that.
...But She's Also A Fully Formed Character
You can bet there's an oven waiting for Lillis and young Sammy Leakey, who plays her brother Hansel. But Perkins and his co-screenwriter, Rob Hayes, properly developed the witch as a multi-faceted character so Krige would have several layers to explore.
"Our witch character is a fully formed, fully rounded, devastated, soulful human being, as opposed to some kind of a caricature," Perkins said. "She's an actual hurting human being."
As for what Perkins saw in casting Krige, the director admits, "I didn't know what I was looking for in the witch. Everybody kept saying, 'What's the witch going to be like?' And I kept saying, 'I have no idea until I see it!' And then Alice made a tape for us that was so vibey and so textural and so atmospheric. I don't even know if she meant it to be, but it just was. She was instantly the only person who could have done the part, and I'm too lucky to have her."
Audiences will be able to see what Osgood Perkins has in store for young Sophia Lillis and Sammy Leakey when Orion Pictures' Gretel & Hansel revamps the classic and terrifies audiences on January 31, 2020.
Your Daily Blend of Entertainment News
Sean O'Connell is a journalist and CinemaBlend's Managing Editor. He's frequently found on Twitter at @Sean_OConnell. ReelBlend cohost. A movie junkie who's Infatuated with comic-book films. Helped get the Snyder Cut released, then wrote a book about it.
Your Daily Blend of Entertainment News
Thank you for signing up to CinemaBlend. You will receive a verification email shortly.
There was a problem. Please refresh the page and try again.