Please Let Chris Rock's Spiral Be The Start Of A Saw Anthology Series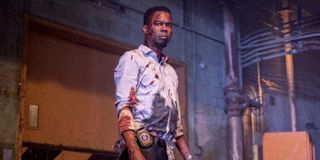 Somewhere the gears are turning, the clues are falling into place and Jigsaw's legacy is about to be revived with the release of Spiral: From The Book of Saw. As this reboot stands to be a potential launching pad for a new era of traps and torture porn, there's a shot that we'll be seeing more Saw movies in the years to come. Should that be the case, could Lionsgate and executive producer Chris Rock do us a favor and make the franchise into an anthology series?
The newly released trailer for director Darren Lynn Bousman's new Saw film somewhat supports that sort of approach, on top of giving fans of the series hope for an exciting new path. So why not capitalize on that growth by jumping into it with a new tactic to keep the series fresh?
Before we move forward with the reasons for why this should come to pass, take a look at the trailer for Spiral: The Book of Saw for yourself:
Now that the trap has been sprung, it's time to play a little game involving the future of the Saw movies:
Saw Is Already Primed To Become An Anthology
Looking at the backstory of the Saw franchise so far, taking an anthological approach to the storytelling already has some roots that Spiral: From The Book of Saw could build off of. With Tobin Bell's John Kramer being the original Jigsaw, and his disciples all using his teachings to suit their own agendas, a wider scope of storytelling is easily supported.
If you really look at it, Saw has always been an anthology trapped in the structure of a singular narrative. Rather than restricting any of Jigsaw's apprentices to a rigid structure, with increasingly convoluted backstories and encounters with fellow disciples, a fresh slate each time out could have done those characters some good. That's a lesson this new era of Saw should take to heart if it wants to become a sustainable franchise.
New Saw Stories Means More Unique Saw Traps
As with any Saw movie, each film is an opportunity to torture a brand new class of victims in new and exciting ways. But throughout that original eight movie run, the traps could only change so much due to the rigid structure of John Kramer's disciples. As modern problems require modern solutions, a loose anthology of apprentices from varying disciplines could be another way to keep the series fresh.
Darren Lynn Bousman is already teasing a trap in Spiral: From The Book of Saw that's supposedly worse than Saw II's needle trap. While that isn't exactly an indication of where the film is going with its story or antagonist, it does suggest the idea that with the anthology model in place, there would be more room to roam with how the Saw series takes its victims out. If a reboot can inspire a trap so insidious it beats out a fan favorite, just imagine what this new vision of the series could do on a less restricted basis.
A-List Talent Can Star In A Saw Movie Without Needing To Commit Long Term
Through Chris Rock's own fandom and Samuel L. Jackson's ability to be game for anything like the icon that he is, Spiral: From The Book of Saw has introduced A-list cast members that seemed too good to be true into the world of Lionsgate's hallowed horror hit. A precedent is now set for Saw to draw big ticket talent in the future, and an almost surefire way to make sure that happens is to keep things loose with an anthology.
Much like American Horror Story has done in the context of TV, the Saw movies could feel free to try and invite other blockbuster friendly talents to play in its sandbox without requiring a long term commitment. Of course, should Tom Hanks be persuaded to return to horror in a future Book of Saw tale and enjoy the experience, he could always return as either a new or recurring figure in the Saw universe. That's the beauty of an anthology!
A Saw Anthology Avoids An Overcomplicated Backstory
Perhaps one of the greatest stumbling blocks in the extended history of the Saw franchise is the fact that with each passing installment, the lore became even more difficult to follow. New apprentices were introduced, more flashbacks were required to tie everything together and the history of John Kramer's teachings became overly complicated.
If Spiral: From The Book of Saw's title is indeed hinting that an anthology is on the way, that would do away with a rest of the baggage the franchise has carried since 2005's Saw II first pulled the now-formulaic retconning trick on the audience. A reboot has already taken the series a good amount of the way it needs to get to a fresh start, and this last step would pave a brand new path of terror for the disciples of Jigsaw.
The Original Jigsaw Can Remain Dead And Buried For Good
The other large problem that the Saw series ran into on a regular basis was how exactly each new film would bring Tobin Bell back to the table as John Kramer, the original Jigsaw. Since he was killed off at the end of Saw III, everything from audio tapes to flashbacks, and even a whole movie set before Saw, were used to make sure his iconic influence could appear to please the fans.
Spiral: From The Book of Saw has the opportunity to avoid that sort of mistake entirely by keeping Kramer in his grave and introducing us to a new interpretation of his works in each new story. Obviously, this first film could be forgiven for either having John Kramer still alive and walking around, or present through audiotapes. It's practically a given, considering the role of this film in reviving the Saw series.
That said, instead of keeping John around for the entirety of this new reboot, there's room for a clean break in an anthology. Losing the tropes and formulas that fans have come to expect from a Saw movie can only help to make the entire enterprise exciting again for fans old and new. It's because of this that we really hope Chris Rock's Spiral: From The Book of Saw kept these lessons in mind when forging this new thriller.
Spiral: The Book of Saw will show us what it's made of on May 15. But before you go back to waiting patiently for the next round, we'd like to hear what you think about this potential anthology model and if you'd prefer it to the standard linear narrative that the Saw franchise has employed in the past.
Be sure to not only vote in the poll provided below, but also to leave feedback in the comments section providing further details on why you selected your answer. Until next time dear readers, this game is over.
This poll is no longer available.
Your Daily Blend of Entertainment News
Senior Movies Contributor
CinemaBlend's James Bond (expert). Also versed in Large Scale Aggressors, time travel, and Guillermo del Toro. He fights for The User.
Your Daily Blend of Entertainment News
Thank you for signing up to CinemaBlend. You will receive a verification email shortly.
There was a problem. Please refresh the page and try again.