Who Should Win Best Supporting Actor At The 2020 Oscars, According To CinemaBlend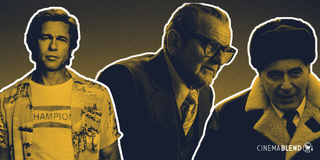 Just because a character only has a secondary role in a story doesn't mean they can't shine brightly, and this year's class of nominees for Best Supporting Actor at the Academy Awards is tremendous proof. These men easily stole scenes from some of the best stars in the world, in some of the best movies released last year. They are all very well-deserving of the honor bestowed by simply being up for the prize… but only one of them can actually win, and on that front the CinemaBlend staff has opinions.
In the run up to the big show on Saturday, we have surveyed the members of our team for their opinions on the eight major Oscar categories – with voters being only eligible to cast their rankings if they saw all of the films up for a particular award. Nominees were ranked from one to five ("1" being the highest, and "5" being the lowest), and the averaged results have resulted in the rankings of the Best Supporting Actor category that you'll find below!
#5. Tom Hanks, A Beautiful Day In The Neighborhood
Average Rank: 3.9166667
When it comes to the Academy Awards, Tom Hanks is one of the most successful in history, having been nominated six times, and won twice (he is only one of 34 people to do the latter). Because of this, it's a surprise to basically nobody that he is up for yet another prize this year, and he really does some fantastic work in Marielle Heller's A Beautiful Day In The Neighborhood. Overall, he's not our top choice to win the Best Supporting Actor trophy, but he does still deliver a laud-worthy turn.
Everybody who grew up watching Mister Rogers' Neighborhood is well-aware of the very specific energy that was projected by the late Fred Rogers, and Tom Hanks' work to capture it in the film truly is a special thing to watch. It's always a challenge for the biggest stars to totally disappear into their roles, but that's exactly what Hanks does here, and it's both emotional and beautiful.
#4. Anthony Hopkins, The Two Popes
Average Rank: 3.75
Fernando Meirelles' The Two Popes doesn't work without a pair of exceptional performances. How could it? At its core level the entire movie is about a pair of men working to relate to one another, and if one of the men is delivering a constant series of false moments then everything falls apart. As it happens, though, The Two Popes is a great movie, and a big part of that is the excellent work done by Anthony Hopkins opposite Jonathan Pryce.
The film is a fictionalized account of how Pope Benedict abdicated his position within the Vatican, opening it for Pope Francis to become the new leader of the Catholic Church, and the work Hopkins does as the former is fantastic. Benedict deeply feels that the best future for his religion rests in conservative teachings, and espouses strong beliefs in that regard, however, he is also haunted by actions that have led the church down a horrific path – and Hopkins plays every element of it perfectly. He may not be CinemaBlend's pick for the Oscar, but certainly deserves the recognition he's received for his excellent performance.
#3. Al Pacino, The Irishman
Average Rank: 3.1666667
Given their incredible respective legacies, it's crazy to recognize that Al Pacino and Martin Scorsese never made a movie together before The Irishman, but what's considerably less surprising is the impressive quality of work they were able to create through their collaboration. Pacino's Jimmy Hoffa is a force of nature in the decades-spanning gangster epic, and it's a part that only could have been brought to life with the actor's famous dynamism.
This is the first time that Pacino has been up for an Academy Award since he won Best Actor in 1993 for Scent Of A Woman, and while he may not repeat that big success, his performance in The Irishman is going to leave a long impression on movie fans. The factual accuracy of the events depicted might be a touch questionable, but Pacino certainly made the role his own.
#2. Brad Pitt, Once Upon A Time In Hollywood
Average Rank: 2.5
While Brad Pitt technically has an Oscar, having produced the Best Picture-winning 12 Years A Slave, he has never taken home the coveted prize for his acting work – despite being nominated three times. It seems crazy someone who has made such a massive impact on cinema and pop culture hasn't received the prestigious prize. And while he may not be CinemaBlend's top choice to win Best Supporting Actor this year, you can be sure that folks around here wouldn't be upset at all if he took home the trophy for his work in Once Upon A Time In Hollywood.
Cliff Booth is a man with a rough history, but who is content with and confident in who he is, and it's an attitude that takes him to some pretty wild places in Quentin Tarantino's epic tale of Los Angeles in 1969. Whether Cliff is feeding his incredibly well-trained dog Brandy in his trailer, or smashing in the faces of murderous cultists, Brad Pitt is clearly having a ball playing the character, and it translates to the audience loving watching him. It's some of the best Pitt has done in his career, which is really saying a lot.
#1. Joe Pesci, The Irishman
Average Rank: 1.6666667
Joe Pesci has spent most of the 21st century as a retired actor, only taking small roles in a couple of feature films. His performance in Martin Scorsese's The Irishman in the first really substantial part he's had since 1998's Lethal Weapon 4. It's a remarkable fact to consider when you watch him play Russell Bufalino, because it's genuinely the best supporting actor performance featured in any 2019 film, and it makes you realize that tremendous talent never really goes away no matter how out of practice one may be.
We here at CinemaBlend were totally bowled over by Joe Pesci's work in The Irishman, as evidenced by the fact that he actually has the best average rank score across any category we polled for (75% of our voters ranked him at the top). It's a totally different kind of performance than we've ever seen from the actor, as he has a much softer energy in the part than any of his other iconic roles, and it's a turn that we feel makes him deserving of winning Hollywood's highest honor.
Do you agree with the results of our ranking? Who do you think should win Best Supporting Actor at the Oscars this year? Hit the comments section with your thoughts, answer our poll below, and stay tuned here on CinemaBlend as we continue to break down the seven major categories.
This poll is no longer available.
Your Daily Blend of Entertainment News
Assistant Managing Editor
NJ native who calls LA home and lives in a Dreamatorium. A decade-plus CinemaBlend veteran who is endlessly enthusiastic about the career he's dreamt of since seventh grade.