Why Star Wars: The Rise Of Skywalker's Anthony Daniels Was 'Sad' C-3PO's Role Got Cut Short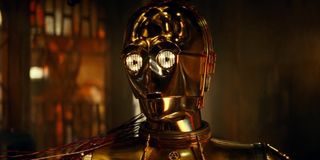 While many of the primary players from the Star Wars franchise's Original Trilogy returned to take part in the Sequel Trilogy, not all of them received a lot of screen time. In the case of C-3PO, he barely had anything to do in The Force Awakens and The Last Jedi, making it particularly notable when he was given an expanded presence in last year's The Rise of Skywalker.
As it turns out though, C-3PO's role in The Rise of Skywalker could have been even bigger than what we saw in theaters. Here's what the golden protocol droid's actor, Anthony Daniels, had to say about the character's trimmed screen time after he was asked whether he went into the movie with a similar mentality as when the droid was saying goodbye to his friends:
For those who need a recap on Star Wars: The Rise of Skywalker, C-3PO accompanied, Rey, Finn, Poe Dameron, Chewbacca and BB-8 on their mission to find a Sith wayfinder, which would direct them to Palpatine's fleet. They group eventually finds a Sith dagger inscribed with Sith text that C-3PO was capable of translating, but his programming prevented him from saying the translation.
To get around this, the team bypassed C-3PO's protocols using a slicer, resulting in the droid losing his memories. Fortunately, they were restored later in the movie by R2-D2 using an earlier backup. So C-3PO's role in The Rise of Skywalker certainly wasn't inconsequential, but as Anthony Daniels laid out in his interview with IGN, there was a fair amount left on the cutting room floor, including more scenes between C-3PO and Poe Dameron. In the actor's words:
While it's understandable that Anthony Daniels is sad that the original vision for C-3PO's Rise of Skywalker journey wasn't fully realized in the final cut, as he rightly pointed out, this movie had a lot of balls to juggle. Along with wrapping up the Sequel Trilogy, it also had to serve as the final chapter of the entire Skywalker Saga, resulting in a lot of plot threads being closed in a nearly two and a half hour runtime.
Some fat had to be trimmed, and that included a handful of C-3PO's scenes. Still, unlike in The Force Awakens and The Last Jedi, where C-3PO basically just cameoed, at least he had an important part in The Rise of Skywalker. With this movie marking the conclusion of the original Star Wars cinematic saga, it was all the more appropriate that C-3PO, who's been part of this story since the beginning, contributed in a meaningful way.
As for whether we'll see C-3PO in the Star Wars franchise again, Anthony Daniels doubts it will happen in a Star Wars movie since the Skywalker Saga has "rightly" ended and there's "plenty of galaxy yet to be explored." Still, with this fictional universe expanding in various ways, it's a good bet we'll at least hear more of Anthony Daniels as C-3PO in the years to come.
Star Wars: The Rise of Skywalker is now available on Digital HD, Blu-ray and DVD. Stay tuned to CinemaBlend for all the biggest updates concerning the Star Wars franchise's film and TV corners.
Your Daily Blend of Entertainment News
Connoisseur of Marvel, DC, Star Wars, John Wick, MonsterVerse and Doctor Who lore. He's aware he looks like Harry Potter and Clark Kent.
Your Daily Blend of Entertainment News
Thank you for signing up to CinemaBlend. You will receive a verification email shortly.
There was a problem. Please refresh the page and try again.