Venom 2: An Updated Cast List For The Venom Sequel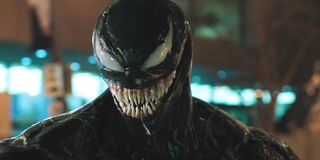 With all the 2020 summer blockbusters being moved to dates later in the year and beyond, moviegoers are beginning to look towards the crop of films that are slated to hit theaters in the fall months, including the October release of Venom 2. With Tom Hardy set to return as journalist Eddie Brock and the symbiote Venom in the followup to the 2018 surprise hit comic book adaptation Venom, will also see Michelle Williams returning as Brock's former love interest and She-Venom herself Anne Weying.
Outside of Hardy and Williams, the sequel, which is being directed by Andy Serkis, will also feature a growing number of Hollywood talent, including Woody Harrelson, who will be portraying the deranged psychopath turned supervillain Cletus Kasady, aka Carnage. Besides those three names, Venom 2 is set to feature a surprisingly stacked cast of Hollywood heavyweights that surely will bring some gravitas to the upcoming sequel. Let's take a look at them, shall we?
Tom Hardy (Eddie Brock/Venom)
No surprise here, but Tom Hardy is returning as journalist Eddie Brock and Venom in the upcoming Sony Picture production. When we last saw Eddie, he had come to terms with the alien symbiote, Venom, after they take on and destroy Calrton Drake and the evil symbiote, Riot. What's become of that relationship, however, is still not known at this time.
In the Venom mid-credits scene, we saw Brock be invited to conduct a prison-interview with the twisted serial killer Cletus Kasady, who promised "carnage" upon his escape from incarceration. With a pretty big teaser to end the first first, it's a given that we will see Venom and Carnage square off at some point in Venom 2, especially after the release of those photos from the set of the upcoming sequel. But besides the eventual showdown with Carnage, fans can expect to see the relationship between Brock and Venom expand after the upcoming film's producers saw how much audiences appreciated the back and forth banter between the two the first time around.
Michelle Williams (Anne Weying)
Michelle Williams will be returning as Anne Weying, Eddie Brock's ex-fiancée and district attorney in the San Francisco metropolitan area. The former Life Foundation lawyer practically cut the journalist out of her life after Brock's investigation into Carlton Drake cost Weying her job and all but killed the couple's relationship.
Not much is known about how Williams' character will play into the story of Venom 2, but if her brief appearance as She-Venom in the 2018 comic book movie was more than just an easter egg, then we will hopefully see more of the character at some point in the upcoming sequel.
Woody Harrelson (Cletus Kasady/Carnage)
Audience were first introduced to Woody Harrelson's depiction of the classic Marvel villain Cletus Kasady, aka Carnage, in that now iconic mid-credits scene to close out Venom, but outside of the brief appearance of the crazed, red-headed psycho, fans weren't given much to chew on besides the fact that the character would probably make an appearance in Venom 2.
Fans got their wish when it was announced in the summer of 2019 that Harrelson would be returning to Venon 2 as everyone's favorite symbiote-wearing Marvel villain. We'll all have to wait and see how Kasady was able to break out of that maximum security prison where we last saw him, but if the character's history is any indicator, it's going to be one hell of a ride.
Reid Scott (Dan Lewis)
Reid Scott first appeared as Dan Lewis, the boyfriend of Anne Weying and a doctor who tries to diagnose and help Eddie Brock after he becomes the host of the alien symbiote. Featured in only a handful of scenes in Venom, the character will return in the upcoming sequel.
Though he is slated to be featured in Venom 2, not much is known about how Lewis will play into the plot of the film, but hopefully the former Veep star gets more to do in an expanded role.
Naomie Harris (Shriek)
Naomie Harris might not have appeared in Venom, but word of her casting in the upcoming sequel was a hot news items in October 2019 when reports began to surface that not only had the No Time To Die star was in talks to join the cast of Venom 2, she would also reportedly be playing the Marvel villain Shriek in the comic book adaptation.
Just like practically everything else about the upcoming sequel, nothing is known about how Shriek will play into the film's story, but she'll probably be working with Carnage if you consider the pair's relationship in the comics. Equipped with flight, sound manipulation, and some pretty intense cerebral powers, Shriek has long worked with Carnage and other Marvel antagonists since being introduced in the Maximum Carnage crossover comic series in 1993.
Stephen Graham (TBA)
In December 2019, it was revealed that longtime character actor Stephen Graham would followup his appearance in Martin Scorsese's crime epic The Irishman with an unspecified role in the upcoming Venom 2. Everyone involved with the movie has kept quiet in the months following the announcement, and it's gotten to the point where no one outside of the production knows if Graham will even play a good guy or a bad guy when the movie is eventually released.
The English actor has a propensity for playing less than savory characters throughout his career, most notably as the British skinhead Andrew "Combo" Gascoigne in This Is England and Al Capone in the HBO series Boardwalk Empire. Now this is totally speculation on my part, but it seems like Graham would be well suited to take on the role of a certain bald crime lord from the pages of Marvel comics.
RUMORED: Tom Holland (Peter Parker/Spider-Man)
And then there's the elephant, er, spider in the room. There has long been fan speculation that Tom Holland would be making an appearance of some sort in the upcoming Venom 2, but as of right now, no one connected to the project is saying anything and the rumor remains, well, just a rumor.
It wouldn't completely be out of the realm of possibility for Holland's Spider-Man to show up in the Sony Pictures comic book movie. The studio still owns the rights to the Web-Slinger's film appearances, so that would make sense for the character to be added in one shape or another. The case for his appearance is only made stronger when you consider the fact that Carnage first appeared in a Spider-Man comic, and the badass video game adaptation that followed a year later.
But again, this is all speculation. It would be pretty amazing for Spider-Man, or at least Peter Parker, to surprise audiences with in Venom 2.
Well, that's the (mostly confirmed) cast from the upcoming Venom 2. Whether the film makes its October 2, 2020, release date is another can of worms, but make sure to check back for the latest Venom and Marvel news here at CinemaBlend.
Your Daily Blend of Entertainment News
Philip grew up in Louisiana (not New Orleans) before moving to St. Louis after graduating from Louisiana State University-Shreveport. When he's not writing about movies or television, Philip can be found being chased by his three kids, telling his dogs to stop yelling at the mailman, or yelling about professional wrestling to his wife. If the stars properly align, he will talk about For Love Of The Game being the best baseball movie of all time.