The Problems Cropping Up With Parents Renting Trolls World Tour For Their Kids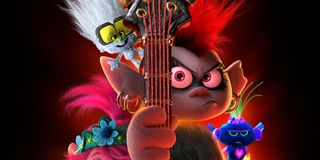 While most movies scheduled to open during the theater shut down have simply been delayed until such time as theaters are open again, one major exception has been Trolls World Tour. The Dreamworks animation movie originally planned to do a simultaneous release at home and in theaters, when social distancing measures were first being implemented. By the time the movie came out however, theaters were closed, meaning it became the first major release planned for theaters to go straight to a digital release.
With so many kids home from school, Trolls World Tour was something of a savior for many parents as it gave the kids something to watch. Kids and parents alike seem to largely like the movie, but that's caused something of a problem. Kids, as they often do, want to watch Trolls World Tour over and over again. The problem with that is that, since the film is only available as a 48-hour rental, and at a premium cost of $20, letting the kids watch it constantly can get expensive.
The decision to shift theatrical releases to streaming because of theater closures is still something of a dicey issue between studios and theaters, and so, the movies that made the jump weren't simply just dropped on iTunes for five or six bucks, which is the usual digital rental cost of a film, but were instead being offered at a premium. Digital purchase is not currently an option, and the rental is a bit more expensive.
For fans who might have been planning to see Trolls World Tour or Bloodshot in theaters, the $20 price tag isn't necessarily that big a deal. A pair of movie tickets in most markets is going to cost you something close to that, and if you were planning on buying snacks, or if you had multiple kids you were taking to the movies, you're still spending less than you would have at your local multiplex. However, you were probably only planning to do that once.
At the same time, for many people $20 isn't necessarily that much money. And these days, with so many places closed for business, we're probably all spending a lot less money than we usually do, so spending money on Trolls more than once probably won't break the budget.
Of course, there is another, unexpected, difficulty that comes with $20 movie rentals. If you're kid "accidently" rents a digital movie on your TV usually, it will only cost you about five bucks, but accidentally renting Trolls World Tour is a bit more expensive.
No matter the cost, some parents are willing to spend the $20 rental price more than once to keep their kids happy during this difficult time. The money may add up, but at the end of the day, if the kids are happy and the quarantine life becomes calm and happier because of it, then for some parents, it's clearly money well spent.
Since the "theatrical rental" option is new, we don't really know how it will play out. Will the movie just remain available for $20 for a few months until we hit the normal home entertainment window, and the rental price drops to what we're used to? Will it be pulled from digital stores at the end of its "theatrical" run? We're in uncharted territory here.
Content Producer/Theme Park Beat
CinemaBlend's resident theme park junkie and amateur Disney historian. Armchair Imagineer. Epcot Stan. Future Club 33 Member.
Your Daily Blend of Entertainment News
Thank you for signing up to CinemaBlend. You will receive a verification email shortly.
There was a problem. Please refresh the page and try again.