10 Movies To Stream Or Rent Online Since Mulan Is Delayed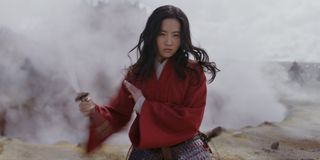 CinemaBlend participates in affiliate programs with various companies. We may earn a commission when you click on or make purchases via links.
At the start of 2020, it very much looked like this upcoming weekend was going to be one of the biggest box office booms of the young year. Walt Disney Studios has had tremendous success in the last decade with their live-action adaptations of animated classics, and it was assumed with good reason that director Niki Caro's Mulan would become the latest title to be added to the list of successes. Unfortunately, though, that's not happening just yet. Due to the continued threat of the COVID-19 pandemic, Disney has pulled the blockbuster from their release schedule.
Unfortunately at this point we have no idea when we'll actually get to see the new Mulan, as the studio has not yet provided the film with a new date… but the good news is that there are plenty of alternative entertainment options available at home – including a number of titles with shared themes, styles, story details, and talent connections. So while you won't be able to see the latest big screen release from Disney in theaters this weekend, here are some films you should consider watching instead:
Mulan (1998)
This seems like a pretty obvious place to start, right? Audiences may not be able to experience the fresh-ness of watching Mulan become a massive live-action epic, but there is at least a consolation prize in the fact that the animated original from directors Tony Bancroft and Barry Cook is available to stream. A big part of the reason why there is so much excitement surrounding the new movie is the fact that the 1998 film is beloved, and it still holds up super well. Plus, if you watch it now you'll be fully prepped to make side-by-side comparisons when the remake finally comes out, and there will be enough time in between your screenings so that you don't zone out during the more familiar bits (which can happen when you watch an original and a remake too close together).
Where To Stream: Disney+ (opens in new tab)
Where To Rent Online: Amazon
Aladdin (2019)
When it was released in 1998, Mulan was part of an incredible boom period for Walt Disney Animation Studios, and as a result the film tends to be closely associated with the other titles that were a part of that particular era. This very much includes Ron Clements and John Musker's animated Aladdin, so with the new live-action movie delayed, why not check out Guy Ritchie's remake from last year? If you do, you'll be treated to some delightful performances, some excellent musical and action sequences, plus a nice hefty dose of nostalgia. Furthermore, if you find yourself really enjoying it, and want to keep the party going, it's not the only live-action remake of an animated '90s Disney film that is currently available to stream…
Where To Stream: Disney+ (opens in new tab)
Where To Rent Online: Amazon
The Lion King (2019)
Okay, so it's not precisely "live-action," but Jon Favreau's The Lion King is definitely shot to make you feel like you're watching real animals act – and more importantly it's a film that was made in the same spirit as the Mulan remake, thus making it a natural fit for this list. The 2019 movie really is a technical marvel, featuring sequence after sequence that will put your jaw on the floor, and a pure love of the original drips off of the thing. Given that it was an absolutely massive hit last year, most regular movie-goers have probably already seen it, but even as a rewatch it's a good dose of Disney to hold fans over until Mulan finally gets here.
Where To Stream: Disney+ (opens in new tab)
Where To Rent Online: Amazon
Crouching Tiger, Hidden Dragon (2000)
Massive action epics set in ancient China aren't exactly omnipresent at American movie theaters, but one predecessor of the new Mulan that demonstrated a clear hunger for that kind of material was Ang Lee's remarkable Crouching Tiger, Hidden Dragon back in 2000 – which still remains the highest grossing foreign language movie in domestic box office history. We may not be able to enjoy the massive battle scenes of the new Disney release just yet, but in lieu of that audiences can experience the remarkable magic and stunning action of Lee's blockbuster, which hasn't aged a day since its release, and is as spellbinding as ever.
Where To Stream: Netflix (opens in new tab)
Where To Rent Online: Amazon
Kill Bill Vol. 1 (2003)
If you're reading this feature specifically to explore Mulan-esque films that, like the blockbuster, are suitable for audiences of all ages, then you can just skip past this entry down to the next one on the list. If, however, you are a mature individual who happens to enjoy stories about powerful female leads that can do a lot of damage swinging a sword around, then you perhaps should give Quentin Tarantino's Kill Bill: Vol. 1 a go this weekend. We're very excited to see what Niki Caro is able to pull off with what appear to be some epic action and battle sequences in the new Mulan, but for now that hunger can at least be partially satiated by watching The Bride totally mow through the Crazy 88.
Where To Stream: Netflix (opens in new tab)
Where To Rent Online: Amazon
Born In China (2016)
Having filmed partially in China, Mulan will hopefully provide audiences with a look at the natural beauty and majesty that the country possesses. Sadly movie-goers won't be able to see that splendor explored on the big screen this weekend, but those interested in that side of the blockbuster should give Lu Chuan's Born In China a shot at home. The Disneynature film is filled to the brim with absolutely stunning photography and some wonderful animal centric stories that take you into a completely foreign world. It should be noted that it can be emotionally gut-wrenching at times, but this warning should help you prepare for that, and it is overall a rewarding experience.
Where To Stream: Disney+ (opens in new tab)
Where To Rent Online: N/A
Haywire (2011)
It's always delightful to see women in film escape the boundaries of societal gender roles to kick serious ass, which is an element inherent to plot of Mulan, as the titular character must disguise herself as a man so that she can take her father's place on the front lines of a brewing war. The expectations she works against is part of what gives the story its power – and the energy of the audience experience is one that also can be found in Steven Soderbergh's Haywire, which notably features star Gina Carano kicking an unearthly amount of ass in a 93 minute timeframe. It's an under-appreciated recent action gem, and one worth either discovering or rediscovering this weekend.
Where To Stream: Netflix (opens in new tab)
Where To Rent Online: Amazon
Whale Rider (2003)
In the making of Mulan, Niki Caro took on what is definitely the biggest project of her career, as the filmmaker has spent most of her time as a director helming mid-budget dramas. If you're not overly familiar with her work, the delay of the blockbuster now gives you plenty of time to change that, and you might as well start with the movie that jumpstarted her career. Whale Rider, which earned tremendous acclaim upon its theatrical release in 2003 is a beautiful and emotional story about a young girl embracing her family history and battling against gender norms – and watching it you can perfectly understand why Disney wanted to hire Caro to make their latest live-action adaptation of an animated classic.
Where To Stream: Tubi
Where To Rent Online: Amazon
The Farewell (2019)
When it does finally hit theaters, Mulan will serve as a blockbuster showcase for certain elements of Chinese history, tradition, values, and culture – fitting in with a great tradition of cinema serving to enlighten audiences about life all around the globe. Another recent release that does this tremendously well is Lulu Wang's The Farewell from last year, albeit in a much more contemporary sense. In addition to providing a fascinating insight to life in China, it also has a wonderful thematic connection to Mulan through its emphasis on the importance of family, particularly in times of great strife. It's a really wonderful film that both introduces us to an excellent up-and-coming filmmaker in Wang, and also exposes the impressive range of star Awkwafina.
Where To Stream: Amazon Prime (opens in new tab)
Where To Rent Online: Amazon
The Forbidden Kingdom (2008)
Mulan is predicted to not only be a big box office success when it eventually comes out, but also a launching pad for Liu Yifei, who plays the titular role, to become a major international star. With the film now delayed, though, now is probably a perfect time to watch what was the actress' first English-language feature. Back in 2008 Liu played a key supporting role in Rob Minkoff's The Forbidden Kingdom, and in addition to featuring an awesome cast that includes Jackie Chan and Jet Li (who is also in the new Mulan), it too is a transportive adventure that embraces elements of the wuxia genre.
Where To Stream: Netflix (opens in new tab)
Where To Rent Online: Amazon
With Mulan not in theaters, what are you watching this weekend? Answer our poll below, and hit the comments section with other options for movie-goers!
NJ native who calls LA home; lives in a Dreamatorium. A decade-plus CinemaBlend veteran; endlessly enthusiastic about the career he's dreamt of since seventh grade.
Your Daily Blend of Entertainment News
Thank you for signing up to CinemaBlend. You will receive a verification email shortly.
There was a problem. Please refresh the page and try again.