Scarlet Witch Gets An Eerie New Look In Doctor Strange 2 Fan Art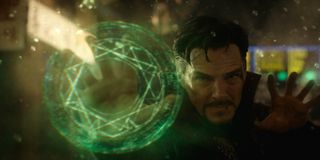 With the confirmation that Scarlet Witch will play a supporting role in Doctor Strange in the Multiverse of Madness, Marvel fan speculation has been rampant about what kind of role she could play. Given her powers to play with reality, she could either be a partner with Doctor Strange or potentially even someone he has to stop.
Details about the sequel to Doctor Strange are sparse at this point, but that hasn't stopped Marvel fans from dreaming. One fan shared an eerie-yet-convincing Doctor Strange 2 poster on social media, revealing what they think the new movie will be about. Check it out:
This dark and foreboding fan art seems to point to Scarlet Witch becoming an enemy to Doctor Strange, perhaps controlling him, his powers, and maybe even all of reality. It's a striking piece that raises a lot of questions from a fan standpoint. Of course, it's just fan art, so it could also be way off the mark. It probably doesn't even need to be said, but take it with a grain of salt.
This isn't the first time Marvel fans have speculated about Doctor Strange in the Multiverse of Madness. When the title was first announced, people figured it would head in a darker, horror-driven direction, which makes sense considering the Lovecraftian title.
Kevin Feige commented that he loves the title, but that calling it a horror film isn't accurate. According to him, the movie will have scary sequences, but that's about it. That is a nice bit of clarification, since plenty of Marvel movies have scary sequences and aren't horror movies.
The sequel to Doctor Strange has had a little bit of a rough start. Originally, Scott Derrickson was set to direct but later stepped down over "creative differences." A hunt to find a new director had been ongoing until it was announced that Sam Raimi would take Derrickson's place. While some might think that would be bad news for Derrickson, he actually took to social media to say he approved.
Of course, with Scarlet Witch playing a role in the movie, it raises the question where her story fits into the overall picture. In addition, she will be getting her own television show on Disney+ called WandaVision. Fans will be happy to hear that they already wrapped production on that show.
As for Doctor Strange 2, it is set up to take place after WandaVision. It's been confirmed WandaVision will premiere in December 2020 while the Doctor Strange sequel is slated to be released May 7th, 2021. So, get excited, because they're coming up fast!
Other than The Falcon and the Winter Soldier, I'd say the relationship and intersection between Scarlet Witch and Doctor Strange is one of the most curious mysteries for Marvel's Phase 4. I'm excited to see how it all plays out in the next few years.
Your Daily Blend of Entertainment News