What To Watch On Hulu If You Love Horrors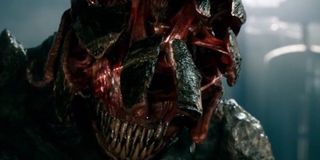 Alright, you horror hounds. You belong to a select club of people who like your movies gory and your TV creepy. In fact, you're the kind of person who can appreciate a hero with a chainsaw for a hand, and you probably even buy horror-themed toys. To a person like you, a hockey mask is a fashion statement. And because you're that kind of a person, I have some good news for you. Right now, Hulu is absolutely killing it (pun intended) when it comes to horror. So much so that I wanted to make a list for you.
The great thing about Hulu is that they specialize in TV and movies, so there's plenty of horror to get lost in for a single sitting if you're a movie person, or entire days and weeks if you're a TV person. So grab your nearest bucket of pig's blood, sharpen your knives and check out this list.
Baskin
Do you like your horror surreal? How about bloody as hell and Satanic? Oh, and do you like your horror Turkish? If you answered yes to any of those questions (or all of them), then I have the movie for you. Baskin (No, not that Baskin) is about five police officers who get a radio call to investigate a strange place and somehow end up at a Satanic ritual. Their journey into the abyss is bizarre and sickening, and the torture scenes, performed by first-time actor, Mehmet Cerrahoglu, will probably have you puking in your popcorn. Just how you like it!
Baskin is a great flick for veteran horror fans because it's not often that you can watch a movie and be shocked by what you're seeing, but Baskin has that ability. It lures you in slowly, but then bashes you in the head with a sledgehammer. Don't say I didn't warn you.
Stream Baskin
A Quiet Place
Critical darling and crowd favorite, A Quiet Place is about a husband and wife (real husband and wife pair John Krasinski and Emily Blunt, respectively) who are trying to raise their children in a world of silence. The reason for this is because of some spooky aliens that can't see, but sure as hell can hear. This makes for some tense moments that will have you gripping your seat at scenes and have you gritting your teeth throughout the entire movie.
Horror fans need to see A Quiet Place since it's the cool horror movie that has broken into the mainstream. And until we finally get to see the clickers in the upcoming The Last of Us TV show, this is the best we have. Plus, there's a sequel coming out in September. And you have to see the original before you see the sequel, right?
Stream A Quiet Place
Pet Sematary
Though it could be argued that it's not as memorable as the 1989 movie, the 2019 Pet Sematary still has some good chills to be had if you put yourself in the right mindset (and don't mind jump scares). Plus, if you have seen the first movie, there are some pretty big changes to this version, so it's not like you would just be watching the same film twice, but with better visuals. The story concerns a family that moves to a house by a cemetery (or sematary), but it has a strange tendency to bring animals (and people!) back from the dead.
Horror fans will like the spooky vibe and pacing of this remake. Plus, it's based off of a famous Stephen King novel, so you pretty much have to watch it. The master will be pleased.
Stream Pet Sematary
The Cabin In The Woods
The Cabin in the Woods is the kind of movie that non-horror fans will balk at, and horror junkies will give a big thumbs up to since it has so many references to other great horror movies. It's the kind of film that Quentin Tarantino would make if he was a horror junkie rather than a western or crime junkie. The story is about a bunch of college students who go to a remote cabin (in the woods), but things aren't what they seem. It's almost like somebody is manufacturing the horror from a lab or something. Scares (and laughs) ensue.
As mentioned earlier, horror lovers will marvel at all the different nods that were slipped into this movie. It's a horror junkie's horror movie.
Stream The Cabin in the Woods
Castle Rock
Remember what I said earlier about Stephen King and how all horror fans need to embrace anything that comes from the master of the macabre? Well, Castle Rock is an entire TV show centered around the fictional Castle Rock town featured in some of his stories. It's an anthology series, much like American Horror Story and Fargo, in that each season is a different story. The first season covers the Shawshank prison, while the second season centers on Annie Wilkes from Misery.
Horror fans will love Castle Rock since it has the same creepy (but fun) Stephen King tone that comes with his brand of horror. Plus, if you're a fan of his novels, it's nice to find all the little Easter eggs and nods to his stories. Also, it's exclusive to Hulu, so you can't find it anywhere else. Lucky you.
Stream Castle Rock
NOS4A2
I know you like Stephen King, but what about his son, Joe Hill? NOS4A2, based off of the novel of the same name, stars Zachery Quinto (in exquisite make-up) as Charlie Manx, an immortal who survives on children's souls. He then sends these soulless children to Christmasland, which exists in his mind. But an artist named Vic (Ashleigh Cummings) fights to stop him.
Honestly, it feels very much like a Stephen King story, but somehow not, which is what makes a Joe Hill story so familiar, and yet so different, in the first place.
Stream NOS4A2
American Horror Story
There are nine glorious seasons of American Horror Story, so you have a lot of watching to do. If you haven't seen American Horror Story yet (and really, what horror fan hasn't at least checked it out?), each season covers a different theme. There's the fan-favorite Coven season, the circus season and the very fun '80s season. Some seasons are better than others, to be sure, but all of them have something unique to offer.
Horror fans will love the variety of each season. There's something on this show for everyone. Season 1, "Murder House," is my personal favorite.
Stream American Horror Story
Oculus
Oculus is that horror movie that you scoff at because it's a WWE Studios film. Then you actually watch it and you can't sleep at night. It's a haunted mirror story, with a mirror that makes people hallucinate. The visuals are super creepy and Karen Gillan (of Jumanji and Avengers: Endgame fame) is great as the protagonist. And her younger version, Annalise Basso, is really good, too.
Oculus is fantastic for horror fans since it's psychological horror, which we sadly don't get enough of these days.
Stream Oculus
Mom And Dad
As a parent of two young children who sometimes drive me crazy, I have to say, parts of Mom and Dad really spoke to me. But only the parts about kids driving their parents crazy. Not the whole murder-y aspect. The story is about parents who can't control themselves for 24 hours and suddenly want to kill their children. And guess what, it stars Nic Cage and Selma Blair as the two main parents. Do I even have to say anything else?
Yes? Well, horror fans (especially fans of horror comedy) will love how bonkers the story gets. And Nic Cage gives one of his better performances and commits to being a real psycho dad.
Stream Mom and Dad
28 Days Later
Isn't it weird that I've done a whole list about horror movies and TV shows and haven't once mentioned anything about zombie movies? Oh, I'm sorry. 28 Days Later is not a "zombie" movie. Not technically, anyway. But it's definitely a post-apocalyptic film about some survivors (Cillian Murphy, Naomie Harris, Christopher Eccleston, Megan Burns, and the great Brendan Gleeson) who are being chased by… not zombies.
Horror fans will love the setting and how claustrophobic it all feels, even though it's mostly in wide-open environments. And again, Brendan Gleeson is great in it, adding some gravitas to this not-zombie film…which totally is a zombie film, by the way.
Stream 28 Days Later
So, as you can see, there's a lot of great horror content on Hulu. And if you have a Starz, Cinemax, or an HBO account, you have even more horror genre offerings to choose from. Now if you'll excuse me, I have a full moon to howl at, a dead body in my trunk to dispose of and a chicken that I have to sacrifice in the middle of a pentagram. All in a night's work for a horror fan.
This poll is no longer available.
Your Daily Blend of Entertainment News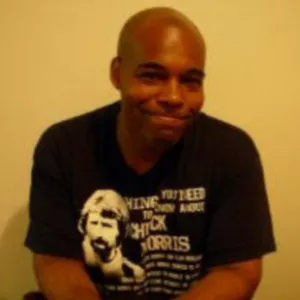 Rich is a Jersey boy, through and through. He graduated from Rutgers University (Go, R.U.!), and thinks the Garden State is the best state in the country. That said, he'll take Chicago Deep Dish pizza over a New York slice any day of the week. Don't hate. When he's not watching his two kids, he's usually working on a novel, watching vintage movies, or reading some obscure book.