11 Great Horror TV Shows On Netflix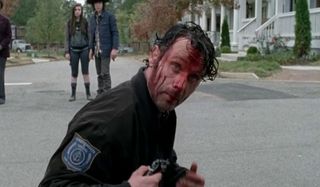 You know the old saying "April showers come before May showers…blood showers." Maybe your dictionary of proverbs says it differently, but I can't check mine because my tablet is propped up on it as I stream spooky shit on Netflix. And because you're reading this, there's a chance that you'll soon be doing some streaming in the near future. If you survive until the end.
Here are 11 great horror series that Netflix currently has creeping through the shadows, sinking their claws into your eyeballs so that you can't look down at your phone during the episodes. That also makes it harder to see the keyboard or remote, but horror isn't really about making it easy on the participants. Time for a bloody mary, isn't it? (If you're looking for the exact opposite of this list, check out our list of family-friendly shows on Netflix.)
American Horror Story
If a show actually has horror in its name, it has to be good, right? Well, Ryan Murphy and Brad Falchuk's FX anthology has many faults, but the show's no holds barred approach to storytelling gives more than enough eye-widening visuals and hair-raising scares to make each season well worth the watch, especially without waits weeks in between episodes. American Horror Story's high point is Asylum, thanks to batty performances from James Cromwell and Lily Rabe, with Murder House offering what is arguably the most coherent narrative about a rubber suit man and a house full of monsters. But Jessica Lange is always great and each season has a handful of hysterically gross scenes that deserve immediate rewatching. Plus, you'll never get tired of picking up on horror movie references and seeing unexpected cameos and guest stars.
Currently Available for Streaming: Season 1-4
Bates Motel
Freddie Highmore was stepping into some very big shoes (perhaps they were heels) when he took on the role of Norman Bates for A&E's Bates Motel, and he has since proved himself quite capable of conveying an endless and unexplainable obsession that he can neither control nor accept. The show obviously has to tell other stories, so we luckily have Vera Farmiga as the trouble-ridden mother Norma attempting to keep her motel going, with Max Thieriot, Olivia Cooke and Nestor Carbonell rounding out the on-edge cast. Consequences flow through this show like water around a washed-up corpse, but somehow Norma and Norman are still standing strong. And sometimes they're lying in bed together strong.
Currently Available for Streaming: Season 1-3
Black Mirror
Sometimes the scariest things are indeed reflections of ourselves, and rarely has a scripted series tapped into the dark underpinnings of a subject as thrillingly as Black Mirror, the British anthology series crafted by Charlie Brooker that shows viewers the dangers and downsides of technology. Though only seven episodes exist, with one being the Jon Hamm-starring standalone "White Christmas," all seven are pretty remarkable hours of television, with a few standouts. One such highlight centers on a couple experiencing problems in a world where people have implants that record everything they experience, and another involves a woman who wakes up with no memory and finds herself the center of attention in a dangerous neighborhood. Netflix will also be the home of future episodes, so figure out a way to connect your remote to your brain and stay tuned.
Currently Available for Streaming: Season 1-2, plus the Christmas Special
The Walking Dead
I probably don't even have to tell you that The Walking Dead is on Netflix, since it has one of TV's biggest audiences. Few horror shows (or horror movies) are able to pull off some of the dread-filled sequences that the AMC hit has put together in its first five seasons, and effects mastermind Greg Nicotero's big role behind the scenes guarantees you won't find more effectively ghoulish and disgusting makeup on the small screen. The talented ensemble cast is almost always in flux thanks to the jaw-plummeting shocks and twists creeping up at a steady rate, and even if you aren't happy with how a certain plotline is going, everything changes up every 8 episodes.
Currently Available for Streaming: Season 1-5
Goosebumps
Not ever horror story has to be just for adults, right? Sometimes spookiness can exist free from bubbling bloodbaths and glistening viscera, and if you don't have any Are You Afraid of the Dark? episodes nearby, then Goosebumps is the way to go. Based on R.L. Stine's ridiculously popular series of kids novels, this Fox series looks very much like the mid-1990s era in which it was created, and it brought to life memorable boogey-threats like the living dummy Slappy, the killer sponge Grool, giant ants, cat monsters and more. While not as good-looking as the feature film adaptation, the series is the better bet for Goosebumps fans, as well as those looking for early performances from Ryan Gosling and Scott Speedman.
Currently Available for Streaming: Season 1-5
Darknet
The horror genre has an interesting relationship with the Internet serving as part of the subject matter, with examples such as Kiyoshi Kurosawa's Pulse, The Collingswood Story and Halloween: Resurrection. Right alongside the very best of the net-horrors is the Canadian anthology Darknet, which unleashed a surprisingly suspenseful variety of partially connected stories in each of the six episodes that were made. (If any horror project needed an endless array of follow-ups, it's this show.) With shocks that are brutally violent and wickedly weird, Darknet is an adaptation of Japan's Tori Hada, with Ginger Snaps producer Steven Hoban and Cube and Splice director Vincenzo Natali as executive producers and writer-directors of certain episodes.
Currently Available for Streaming: Season 1
Twin Peaks
One part murder mystery, one part black comedy, and 11,000 parts surreal nightmare, Twin Peaks contains a good chunk of filmmaker David Lynch's best work. This show is the quintessential "weird small town" series, and the 1990s could not have started off on a more satisfyingly weird beat, thanks in large part thanks to Kyle MacLachlan's Dale Cooper, the Log Lady, the Red Room and the piercing terror of BOB. To me, BOB is right up there with Tim Curry's Pennywise in terms of inspiring instant shudders even in the most sunshiney of situations. Some might say it was too strange and that it went way downhill after the central mystery was uncomfortably solved, but that just makes it even more singularly bizarre. Fingers crossed the star-studded revival creates as much inner turmoil.
Currently Available for Streaming: Season 1-2
Kolchak: The Night Stalker
Even though ABC still deserves scorn for cancelling Kolchak: The Night Stalker after only one season, the network deserves grumbling credit for putting it on the air in the first place. With the charisma-oozing Darren McGavin as the titular newspaper reporter, Kolchak was the rare monster procedural that paved the way for X-Files and Supernatural, among others, and blended inspired comedy into cases that involved a wide range of supernatural spooks and ghouls. Kolchak took on Native American spirits, an alien, a witch, a headless horseman (sort of), an android and even Helen of Troy. Given its mid-1970s existence, this isn't going to be the scariest thing you've ever seen on TV, but that doesn't stop it from being a fantastic horror series.
Currently Available for Streaming: Season 1
The X-Files
Narratively speaking, The X-Files is clearly more in the realm of science fiction, what with the aliens and conspiracies. But aliens can be really scary, man. And when it wasn't about spacefaring extraterrestrials, it's about mushrooms that eat people alive and the dead-eyed Phyllis H. Paddock and Flukeman and Leonard Betts. Do I even have to mention the dreaded Peacock family from "Home," widely considered the most frightening episode of the series? I will, because those fuckers and their under-the-bed-ridden mother turned the song "Wonderful! Wonderful!" into nightmare fuel and destroyed my ability to really trust inbred offspring with faces that look like they were run over with lawnmowers. But sometimes, the horror was fun!
Currently Available for Streaming: Season 1-9
The Munsters
Horror doesn't have to always make you shake your shoes off your feet with fright, and sometimes it's just as good when the genre inspires something that embraces both the macabre and the comedic. And that was done exquisitely well in the 1960s sitcom The Munsters, in which the era of classic Universal monsters was given the family sitcom treatment with excellent actors like Fred Gwynne, Vyonne De Carlo and Al Lewis. Even when the jokes are stale, The Munsters is always worth a watch for the stellar production design and Herman's bumbling buffoonery. After all, there are only two seasons of it to enjoy anyway, although there are 70 episodes in there.
Currently Available for Streaming: Season 1-2
The Twilight Zone
You saw those other anthology series and wondered why The Twilight Zone wasn't showing up yet. You unlock the door to grab an alien's hardcover cookbook to hit me over the head when you see it, a list entry not of sound but of words. A list entry that exists between the lines of digital code and your imagination. It says: The Twilight Zone. Even when irony was Rod Serling's biggest weapon, the master storyteller still managed to cause more chills than the majority of modern horror movies. And things indeed dipped maddeningly into horror-driven territories, where you'll find tortured dreamscapes and small creatures and spine-tingling masks and hitchhikers and that doll. Oh, that doll. Once you meet Talky Tina, you'll never want to talk to anyone else again.
Currently Available for Streaming: Season 1-3, Season 5
Bonus Half-Pick: Dexter
When Showtime started putting Dexter out there, they created a delectable combination of Miami-based murder and the championable acting chops of Six Feet Under vet Michael C. Hall. And for several seasons, this show did not hold back on the tension and blood spatter, twisting and turning around the central character's balance of deadly justice and his family and work life. But then things started going downhill fast, and the last seasons are best left floating in the digital ether. But if you feel the need to keep watching out of curiosity, just promise me you'll stay away from that resoundingly terrible series finale. That thing is scary for a reason most unintended by the creative team.
Currently Available for Streaming: Season 1-8
Honorable Mention: iZombie (Season 1)
Honorable Mention: From Dusk Till Dawn: The Series (Season 1-2)
Honorable Mention: Being Human (Season 1-5)
Honorable Mention: Supernatural (Season 1-10)
Your Daily Blend of Entertainment News
Assistant Managing Editor
Nick is a Cajun Country native, and is often asked why he doesn't sound like that's the case. His love for his wife and daughters is almost equaled by his love of gasp-for-breath laughter and gasp-for-breath horror. A lifetime spent in the vicinity of a television screen led to his current dream job, as well as his knowledge of too many TV themes and ad jingles.