Josh Brolin Has Apologized After Internet Calls Him Out For Not Social Distancing Correctly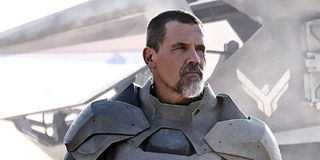 In response to the coronavirus pandemic, California governor Gavin Newsom issued a stay-at-home order until further notice. It's also now the law in Los Angeles to wear masks and stay six-feet apart from each other when leaving their homes. Josh Brolin takes residence in California with his father (actor James Brolin) living next door to him. During the stay at home order, he shared a photo of his family visiting his father and stepmother Barbara Streisand.
The internet quickly called out Josh Brolin for going against the rules, claiming he wasn't practicing proper social distancing. Now he's stepping forward, admitting responsibility, and apologizing for the mistake. Here's what he said on social media:
After Josh Brolin posted the video, comments on his social media were mostly supportive and positive, saying things like "Amazing accountability! Lots of celebs go online to talk about the importance of social distancing and then minutes later they are doing the opposite. Thank you!"
Josh Brolin isn't the only actor to get into hot water over this issue. Earlier, Evangeline Lily made statements about not wanting to practice social distancing, but walked back those statements in a heart-felt apology on Instagram. She is now participating in social distancing in order to help flatten the curve.
To encourage social distancing and help out, many actors have taken to social media to motivate their fans, with directors like Rian Johsnon using their own movie posters to spread the message. Ryan Reynolds shared his a social distancing message on Twitter with a surprisingly poignant scene from Deadpool.
Josh Brolin, his father James Brolin and stepmother Baraba Streisand are now following the stay-at-home orders in California.
Your Daily Blend of Entertainment News
Your Daily Blend of Entertainment News
Thank you for signing up to CinemaBlend. You will receive a verification email shortly.
There was a problem. Please refresh the page and try again.