Why Daniel Craig Decided To Return For One Last Bond Film In No Time To Die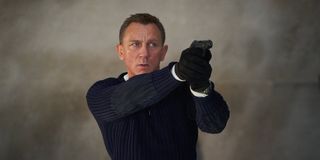 It can't be easy for an actor like Daniel Craig to let a character like James Bond go. At first, it wasn't a sure bet that he'd even return for No Time to Die. Now, he's making it clear that the 2020 thriller will be his last film with the franchise -- and he's explaining, in the vaguest way possible -- the as-of-yet secret ending he's always envisioned for his incarnation of the character.
No Time to Die will be Daniel Craig's fifth film with the James Bond franchise. He first came on board for 2006's Casino Royale, and has also starred in Quantum of Solace and Skyfall. After the release of 2015's Spectre, the actor at first seemed reticent to return to the iconic role, stating that he'd rather slash his wrists.
But it seems like the time he had to reflect helped him realize that he had unfinished business with 007. In an interview with Empire, for a special No Time to Die issue, Daniel Craig looked back on how he made the decision to return for a final film. He told the magazine:
It's good to know that Daniel Craig feels like his own vision for the character will be realized in No Time to Die. And it seems like he has no regrets about returning for a final installment. Though there was plenty of drama behind the scenes -- including an explosion on set and an ankle injury for Daniel Craig -- he seems to have had a great time filming No Time to Die. After production wrapped, the actor treated the cast and crew to an effusive, and incredibly drunk, speech in which he shared his gratitude for the entire team.
Though Daniel Craig has apparently given James Bond an appropriate send-off, that doesn't mean our time with the legendary spy is done. There's been plenty of speculation as to the future of the franchise. And of course, everyone is wondering who could be the next actor to slip into that snazzy black tuxedo. It is too early for any real answers, but we'll still be waiting anxiously for news. In the meantime, No Time to Die hits theaters on April 8, 2020.
Your Daily Blend of Entertainment News