One Challenge With Bringing Super Sonic Into A Sonic The Hedgehog Sequel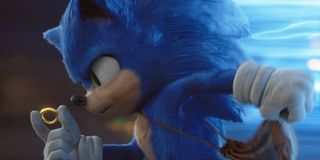 Despite initially facing a host of controversy and backlash due to Sonic's original CGI design, Sonic the Hedgehog went on to become a box office smash, breaking several records in the process. So, it's probably safe to say a Sonic sequel is likely.
One element that was notably missing in the first movie was the supercharged, gold-covered Super Sonic, which didn't go unnoticed by fans. With this, Sonic the Hedgehog movie screenwriter Pat Casey was recently asked if the character would make an appearance in a sequel, and here's what he had to say:
Well, I guess he was playing coy when speaking with Fandom, but his tone and humor seem to indicate that he has Super Sonic on his mind when it comes to a Sonic the Hedgehog sequel. And hopefully, he and the creators also have other classic Sonic characters in mind too, like Knuckles, Amy Rose, and Metal Sonic.
Director Jeff Fowler previously touched on why Super Sonic and the Chaos Emeralds weren't in the first movie. Many of the early drafts and outlines originally included them because they're a huge part of the Sonic video game mythology But as they were re-writing, they decided it didn't make sense to include the Chaos Emeralds and Super Sonic just yet, which was probably a good move.
Much like the Infinity Stones in the Avengers franchise, the Chaos Emeralds are powerful and highly sought-after objects that both Sonic and Dr. Robotnik hunt down When Sonic collects them all, he transforms into a super powerful, golden being, possessing even faster speed and flight.
Despite the exclusion of Super Sonic and the Chaos Emeralds, Sonic the Hedgehog's release was greeted with mostly positive reviews from critics and longtime fans. CinemaBlend's own Mike Reyes complimented the film's ability to delight both seasoned gamers and newcomers alike:
Along with the Super Sonic question we all had a ton of other questions about the future, especially when it comes to that ending. What happened to Longclaw? What other classic characters might we see down the road? And of course, is Dr. Robotnik going to be the main villain again?
Until then, we'll just have to do a deep dive into what could have been. Sonic the Hedgehog is now available on Digital HD and will be released on DVD, Blu-ray, and 4K Ultra HD on May 19.
Your Daily Blend of Entertainment News