Chrissy Teigen Reveals How Her Boobs Ended Up In Fast And The Furious' Tokyo Drift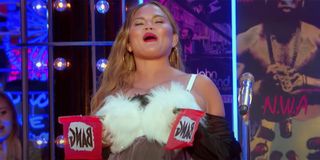 Early on in this history of the Fast and Furious franchise, the movies were known primarily for cool cars and car stunts, as well as showing the ins and outs of the street racing scene, which included fun-loving chicks in skimpy outfits. Apparently, one of those women was Chrissy Teigen, who early in her career landed in The Fast and the Furious: Tokyo Drift. Or, at least her boobs did.
Chrissy Teigen may be a household name these days, but back when Tokyo Drift was filming, she hadn't yet landed the gig that would first make her famous: holding a briefcase on Deal or No Deal. While trying to make it in Hollywood, Chrissy Teigen tried out to be an extra in a scene for the third Fast and Furious film.
It worked, sort of. After waiting for a while with a whole gaggle of women, Chrissy Teigen was chosen for a "pivotal" scene in the movie. Or as the Chrissy's Court star revealed on Twitter:
In case you wondered, Chrissy Teigen did not get an acting credit for this bold and helpful work, but I hope it was something that she put on her resume. A year later, she would land the Deal or No Deal gig, where she held a briefcase and did promotion alongside the one and only Meghan Markle. That job jumpstarted her career in Hollywood and has led her to becoming a zany and popular personality who really has put herself out there on shows such as Lip Sync Battle and now Chrissy's Court.
But, she's not shy about admitting to The Fast and The Furious: Tokyo Drift boobs scene. She even encouraged fans to find the moment, revealing what she was wearing at the time:
One fan obliged, though he tried not to be weird about it by saying his aunt helped, which honestly makes it weirder. But I digress.
So, there you have it, Chrissy Teigen's boobs made it into The Fast and Furious: Tokyo Drift. This isn't the first time her boobs have been on display in a big moment either. The TV personality famously had a nipple slip during the Super Bowl back in 2017. She handled that super casually too and it never became big news like a certain other Super Bowl nipple slip.
Meanwhile, the Fast and Furious movies have really worked to make their females more badass and less about their bodies in recent movies (although it is worth pointing out Letty was always a badass). I kind of feel the movies owe Chrissy Teigen a chance to cameo once more and do something cooler. It would be great press for her and undoubtedly a good callback for fans now that this story is out in the universe.
Next up is F9, which already filmed, so that's probably out for Chrissy Teigen, but there's always hope for Fast and Furious 10. That may be the last movie for Dom and the gang, which would mark the end of an era filled with fast cars and full-figured women. Here's hoping it goes out with a bang.
Reality TV fan with a pinch of Disney fairy dust thrown in. Theme park junkie. If you've created a rom-com I've probably watched it.
Your Daily Blend of Entertainment News
Thank you for signing up to CinemaBlend. You will receive a verification email shortly.
There was a problem. Please refresh the page and try again.