5 Cool Ways Venom 2 Could Expand Sony's Spider-Man Universe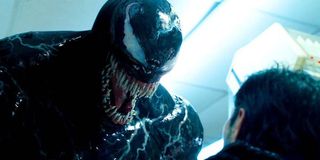 (Image credit: (Sony))
Sony's Spider-Man universe is still an enigma to fans. It's been almost two years since the phenomenon known as Venom and we still only have a vague idea about what to expect about the future of the studio's planned universe. Tom Hardy's dynamic duo of Eddie Brock and Venom will be coming back for Venom: Let There Be Carnage in June 2021. And based on all the whispers in our ears, Venom 2 may set the stage for a more expansive Spider-Verse for Sony.
Now the Venom sequel could be another standalone film featuring Eddie/Venom as he has an epic showdown with Woody Harrelson's Cletus Kasady. But, there's been a ton of evidence leading fans in the direction of the sequel creating a sticky spider web to glue a planned interconnected franchise together. It's time to talk through how Venom 2 could be a game-changer for the Spider-Man universe.
If Morbius And Venom Are Directly Connected
One cool development that could happen in Venom 2 is if the movie has direct ties to Sony's Morbius, which is set to come out three month before the symbiote sequel. Right now we know Morbius is another Spider-Man villain origin story starring Jared Leto as the titular half-vampire. The two films are already related in a sense that they are creations by the studio to launch Spider-Verse films with the protagonists being classic Spidey antagonists the Marvel hero often must face, but told from their perspective instead.
It's unclear if the studio will want to connect these movies together or keep Venom and Morbius as standalone films. If the two movies do find connections, the Sony franchise could be building to something along the lines of Disney's MCU, but with Spidey villains. Also, it's worth noting the Morbius trailer did place a photo of Spider-Man in the background and featured Michael Keaton (as Vulture?) as a teaser at the end. If Venom builds on that plan even further perhaps with an appearance from Morbius and delivers on a Carnage showdown, Venom 2 is already a huge Spider-Verse film.
If Tom Holland's Spider-Man Crossed Webs With Venom
The question on a lot of fans' minds going into Venom 2 is certainly whether Tom Holland's Spider-Man will be making an appearance. Fans are already creating loads of awesome fan art featuring Venom and Spidey to share their excitement for a potential crossover. Last week, Tom Hardy posted and then deleted one of Venom devouring the webslinger. And it's no secret that last summer Sony and Disney briefly cut ties and a Spider-Man universe was contemplated without connections to the MCU. Once the studios decided to join forces once again Marvel Studios Boss Kevin Feige had this to say:
With that in mind, it's very much possible that Tom Holland could find himself in Sony's Spider-Verse sometime soon. If there's a time and place to set it up Venom 2 is where it's at too. The 2018 movie led to a massive draw from crowds over $850 million worldwide, so a higher-stakes sequel with Spidey is involved sounds about right. In the comic books, Eddie Brock has actually had to call on the web slinger for his help when trying to defeat Carnage who is incredibly more powerful than Eddie. So maybe that will happen and the pair will begin their relationship as friends in Venom 2?
If The Sinister Six Are Involved In Venom 2
For some time Sony has been trying to bring the Sinister Six to the big screen. Back when Andrew Garfield was Spider-Man from 2012 to 2014, the studio had plans to set up the villainous team until the decision was made for Tom Holland's hero to make his debut in the MCU in 2016's Captain America: Civil War. Since this new Spider-Man has been around, there have been teases here and there about a Sinister Six forming. In Homecoming, there are appearances from not only Keaton's Vulture, but the Scorpion, Prowler (by Donald Glover), Shocker and Tinkerer. And Jake Gyllenhaal's Mysterio may not actually be dead after Far From Home.
There are classic Spider-Man villains that make up the Sinister Six, but over the years the team has taken many forms, even including Venom at one time. If the MCU decides to connect to Venom 2 it could form the Sinister Six from already established characters in the universe. Or the film could set up additional villains on Sony's side that could add up to the Sinister Six. Morbius could be one and going back to his interaction with Vulture inspires this theory too.
If Venom 2 Introduces More Spider-Verse Spinoffs
Venom: Let There Be Carnage could also introduce some of the planned Spider-Verse spinoffs that have been announced to be in the works for a while but have been under wraps. The Spider-Man characters that Sony has reportedly been working on includes Kraven the Hunter, Madame Web, Nightwatch and a project about Black Cat and Silver Sable called Silver & Black. Venom could expand its Spider-Man universe if it introduced one of these characters before exploring them in a standalone film. At this point, it's unclear if these projects are still in active development or on the backburner.
If Venom 2 Sets Up Marvel Comics' Maximum Carnage Storyline
When comic book fans think about a storyline involving Venom and Carnage together, the 1993 crossover event Maximum Carnage (opens in new tab) instantly comes to mind. With what we know about Venom: Let There Be Carnage, it seems like a no brainer that the studio may draw from this comic book run when looking to expand its Spider-Man universe on the big screen. The comic is about Cletus Kasady becoming Carnage and and freeing fellow inmate Shriek (who Naomie Harris has been cast as in Venom 2).
The pair go on a killing spree all over NYC, Venom must join forces not only with Spider-Man but characters including Black Cat, Nightwatch, Iron Fist and Morbius to combat the threat. It's the perfect setup for either Venom 2 to go or to lead into a third film for the franchise. Plus, in the comic Shriek ends up using her psychic powers to turn the residence of NYC into bloodthirsty creatures, which could really lend itself to the tone being established in Morbius.
What do you think? How will Venom 2 expand Sony's Spider-Man universe? Vote in our poll below.
This poll is no longer available.
YA genre tribute. Horror May Queen. Word webslinger. All her writing should be read in Sarah Connor's Terminator 2 voice over.
Your Daily Blend of Entertainment News
Thank you for signing up to CinemaBlend. You will receive a verification email shortly.
There was a problem. Please refresh the page and try again.