Whoa, Margot Robbie, Scarlett Johansson And More Actresses Team Up For Epic Fight Video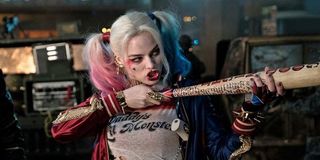 The past several weeks have seen the internet play host to many, many (many) viral videos and moments. Some have been amazing, others not so great. But a new cross-continental epic fight scene, featuring Margot Robbie, Scarlett Johansson, and many more has just upped the ante as one of the most creative ways celebrities have killed time in quarantine.
The Boss Bitch Fight Challenge was directed and produced by stuntwoman and actress Zoë Bell, a frequent collaborator of Quentin Tarantino who's best known for her work on Xena: Warrior Princess and Kill Bill. The clip begins with Zoë Bell sitting in her home, lamenting that she just wants to play with her friends. Then she quickly remembers that she can play with her friends -- and rushes toward the camera, giving it a solid kick. The shot instantly cuts to Lucy Lawless, pulling back as though she's just been kicked in the face, and, well, you get the picture.
More than 30 actresses and stunt women appear in the video, which lasts just over five minutes. They all using a variety of creative ways to fight back against their virtual foes. Scarlett Johansson's own Avengers stunt double, Heidi Moneymaker, headbutts her, only for the actress to ponder which piece of gym equipment is best to fight back with. After she chooses a Swiss ball and chucks it at Dayna Grant, the stunt woman then punches Margot Robbie in the face. The Birds of Prey star just happens to have a whole array of weapons conveniently laid out on her kitchen table. She, of course, chooses Harley Quinn's iconic baseball bat. Take a look at Zoe Bell's epic video below, courtesy of Margot Robbie:
Highlights include Florence Pugh getting kicked in the back of the head by stunt performer Lauren Mary Kim, offering up an emphatic, "OW!" and then thinking twice before whacking the camera with a good bottle of wine and instead, attacking with a neon green dog toy; Daryl Hannah trading in herElle Driver eyepatch for a pandemic-safe face mask while she stabs the camera; and Tracie Thoms (in a unicorn onesie!) pausing to take a sip of her drink before she delivers an uppercut.
One of the most fun things about the Boss Bitch Fight Challenge video is that it features a wide variety of actresses and stuntwomen that should be recognizable if you've been to the movies in the last, oh, 30 years. There's Once Upon a Time in Hollywood's 11-year-old Julia Butters, who performs a spot-on impression of Uma Therman's iconic Kill Bill Bride. 1990s icons Rosie Perez and Juliette Perez kick some serious ass, as do Westworld's Thandie Newton and two-thirds of Charlie's Angels Drew Barrymore and Cameron Diaz. But it's also an awesome way to pay homage to the incredible stunt women that help bring Hollywood's coolest fight scenes to life, as many of them get ample time to shine.
Zoë Bell deserves some serious kudos for pulling together such an elaborate and fun video. It definitely helps ease the sting of missing out on some big summer blockbuster fight scenes this year.
What was your favorite Boss Bitch Fight Challenge moment? Let us know in the comments!
Your Daily Blend of Entertainment News