Tom Hardy Keeps Teasing Venom And Spider-Man, And Now We Need To See It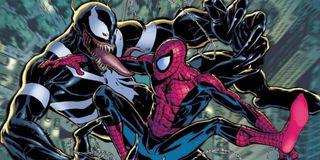 If you haven't heard, Tom Hardy, the action star from films like The Dark Knight Rises and Mad Max: Fury Road, will soon be headlining the Venom sequel, with Woody Harrelson co-starring as the notorious character Cletus Kasady, aka Carnage. Many are currently hunkered in their homes, but Tom Hardy is certainly no recluse, having posted to social media on numerous occasions. As of late, he's been teasing fans about the new sequel entitled Venom: Let There Be Carnage.
Most Venom fans consider Carnage to be the big bad and rival to Venom in the sequel, but could there be another rival appearing as well? Tom Hardy keeps teasing us about it and his latest post just adds fuel to that fire. Recently, he posted and then deleted fan art on Instagram that showed Venom tearing into Spider-Man, but a Twitter fan took a screenshot and posted it there. Check it out:
As you can see in the post, Tom Hardy gives mention to artist uktraraw26, the fan who drew the brutal graphic art of Spider-Man being absolutely devoured by Venom. This isn't the first time that this particular piece of fan art has surfaced, but this is the first time we've seen Tom Hardy post about it.
In the Twitter post, one fan mentions that Tom Hardy posted it for three seconds before taking it down, something Tom Hardy did with another post, too. It's all very suspicious. Why take it down unless he's not supposed to tease possible cameos by a certain friendly neighborhood wall-crawler? If anything, it makes me want to see the new Venom sequel more than ever!
Of course, there have been no inklings or mentions of Tom Holland, or any other version of Spider-Man, appearing in the Venom sequel. He certainly didn't appear in the original Venom, probably due to the conflict with his current work in the Marvel Cinematic Universe. However, I think most fans want to see it happen eventually, since Spider-Man and Venom are two of the most iconic rivals in superhero history.
Venom: Let There Be Carnage will be directed by Andy Serkis, best known for his roles as Gollum in The Lord of the Rings, Caesar in The Planet of the Apes trilogy, and Ulysses Klaue in the MCU. Originally, Reuben Fleischer, the director of Venom was set to direct but, because he was busy working on other projects, things didn't work out for him to take it on.
With the addition of Andy Serkis as the director, the villainous Carnage, and a potential (but probably unlikely) appearance from Spider-Man, Venom: Let There Be Carnage could turn out to be the top superhero movie of next year. And until it arrives, I'll be chomping at the bit to see the first trailer and anything else Tom Hardy puts on social media. Venom: Let There Be Carnage will hit theaters on June 25, 2021.
Your Daily Blend of Entertainment News