How Chris Hemsworth's Wife Elsa Pataky Feels About Netflix's Extraction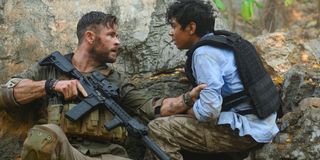 Chris Hemsworth has carved out a solid niche as a bankable action star. From Red Dawn to 12 Strong to (of course) Thor, Chris Hemsworth has done his fair share of cracking skulls and taking names. His latest foray into action stardom is with Extraction where he plays the mercenary Tyler Rake, perhaps one of his most bone-crushing and name-taking roles yet.
Chris Hemsworth's wife Elsa Pataky has some thoughts on Chris Hemsworth playing the brutal, gut-kicking Tyler Rake. She recently posted on social media about it, and yeah, she doesn't seem to have any problems with Extraction. In fact, she loves it. Here's what she had to say:
There you have it. If you want to know what it's like to be married to Chris Hemsworth, go watch Extraction. Plus, it's not too shabby of an action flick. Cinema Blend's own Sean O'Connell gave it an above average score, but he said it seemed to want to be a little too similar to John Wick.
An actor herself, you may recognize Elsa Pataky from her role as Elena Neves in The Fast and Furious franchise. She first appeared in Fast Five as an agent recruited by Luke Hobbs to track down and capture Dominic Toretto and Brian O'Conner. Of course, she has returned with each new addition.
Believe it or not, Chris Hemsworth and Elsa Pataky have also worked together on the movie 12 Strong. Funny enough, in that movie, they play a married couple as well. While filming, they joked they better have chemistry on camera or they're in big trouble.
Though he's played a number of action star roles, everyone knows Chris Hemsworth as the Mjolnir-wielding, lightning-summoning, and weight-gaining Thor. And you might be surprised to learn that Chris Hemsworth gets to keep the hammer props he uses on set and bring them home; they don't get reused. Apparently, Chris Hemsworth and Elsa Pataky argue over where to put them in the house.
If you were sizing up Chris Hemsworth's performances between Thor and his latest as Tyler Rake in Extraction, writer/director Joe Russo can give you an answer. Because he thinks it's Tyler Rake. Joe Russo explained this role pushed Chris Hemsworth to the limits and demanded more from him than his previous roles.
As for his role as Tyler Rake, it sounds like he's not riding off into the sunset just yet. The Russo Brothers had every intention to continue Tyler Rake's story. And reports have already confirmed that Netflix wants more of the action hero with a sequel locked and loaded. But anything can happen to a movie deal. Stay tuned for more updates as they progress.
Your Daily Blend of Entertainment News