Willy Wonka Director Mel Stuart Dies At 83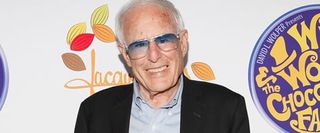 Mel Stuart, an award-winning documentarian and producer, died Thursday night at the age of 83. In addition to making documentaries like The Making of the President 1960 (which won and Emmy) and Four Days in November, he directed the 1971 classic Willy Wonka and the Chocolate Factory.
Odds are you saw Willy Wonka and the Chocolate Factory when you were far too young to understand that someone had directed it-- when you're a kid you accept the reality of a film for what it is, and figure that if anyone is in charge, it's got to be Willy Wonka. But Stuart pulled off the amazing feat of handing over a film to a character as wild and unpredictable as Gene Wilder's Wonka, but telling the story of the five kids who enter his factory anyway, especially Charlie. Willy Wonka maintains the dark whimsy of Roald Dahl's book, but also one-ups it with that unforgettable sequence of the boat going through the tunnel that's filled with, well, nightmares. According to THR, which reported his death, Stuart made the film at the encouragement of his 10-year-old daughter Madeline, who loved the books.
It's easy to discover a whole new side of Stuart's career by catching up with his documentaries-- Four Days in November, about John F. Kennedy's assassination, is available on Netflix Instant Watch. But if you want to really pay honor to the man who influenced your childhood and mine, remember his work on Willy Wonka and revisit that terrifying boat ride below. Thanks for scaring the hell out of me, Mr. Stuart.
Staff Writer at CinemaBlend
Your Daily Blend of Entertainment News
Thank you for signing up to CinemaBlend. You will receive a verification email shortly.
There was a problem. Please refresh the page and try again.