Here's The Evidence Avatar's Widely Mocked Font Is Really Based On Papyrus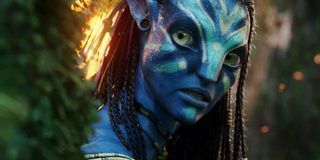 Ever notice how Avatar's font looks a little too familiar, like a certain ugly font that takes its place next to Comic Sans? You're not alone. That font is Papyrus, the ancient and often unused font on most computers. This comparison was hilariously brought to light on SNL and now evidence has come out to prove that Avatar's widely mocked originalfont is basically a slightly altered Papyrus font.
It should be pretty self-evident that Avatar's font is Papyrus at this point. Still, while all of this might seem like a foregone conclusion for some, it's always good to look over evidence when it's dropped in our laps So, to not leave any shadow of a doubt that the Avatar font is Papyrus, a fan on social media has come forward to showcase proof. Take a look:
Seems pretty conclusive to me. Take away the blue glow and some of the small alterations and you basically have the popular and oft-mocked display font.
This photoshop job was previously brought to the public's attention during an SNL digital short starring Ryan Gosling. In the bit, Ryan Gosling's character can't get over how similar the Avatar font is to Papyrus, driving him to madness. The short is perfect all the way up to the very end.
Believe it or not, the original creator of the Avatar logo, Chris Costello, caught wind of the SNL digital short the next morning and watched it himself with his wife. Needless to say, he didn't seem too upset about it, previously saying,
Even more amusingly, Disney recently swapped out the Avatar logo with a new one on its streaming service Disney+. Supposedly, the title card was changed as attempt to prepare for the upcoming sequels with a newly-adopted look. One thing is for sure, the new logo is much better than the old one.
Though Avatar broke box office records and set a new course for cinematic history, it was also called out for its similarities to other stories, from Fern Gully to Dances with Wolves. In fact, the similarities were so close that James Cameron was sued over them, although James Cameron won against some of those accusations.
Now, production for the many Avatar sequels are full steam ahead with filming wrapped for both Avatar 2 and Avatar 3 late last year. Both movies were shot simultaneously which is why they ended at the same time. Even more are in the works, with a potential for Avatar 4 and 5, but those movies have yet to be greenlighted by Disney. We'll keep you updated on all things Avatar as they unfold.
Your Daily Blend of Entertainment News
Your Daily Blend of Entertainment News
Thank you for signing up to CinemaBlend. You will receive a verification email shortly.
There was a problem. Please refresh the page and try again.