The Cool Way Quentin Tarantino Nodded At Reservoir Dogs In Kill Bill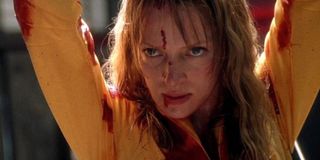 It's no secret that Quentin Tarantino has an incredible eye for detail. That's how he's managed to create the unforgettable worlds in his films. He's even found subtle ways to connect his films together, even though they often tell vastly different stories -- like a moment in Kill Bill that offers a clever nod to Reservoir Dogs.
Michael Madsen offered some really cool insights about the work he's done with Quentin Tarantino and throughout his career during his conversation with CinemaBlend's own ReelBlend podcast. To hear what he has to say about their collaborations like Kill Bill, take a listen:
Michael Madsen has formed a great working relationship with Quentin Tarantino throughout their numerous collaborations. That means he gets plenty of inside Tarantino scoop that us mere mortals could only dream of. During his conversation on ReelBlend, he revealed that the director clued him in on a thoughtful Kill Bill easter egg in Reservoir Dogs:
This only makes us wonder what other little gems he's left in his movies that we've never picked up on. It's also a really fun anecdote. Sure, it's a small detail, but it's one that proves the director considers every single detail he puts on screen and that he looks for ways to keep both his colleagues and his fans on their toes:
Have you caught any Tarantino Easter eggs or real-life references in other films? There are plenty, but it's still nice to hear cool stories like this one.
Your Daily Blend of Entertainment News
Your Daily Blend of Entertainment News
Thank you for signing up to CinemaBlend. You will receive a verification email shortly.
There was a problem. Please refresh the page and try again.