Adele's Personal Trainer Defends Singer After Weight Loss Breaks The Internet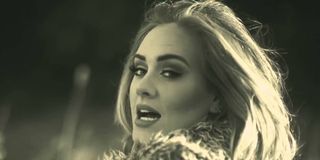 Oscar-winning singer Adele sent the internet into a frenzy this week when she revealed her dramatic weight loss on Instagram. What began as an influx of love and support toward the pop icon later shifted into some uncomfortable revelations about how we talk about bodies and health. Now, Adele's personal trainer has spoken up about the controversy and thrown his support behind her.
Adele uses her social media accounts pretty sparingly - so whenever she does post something, it tends to catch our attention. That was especially true on May 5, when she uploaded a photo of herself to Instagram as a way to thank fans for showing her love:
The image revealed that the singer has lost a considerable amount of weight since we last saw her. Her slimmed-down figure instantly caught fans' attention, and she began to trend on Twitter almost immediately as users discussed the change in her appearance.
Here's how the controversy arose: at first, people were quick to praise her new look. However, some speculated about why she'd lost the weight, and others noted that reducing her worth to her weight was problematic and spoke to widespread issues with fatphobia and the way we judge a person's worth by their appearance.
Adele hasn't responded to the fervor, but personal trainer Peter Geracimo, who worked with the Skyfall singer on her fitness journey, has addressed it. He uploaded a photo of himself working with Adele in a pool:
He expressed his dismay with the reaction on his Instagram account, writing:
Peter Geracimo went on to clarify why the singer began to lose weight in the first place:
He concluded his post by asking fans to be more mindful about how and why they talk about the personal aspects of her life:
Peter Geracimo makes a good point -- of course Adele's weight loss is noticeable, but it's also a personal matter. There are plenty of other huge accomplishments and career highlights we can praise her for without reducing her to her appearance. Until she speaks about it on her terms, it's best if we follow her example and don't say anything about it at all. Keep it here at CinemaBlend for more updates from the world of movies and TV.
Your Daily Blend of Entertainment News
Your Daily Blend of Entertainment News
Thank you for signing up to CinemaBlend. You will receive a verification email shortly.
There was a problem. Please refresh the page and try again.