Watch Adele Enter An Adele Impersonator Contest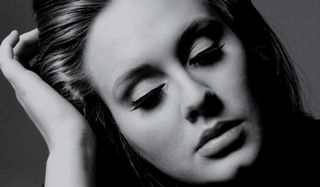 Adele has the world firmly within her grasp and refuses to let go. Her new album 25 has been on sale for a few days and is already poised to break records. With so much love and worldwide adoration, it seems that everyone out there wants to be Adele – even Adele. The singer recently decided to enter an Adele impersonator contest to see how she stacked up with the competition, and the results are as hilarious as you would expect. Check the video out below for yourself.
Donning a fake nose and some expertly applied makeup, the singer –under the guise of Adele impersonator "Jenny" – decided to crash the contest airing on the BBC to see if the others would be able to see through her disguise. She even changed the cadence of her voice and the way in which she walked in order to properly sell the façade. Whilst mingling backstage, Jenny and the others begin discussing all things Adele: when her new album would be released, and which of the other impersonators she would like. As the last to perform, "Jenny" begins to show signs of extreme nervousness on stage, but as soon as she begins to sing it becomes obvious who she really is and the impersonators rejoice at the opportunity to meet their idol. Looking back it's obvious that "Jenny" had no real reason to be nervous, because none of the impersonators could come close to the look and talent of the real, genuine Adele.
This represents another one of those heartwarming moments in which a beloved celebrity makes time for the people who have made them famous. It's not dissimilar from Hugh Jackman surprising an Australian Wolverine fan over the summer, or Chris Pratt and Chris Evans making time to visit sick Marvel fans as their respective characters Star-Lord and Captain America. These gestures have the effect of making the fans realize that they are just as appreciated as the artists who create the work they hold so dear. She's not just a worldwide phenomenon. She's not just the singer of one of the greatest James Bond theme songs of all time. She truly cares about her fans.
Moments like these make the Adele mania that has swept the world make a great deal of sense. If you're already an Adele fan then be sure to give the video above a gleeful watch, and if you aren't a fan of Adele, then the video could very well convert you.
Originally from Connecticut, Conner grew up in San Diego and graduated from Chapman University in 2014. He now lives in Los Angeles working in and around the entertainment industry and can mostly be found binging horror movies and chugging coffee.
Your Daily Blend of Entertainment News
Thank you for signing up to CinemaBlend. You will receive a verification email shortly.
There was a problem. Please refresh the page and try again.