9 Great Movies Coming To Netflix In June 2020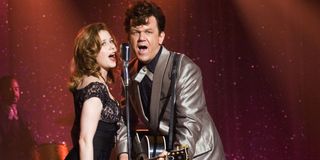 Netflix has a lot of premium content coming online in June 2020, with a good share of that excitement coming from the movies debuting/returning to the fold. As usual, when it came to looking at the total incoming crop of films on their way to the digital library, there were a handful that truly stuck out.
Specifically, there are nine great movies to keep your eye out for when the month of June comes into play. While you can take a look at the full monty of TV and movies coming to Netflix in our full rundown, here are the favorites we've chosen as the best and the brightest of June 2020's incoming batch.
Casper
With all of the talk of big anniversaries in 2020, there's one we've surprisingly heard nothing about: the 25th anniversary of Casper. But just because there isn't a huge hoopla surrounding the silver milestone of this '90s kids classic starring Christina Ricci and Bill Pullman doesn't mean people can't celebrate in their own way. This is especially true when the adorably funny film will be headed to the Netflix library, only a couple of days shy of the big day.
Inside Man
Director Spike Lee has a new movie headed to Netflix in June, as Da 5 Bloods marks the first streaming original film between the auteur and this particular media giant. Adding one of Lee's previous hits, Inside Man, to the Netflix library is a pretty smooth move that'll warm up potential crowds for this new movie. But if you just want to see Denzel Washington and Clive Owen go head to head in a slick, cerebral crime thriller, then that can be arranged as well.
E.T. The Extra-Terrestrial
Movies, at their best, are absolutely magic. Steven Spielberg's E.T. the Extra-Terrestrial is one of the prime examples of what happens when a gigantic blockbuster wears its heart on its sleeve. It's also a beautiful and timeless story of the bond of friendship between a young boy (Henry Thomas) and his alien friend from another planet. What's the summer season without a blockbuster to light up the darkness?
The Silence of the Lambs
While Hannibal is coming to Netflix in all of its three seasons of glory, folks will have to wait a little longer for the CBS-backed sequel series Clarice, as it's been pushed to a midseason premiere slot for 2021. As it might not be an exact sequel to what Bryan Fuller's darkly brilliant TV cousin was doing, the dark psychological horror of The Silence of the Lambs still fits in quite nicely.
The Queen
Another great example of synergy between TV and movies is the fact that writer Peter Morgan's The Queen is about to join the same streaming family that has given his TV series The Crown a proper home for its entire run. As the series is about to end in the near future, one has to wonder if Helen Mirren's portrayal of Queen Elizabeth II will serve as a bookend to the events of the hit series that shares its protagonist. But that doesn't matter when Mirren's Oscar winning performance anchors this story of tradition and public opinion in stoic, yet compelling fashion.
V For Vendetta
It's hard to adapt a graphic novel like V for Vendetta, as not only is this particular book a very avant garde sort of drama, but it also has a very specific era of politics it drew inspiration from. That didn't stop this Wachowski-produced spectacle from being redefined as a more modern saga of a public uprising against fascism, while also toning down some of the more "out there" subplots Alan Moore's original text contained. It'll be a while before we see if V for Vendetta is truly a timeless classic, but the case for its confirmation only seems to get stronger with each passing moment.
Lady Bird
Greta Gerwig's Little Women stunned crowds with its warmth and humanity at the box office last year, and it showed. But that success wouldn't have happened if not for the writer/director's debut at the helm, Lady Bird. A more contemporary story, with Saoirse Ronan's titular protagonist navigating senior year of high school in the year 2002, this dramedy is practically a blueprint for Gerwig's signature style. It's also one of the best uses of The Dave Matthews Band in a motion picture, so that should pretty much seal the deal for any doubters out there.
Frost/Nixon
It's time for a potentially hot take: in the pantheon of Ron Howard's efforts as a director, Frost/Nixon is an underrated film. Based on the play of the same name, and yet another Peter Morgan-scripted gem examining historical figures on display for the media, the clash between the titular titans is just as enthralling as Howard's other historical films, like Apollo 13. Boasting an all-star ensemble anchored by Michael Sheen and Frank Langella, Frost/Nixon takes a story of personal stakes and frames it in a greater, more dramatic context.
Walk Hard: The Dewey Cox Story
Whenever a musical biopic comes around, be it something Bohemian Rhapsody or Rocketman, there's one movie that always resurfaces to steal just a little bit of the thunder. Director Jake Kasdan's cult comedy hit Walk Hard: The Dewey Cox Story made such laser targeted fun of the tried and true formula most films of this sort take very seriously. Which means whenever someone tries to tell that tried and true story of rags to musical riches, one can't help but feel a little of John C. Reilly's Cox enter the room, providing the temptation to laugh.
The world being what it is today, we could definitively use those laughs. But any of these incoming notables making their way to Netflix's streaming library (opens in new tab) would serve as a perfect distraction for anyone who's at home and ready to be entertained. Keeping in mind that titles are subject to change and availability, we hope that you remember to stream responsibly and stay safe out there! Be sure to keep checking in with CinemaBlend for more Netflix-related updates.
CinemaBlend's James Bond (expert). Also versed in Large Scale Aggressors, time travel, and Guillermo del Toro. He fights for The User.
Your Daily Blend of Entertainment News
Thank you for signing up to CinemaBlend. You will receive a verification email shortly.
There was a problem. Please refresh the page and try again.