Legally Blonde 3: 6 Questions We Still Have About The Movie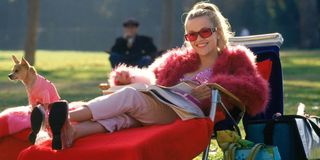 (Image credit: (MGM))
Brush up on your bend and snap, because Legally Blonde 3 is really happening. The long-awaited threequel was announced back in 2018, but the movie just recently hired new writers and it's finally moving forward. It's been nearly two decades since we last caught up with Reese Witherspoon's Elle Woods on the big screen and we can't wait to see how the Big Little Lies actress approaches the role in today's world or how scriptwriters Mindy Kaling and Dan Goor will forward her narrative.
Of course Legally Blonde is a modern classic about a preppy sorority girl who enrolls into her ex-boyfriend's college, Harvard Law School (what, like it's hard?). Elle Woods is judged by her peers for her hot pink ensembles and "blonde behavior," but she ends up soaring to the top of her class and single-handedly solving a high-profile case as an intern. The hit comedy was followed by 2003's Legally Blonde 2: Red, White & Blonde where Elle tackled outlawing animal testing laws in Washington D.C. on behalf of her pup Bruiser's mom. Here are the big questions we have about the upcoming third film:
Where Does The Story Pick Up?
Legally Blonde 2: Red, White & Blonde took Elle Woods to the state capitol to bring "Bruiser's Bill" to the House of Representatives floor, where she successfully fights against the cruel animal testing of the fictional C'est Magnifique Corporation and marries Luke Wilson's Emmett in a park in D.C. At the end of the 2003 film, her new husband asks her what's next for the couple – Beverly Hills? Back to Boston? Elle implies the White House is next on her mind and that's the last we've heard of the iconic character.
Legally Blonde is likely to be set in present day, almost 20 years after the events of Red, White & Blonde. Reese Witherspoon is now in her 40s – how will Elle Woods' life be different in the third film? She could be tackling another big case close to her heart, running for office or in need of a comeback to her lawyer roots? There's a ton of exciting directions Legally Blonde 3 could go.
Mindy Kaling Is Co-Writing The Script, Will She Also Have A Role?
The Office's Mindy Kaling is penning the script for Legally Blonde 3 with Brooklyn Nine-Nine creator Dan Goor (who has also had a hand in The Daily Show, Late Night with Conan O' Brien and Parks and Recreation). It's an inspired writing team Legally Blonde 3 has under their belt, with an impressive track record for solid comedy. It helps that Kaling's breakout role as Kelly Kapoor in The Office was kind of an Elle Woods type. She even has one of her outfits handy:
Kaling is no stranger to finding roles in her own writing projects. For years she wrote and produced her show The Mindy Project and she starred alongside Emma Thompson in 2019's Late Night, her first feature film that she ever wrote. Kaling and Reese Witherspoon previously shared the screen together for 2018's A Wrinkle In Time too. The chances seem likely, but we'll have to wait and see.
Is Luke Wilson Returning As Emmett?
We don't have many details about Legally Blonde 3's casting yet, but one major question on our minds is if Luke Wilson's role will continue into the third film. The actor stayed on for both movies so far and has continued to remain busy as an actor on recent projects such as in Zombieland: Double Tap, All the Bright Places and as Pat Dugan in the new CW series Stargirl.
His presence or absence in the film could indicate whether Elle Woods has remained married for the past couple decades or could she have a new man in her life? No man? Either way we're on board for Legally Blonde 3, but it would please a lot of fans to see Wilson's Emmett find a place in the upcoming film.
What Other Original Cast Members Will Join Legally Blonde 3?
Looking back at the cast of the Legally Blonde movies, there was a lot of star-studded talent involved – Jennifer Coolidge, Selma Blair, Linda Cardellini, Sally Field, Regina King, etc. It would be a treat to see some of them join Legally Blonde. Back in 2019, Jennifer Coolidge said she'd love to play Paulette again, so here's hoping that happens.
It would also be fun if the movie played homage to the original film by giving someone like Selma Blair a continued role in the movie. Considering Reese Witherspoon's status in Hollywood today, we'd imagine Legally Blonde will be stacked with big names. Frequent co-star Laura Dern would be a great addition or her Little Fires Everywhere partner Kerry Washington? A Wrinkle In Time's Oprah? Who knows!
When Will Legally Blonde 3 Start Filming?
From what we can gather, Mindy Kaling and Dan Goor have just signed on to write Legally Blonde 3. The movie has technically been in development for almost two years, but it seemed to have faced some behind-the-scenes setbacks since its original writers Kirsten "Kiwi" Smith and Karen McCullah (who were behind the original movie and other female-led comedies like The House Bunny and She's the Man) left the project.
Hollywood is predominantly at a stand still as far as productions are concerned, but the late months of the year could open up for Legally Blonde 3 if a script quickly goes through the writing process. Our best guess is the film could be eyeing an early 2021 production date.
When Will Legally Blonde 3 Be Released?
It's too early for Legally Blonde 3 to announce a release date, especially when many movies coming out in 2020 have unclear dates due to global health concerns. The movie was initially set to hit theaters on May 8, 2020 when it was first announced. That date has come and gone and Legally Blonde 3 has a new direction, but this date gives us a look into the studio's potential strategy.
Legally Blonde 3 may already be looking for a spring or summer release date. The first two films came out in early July. If we're being optimistic it'll come out in the middle of 2021, but again with so many calendar shifts from this summer to the next, Legally Blonde 3 may be better off in 2022.
As more information about Legally Blonde 3 comes out, CinemaBlend will make sure you're the first to know. Stay tuned here for more news about your favorite Gemini vegetarians!
YA genre tribute. Horror May Queen. Word webslinger. All her writing should be read in Sarah Connor's Terminator 2 voice over.
Your Daily Blend of Entertainment News
Thank you for signing up to CinemaBlend. You will receive a verification email shortly.
There was a problem. Please refresh the page and try again.