Bill And Ted's Keanu Reeves And Alex Winter Had An Excellent Message For San Dimas Graduates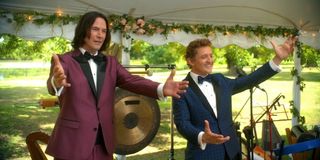 It's a strange time to be a student in high school right now. With most students learning and graduating remotely, the experience of victory and achievement from receiving a diploma has been altered. To help, celebrities have been stepping up and giving advice to this year's high school graduates, and that includes Bill & Ted Face The Music's own Wyld Stallyns, Keanu Reeves and Alex Winter. And that duo gave a most excellent message to San Dimas graduates.
For those unaware, Bill & Ted's Excellent Adventure setting Bill San Dimas High School actually exists in real life. Recently the high school posted a video for the 2020 graduating class on their YouTube channel. Part of the tribute included a short, but totally awesome, message from Keanu Reeves and Alex Winter. Check it out:
During these strange times, it only makes sense that Keanu Reeves and Alex Winter would step up and give a righteous message to the San Dimas graduating class. And it makes equal sense they're reprising their old roles of Bill and Ted with the soon-to-be released sequel Bill & Ted Face The Music. San Dimas High School also gave a big thank you to Keanu Reeves and Alex Winter on social media. Here's what they said:
Bill & Ted Face The Music has been in the works for years now. Almost a decade ago, we got our first bits of information about the potential plot. Keanu Reeves said it would be about Bill and Ted being burdened by writing a song that saved the world, but they never wrote it. For a while it seemed like a Bill & Ted sequel was just a fantasy, until it was announced in 2018 that it was officially happening.
Since it's been over thirty years since Bill & Ted's Excellent Adventures was released, it begs the question--why now? The short answer is the fans. Writer Ed Solomon said the only reason they could get the movie off the ground is because the fans were so persistent in wanting the movie made.
Recently, however, concern has grown that Bill & Ted Face The Music would be delayed or sent to VOD due to current global health issues. The official release date of the movie is August 21st. Alex Winter tried to assuage these worries by saying that everything is great, the cut is almost done, and trailers are ready to go and will be released soon.
Still, in these strange times, things could change on a dime. But it's nice to see Keanu Reeves and Alex Winter cheering on San Dimas High School graduates during such weird times. Even though their characters are in their 50s in the movie, it would only be totally wicked they if revisited San Dimas High School again in Bill & Ted Face The Music.
Your Daily Blend of Entertainment News
Thank you for signing up to CinemaBlend. You will receive a verification email shortly.
There was a problem. Please refresh the page and try again.