Watch Mark Hamill Surprise A Nurse And Star Wars Fan In Emotional Video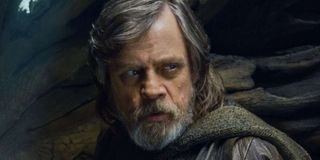 Though the country is in the process of reopening, countless health care workers around the country are still on the frontlines of the fight against COVID-19. Knowing this, Mark Hamill joined forces with Jimmy Kimmel to thank one nurse, an avid Star Wars fan, for her contributions -- and her response was understandably emotional.
Since the COVID-19 pandemic hit the United States, talk show hosts have had to adapt their nightly programs so they can continue to reach viewers while still maintaining social distancing. Jimmy Kimmel has done that by filming his series from home and conducting all his interviews via video chat. But he's also taken time out on his program to highlight a "Healthcare Hero" every week - often enlisting a celebrity guest to help make the segment extra special.
This week, his Healthcare Hero was Chloe, a nurse from San Diego. She told Jimmy Kimmel that she and her co-workers have basically been up to their elbows in boogers, as they've been administering COVID-19 tests in the heat of an outdoor tent. There's only so much anyone can do to make that experience more pleasant, but Jimmy Kimmel did his novel best. He asked Chloe about her love of the Star Wars franchise, which she readily admitted to, saying she's seen the movies "a lot" - definitely more than ten times. Jimmy Kimmel then gave her a very welcome surprise, opening up the chat to Luke Skywalker himself.
Chloe was understandably emotional, but she held herself together admirably as Mark Hamill told her:
The actor then took on a more serious tone, telling Chloe that he admired the work she was doing to help patients and prevent the spread of COVID-19:
Jimmy Kimmel then told Chloe that, in partnership with PayPal's (opens in new tab) Pay It Forward, he was giving her $10,000 to use at her discretion and also offering vouchers to her coworkers at the San Diego clinic. This was awesome - but Chloe seemed just as excited when Mark Hamill told her that he was going to send her an autographed lightsaber, asking her that she use it wisely.
Though the segment was lighthearted, Mark Hamill did take a moment to offer Chloe some kind words and a bit of strength:
You can see the entire exchange in the sweet video below:
It's clear that Mark Hamill and Jimmy Kimmel's kind gestures helped brighten Chloe's spirits. Hopefully, the newfound knowledge that Luke Skywalker has her back will give her the energy she needs to keep fighting.
And if you're hoping to catch to Chloe's Star Wars viewing record, the entire Skywalker Saga is available to stream on Disney+.
Your Daily Blend of Entertainment News
Thank you for signing up to CinemaBlend. You will receive a verification email shortly.
There was a problem. Please refresh the page and try again.